This archived news story is available only for your personal, non-commercial use. Information in the story may be outdated or superseded by additional information. Reading or replaying the story in its archived form does not constitute a republication of the story.
SALT LAKE CITY — Cosplayers from all around are cramming to make sure their cosplays are ready to wear for this weekend's FanX Salt Lake Comic Convention Spring 2019 event.
Cosplay, short for costume play, is the art of dressing up like a character, as well as taking on their persona. Some cosplayers spend weeks and even months preparing for conventions.
However, even the seasoned cosplayers share that it's OK to buy parts of your costume and piece it together.
Here is a look at how three Utah cosplayers are preparing for FanX. They asked that their last names not be used due to privacy reasons.
Velvetine Doll
Chloe, better known by her cosplay name Velvetine Doll, has been cosplaying for several years now, since her first year of high school.
"Buying is not always a bad option," she said. "I know there's a stigma where if you buy, you're not a good cosplayer. It's not true. Honestly, having fun makes you a good cosplayer."
Even though Chloe now finds joy in sewing most of the cosplays herself, it's still more important to enjoy the convention, she said.
"As long as you enjoy being the character, it doesn't matter if you buy or you make it. It's just having fun and that … has been my motto," she said.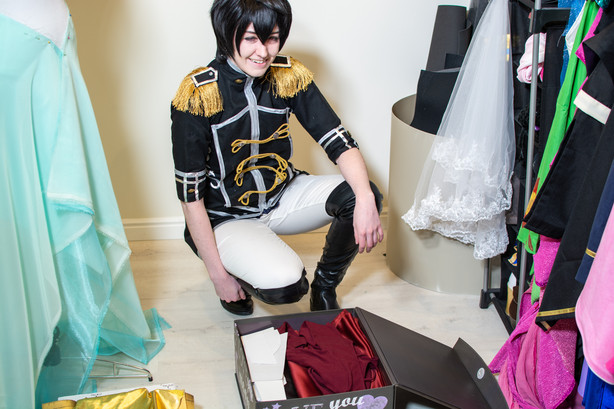 A couple of weeks ago, she was still deciding on which of her "in progress" cosplays she would complete for FanX.
In her workshop stood an adjustable mannequin dress form with the makings of a dress — an option if the weather isn't too cold during FanX. Another cosplay was in need of a cape and some armor to be complete.
Chloe's packed workshop includes a clothes rack with many costumes from past conventions: male and female characters mostly from anime series and games, such as Leo from the video game "Fire Emblem Fates" and Hera from Disney's "Hercules."
She also has colorful wigs on foam heads and a rotating tower of a rainbow of thread spools, as well as all types of scissors and tools.
Chloe said the best essentials for cosplayers just starting out are a basic sewing machine, measuring tapes, pinking shears for fabrics and a fold-out measuring board.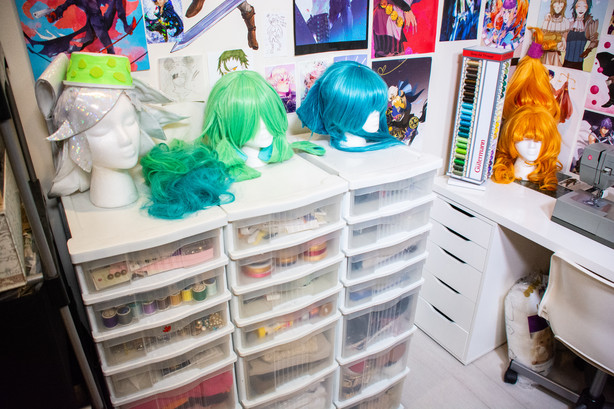 As she gave her final tips, Chloe was in cosplay as Ritsu Sakuma from the game "Ensemble Stars."
To complete many of her cosplays, makeup and contact lenses can really bring the character to life, she said. She has a collection of prescription lenses in many colors including red and purple to match the various characters.
Moboadobo
Alyssa is known as moboadobo_cosplay on Instagram.
Her cosplay style includes making breastplates, shields, swords and other props. She loves to learn about new craft products and techniques in making her cosplays.
She considers her Wonder Woman cosplay her pride and joy. "(When I saw) Gal Gadot's Wonder Woman in 'Batman v. Superman,' I was blown away," she said. "I cry every time I watch it because it was just the first time I've seen like a true superheroine just look amazing. But she's not so skinny, she's not emasculated … she's just empowering."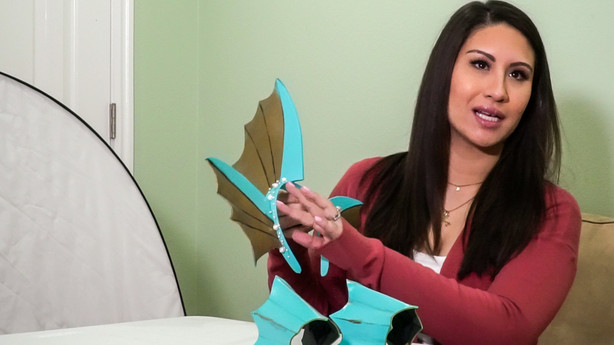 She started out by studying Wonder Woman's bodice on YouTube and photos on Pinterest. After carving the base of the bodice in craft foam, she then experimented in using Worbla, a type of craft thermoplastic, to make it durable and not too heavy to wear all day.
For Wonder Woman's shield, Alyssa experimented with Bondo, a type of filler putty commonly used for automotive and household repairs. She took a plastic shield and put a layer of Bondo on top to give it a rough texture to keep it movie-accurate.
She then used a mesh on the inside of the shield with Bondo to make it sturdy.
"When you go to cons, you learn what works for your cosplay," she said. "So the first time I had just glued these belt parts down and they kept popping off and it was miserable. So I had a friend really screw these in, and it made these really sturdy straps. So this shield is really sturdy."
Another tip Alyssa shared is to keep comfort in mind. When you see an actor or actress in a movie, comfort is less of a concern since they have the luxury of taking a lot of breaks. When you are at a convention like FanX, you will be in your cosplay all day long.
For example, her Wonder Woman bracelets are made of foam. She said foam can make you sweat a lot, so she suggests covering it in felt to absorb the moisture.
Alyssa also has a Pokémon Eeveelutions cosplay.
Her love for Pokémon began when she was 9 years old. Her two sisters cosplay as well and they wanted to do a group cosplay together as three Pokemon. Alyssa went with Vaporeon, while her sisters were Jolteon and Flareon.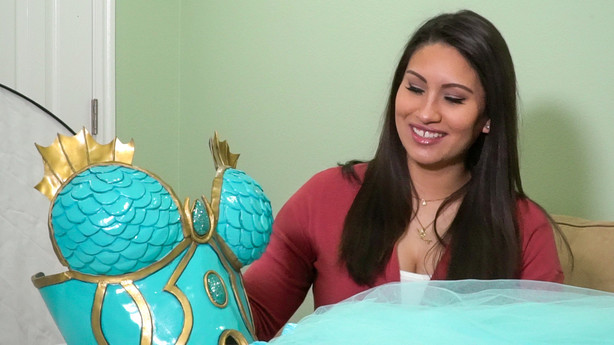 Alyssa said anyone can create cosplays — even busy moms.
"As a mom who found her hobby … I really wanted to be able to show that you can cosplay, you can do fun stuff like this, you just have to manage your time wisely," she said. "You still have to be a mom … but this is something that I love to do. And my other kids are old enough … that they know mommy is working on her stuff even though it's on my kitchen table."
In the two weeks leading up to the con, it's crunch time for Alyssa and that's when her creative juices are really flowing. A hitch for this FanX? She's pregnant. A possible cosplay is an expectant Princess Jasmine from Disney's "Aladdin."
A goal Alyssa has for the future is a group cosplay with her whole family.
Ashucosu
Ashley is known by her cosplay name Ashucosu. She has been cosplaying since age 13 and started making her own cosplays at age 15.
Last summer, Ashley began her foray into cosplay contests. Most comic conventions honor the ever-growing number of cosplayers coming with a contest, giving cosplayers a chance to show off their hard work.
FanX has hosted a contest at each event from its inception, usually on the last evening.
"Since I started doing competitions … I really wanted to try and focus on making it look nice, look presentable, care about what I'm doing and not cut a whole bunch of corners. (Judges) look and see the quality of what you've made," Ashley said.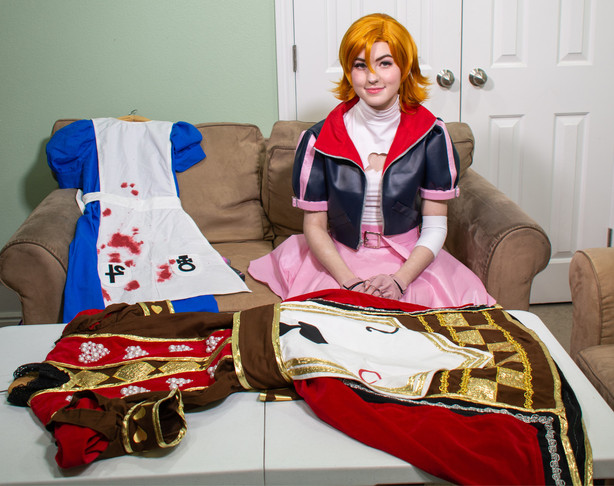 She added that judges are looking for care in creation and even fabric choices. She started to focus on not just using plain cottons overall but also linens, velvets, twill and other kinds of materials.
"That will give your costume interest and intrigue and add another layer of detail to them," Ashley said. "They also look for construction quality and techniques of sewing."
Another tip is to do mockups using other fabric that's cheaper, not fancy fabric, to get a feel for how you'll make the costume, she said. This way you're not wasting anything and get some practice, she added.
Ashley's cosplay of Alice from the video game "Alice: Madness Returns" won first place for Beginner's Craftsmanship at Anime Banzai 2018.
The dress was handmade from cotton, velvet and twill and many hours were spent beading it by hand, Ashley said.
When making props, Ashley loves using EVA foam and 3D printing combined with her painting skills. Beginner and experienced cosplayers use foam, as it's flexible and rolls can be purchased online and is relatively inexpensive. It is also lightweight and easy to paint.
For this weekend's FanX, Ashley spent a month creating a cosplay of Nora Valkyrie from the animated web series "RWBY." Her latest creation's materials were covered in full through donations on a website where fans of her cosplays could contribute.
There were a lot of new elements in the costume in which she had no experience. She painted leather for the first time, changing black boots to white. The skirt was made from stretch taffeta, which is tricky to work with.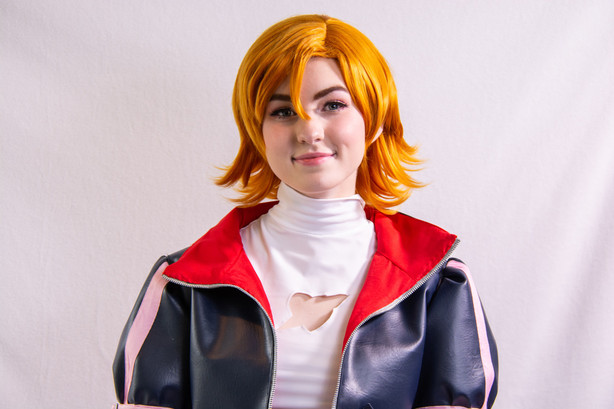 Ashley created the jacket using navy blue pleather and then fully lined it with a different color. She added a belt buckle and grommets for accuracy because concept art from the show is very detailed.
Ashley chose this character because she is "spunky and positive and tough and go get'em and loves pink," she said.
Although Ashley won't be entering the FanX cosplay contest this time, she is excited to see friends, meet other cosplayers and attend the panels.
All three of these cosplayers were anxious to share their knowledge and show off their hard work. They were happy for all those who were just beginning their journey into the art of cosplay and joining the family.
"A lot of new cosplayers have the impression that if you don't make everything 100 percent from scrap by yourself, you aren't a valid cosplayer, and that's really not true," Ashley said. "Everyone's gotta start from somewhere. A great place to start is thrifting things, buying things and modifying them. Working on your really basic sewing and crafting skills and then when you get a little bit more experienced, a little more comfortable with the sewing machine, with foam, things like that, then you can start if you want to, building things from scratch so there's nothing wrong with buying things."
---
About the author: John Mabunga was born in Utah and grew up in New York City. He has a career in computers and loves photography and all things Disney. His goal is to visit every Disney Park worldwide. He loves spending time with his beautiful wife and five children. Follow him on Instagram @jmabunga for updates on his projects.
×
Photos
Related Stories