SALT LAKE CITY — State wildlife officials approved a plan to increase the number of cougar hunt permits and decrease the number of permits for bobcats before the hunting season for both animals, but not everyone's on board with the changes.
During its meeting Thursday, the Utah Wildlife Board approved a proposal to allow 690 cougar hunting permits — an increase of 46 from the previous year. It's the fourth consecutive year that wildlife officials have approved cougar hunt increases.
Darren DeBloois, game mammals program coordinator for the Utah Division of Wildlife Resources, explained the agency's goal is to maintain a healthy population while also considering human and livestock safety, and the health of the species cougars prey on.
"As part of this, we factor in a proportion of older age animals, breeding females and healthy cougars in the population," he said.
According to the division, there are more than 2,500 estimated adult lions in the state. That's compared to about 1,000 in 2004. Prior to the vote to approve the change, some ranchers applauded the increased hunt permits because of a cougar population that had snuck up on ranchers.
"In the past 5 years, the increase of lions has crept up on us," Chad Salmon, who said he was representing ranchers and landowners in Morgan and Summit counties, told the board. He said areas where there used to be 50 to 100 deer coming through has decreased to fewer than a dozen. "We can go out on the mountain and see lions weekly where we've never spotted a lion in years past."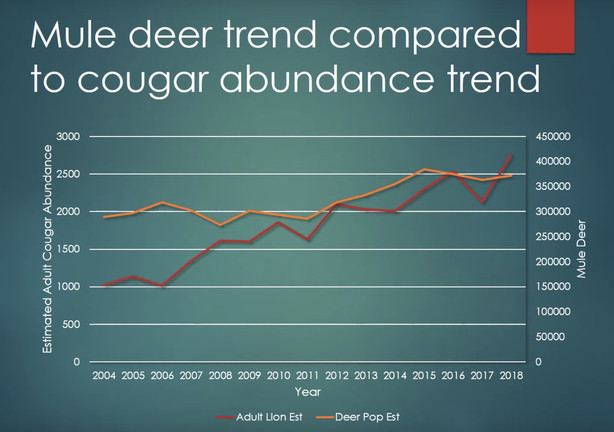 "We need more help. The numbers keep going up, up, up," added Sierra Nelson, executive director of the Utah Wool Growers Association.
However, not everyone agreed with the board's cougar proposal before it passed.
Related:
Opponents of the plan brought up chronic wasting disease as one of the main concerns. The disease is considered rare and affects the nervous system in deer, elk and moose, which then develop brain lesions and is fatal. It's been found in deer in eastern and central Utah.
Jean Tabin, a Utah resident, told the board she was opposed to the measure to increase cougar permits because it may be a threat to the species population and that it may threaten a predator that wipes out animals threatened by the disease.
"I worry it's the elimination of these animals in the desire to protect sheep and deer," she said, adding that she wasn't convinced cougar population was increasing.
Sundays Hunt, director of Utah's Humane Society chapter, also questioned the cougar population estimate because she said it is unreliable and echoed concerns regarding chronic wasting disease.
"Cougars maintain the health and viability of (deer and bighorn) populations by preying on sick individuals," she said. "Researchers found that cougars preferred adult mule deer infected by CWD. Moreover, researchers found cougars consumed over 85% of carcasses, thereby removing a significant amount of contamination from the environment."
That said, Miles Moretti, representing the Mule Deer Foundation, argued there isn't any evidence that predators control the disease from spreading.
"They take healthy animals as well as unhealthy animals," he said.
Following the public comment period, Utah Wildlife Board member Karl Hirst said the disease has been "on everyone's radar" and is to be addressed during future management of mule deer. The board then passed the measure.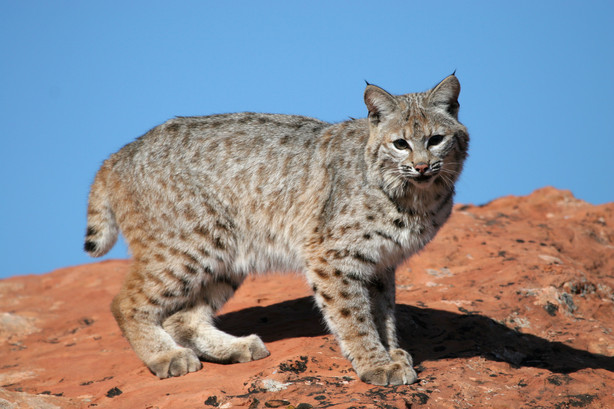 The board also agreed to trim the number of bobcat permits to a maximum of 6,460, which is 80% of last year's total, and a three-year management cycle to keep an eye on the species in Utah. In addition, they agreed to lower the number of permits an individual hunter can get from six to five.
The alterations to cougar were suggested by DeBloois. No changes were made to other furbearers, such as beaver, mink, marten, badger, gray fox, kit fox and ringtail during Thursday's meeting.
DeBloois proposed the number of bobcats hunting permits to be lowered because the parameters set for a healthy population (juveniles, adults and females) indicated a declining population, but not low enough to suggest a new management plan. He explained Utah's bobcat populations fluctuate depending on prey densities and that the decline could be linked to fewer rabbits in the state, which are a large food source for the species.
"As their natural prey-base declines, we see declines in (bobcat) numbers. That's something that occurs outside of what we're doing with the harvest," he said. "We don't harvest enough bobcats to really have an impact on that population. Those fluctuations are normal."
The bobcat hunt runs from Nov. 20 to March 1, 2020, which is also a week shorter than last year. The cougar hunt will begin Nov. 6.
×
Photos
Related Stories