SALT LAKE CITY — E-scooters have been a hit in Utah since companies made them available in downtown Salt Lake last year. Options in Utah's largest city have increased in 2019, and the scooters now available in Ogden, Provo, Draper and Sandy, as well.
Among e-scooter selling points: They're easy to use to zip around — especially in downtown Salt Lake or in areas a block or two away from public transportation — they're relatively inexpensive, and they're fun. Another often-touted point is that they're better for the environment.
For example, Utah-based analytics company Qualtrics released a study from a sample of 500 respondents showing about two-thirds of those respondents said they felt the scooters had a somewhat to an extremely positive impact on the environment.
But are sharable e-scooters — ones like Lime, Bird, Spin or Razor — really the green alternative they're made out to be? That depends on how you're using the scooters, three researchers argue in a study published in "Environmental Research Letters" on Aug. 2.
The study, led by North Carolina State University associate professor Jeremiah Johnson, looked into emissions related to the scooter's life cycle. That means tracking emissions caused during the production of materials that are used to make a scooter, the manufacturing of the scooters, shipping scooters to a location, and also the charging and redistributing of the scooters.
The researchers also used available data from other studies to look at the environmental impact from the life cycles of other modes of transportation, such as bicycles or cars. Pooling the data together, the researchers found that ride-share e-scooters are better for than the environment than most cars, but not better than many other forms of transportation.
"We found that the environmental impact from the electricity used to charge the e-scooters is fairly small — about 5% of its overall impact. The real impact comes largely from two areas: using other vehicles to collect and redistribute the scooters; and emissions related to producing the materials and components that go into each scooter," Johnson said, in an article about the study published by NC State University.
The researchers found that a bicycle, an electric bicycle (not shared), an electric moped or bus with high ridership were much greener options among vehicles.
"However, choosing an e-scooter over driving a personal automobile with a fuel efficiency of 26 miles per gallon results in a near-universal decrease in global warming impacts," the researchers say.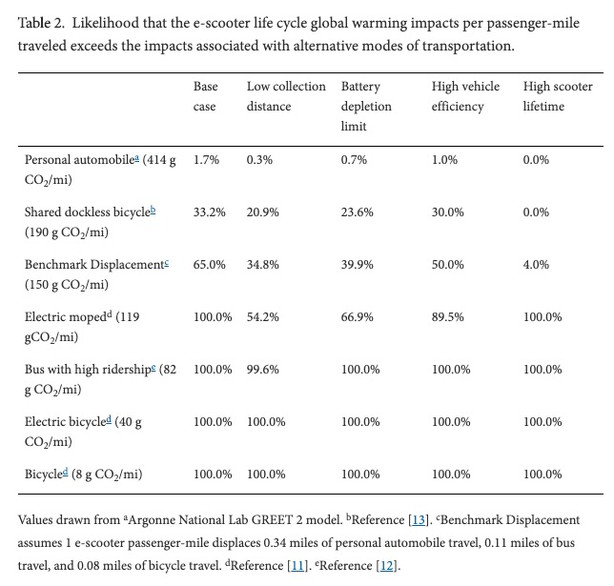 The study ends by offering options to cities to reduce carbon emissions associated with scooters. One suggestion would be to allow e-scooters to stay in public places overnight to make it easier for those hired to recharge scooters to find them.
Cities could also create a system to improve the collection process and reduce the travel of cars picking up the scooters to be recharged, or create anti-vandalism policies to curb "misuse or mistreatment" of scooters to help prolong the lifespan of a scooter, the researchers say.
"The scooter companies also can take meaningful action to reduce the life cycle burdens of their products. They can reduce collection and distribution burdens by incentivizing or requiring the use of efficient automobiles," researchers add. "In addition, they could reduce vehicle miles traveled for collection and distribution through centralized management, or by allowing chargers to 'claim' e-scooters to eliminate unnecessary and competitive driving during daily collection."
It's just one more thing to think about before you unlock your next scooter.
×
Related Links
Related Stories