OGDEN — The e-scooter craze is expanding in Utah.
Lime announced Monday it will release 300 electric scooters in Ogden. A ceremonial arrival of the company to the city is scheduled for Thursday, and the scooters will be available to ride starting Friday morning.
More scooters could be added if the demand is there, according to Jonathan Hopkins, director of strategic development in the northwest region for Lime.
"We're just excited to join another great city in the Wasatch Front," he told KSL.com. "(Ogden) has been very eager about this effort. … It will be great for (people) getting around town, helping visitors and residents alike get around and shop and dine."
Ogden Mayor Mike Caldwell said in a statement that the addition of Lime will benefit public transit users in the city.
"The arrival of Lime is a great complement to our efforts to build out our bike network and will also help more people experience our great downtown businesses," he said.
Larsen, Caldwell and Utah Transit Authority board trustee Beth Holdbrook are expected to speak at the introductory press conference at the Ogden Municipal Building Thursday morning.
Ogden will become the second city in Utah to reach an agreement with Lime. The company debuted in Utah in June 2018 by releasing a fleet of e-scooters in Salt Lake City. The city's transportation director, Jonathan Larsen, told KSL.com that Lime had a 500-vehicle agreement with Salt Lake City, which included e-scooters and e-bicycles (which debuted in November).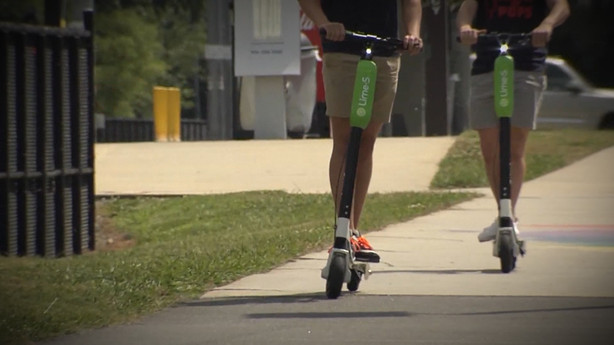 Bird, Lime's primary competitor, also debuted in Salt Lake City and South Salt Lake about the same time. Spin, another e-scooter company, opened operations at Utah State University in Logan, according to TechCrunch.
Hopkins declined to say if Lime would expand to other Utah cities in the future, only noting that officials "continue to work with interested cities throughout the state."
E-scooters have been met with mixed reviews in Salt Lake City and elsewhere in the country. They have been a popular mode of transportation that allows riders to zip through downtowns quickly, but there have been concerns about safety.
A Qualtrics study released in August 2018 reported that about one-third of Utah respondents were very concerned about the safety of scooters. The Center for Disease Controls even launched a probe into e-scooter injuries last December, according to CNN. Austin, Texas, city officials requested the study in the wake of 258 injuries in a 60-day span in the city last year.
Related:
Lime encourages riders to follow local helmet and transportation laws, as well as be mindful of any obstructions while riding. At its introductory press conference Thursday, the company will hand out free helmets to Ogden residents, Hopkins said.
Additional free helmets will be available at The Corner, 2501 Washington Blvd., while supplies last.
Lime also announced Monday it will offer 50 percent discounts to low-income residents in Ogden. Anyone in a city, county, state or federal low-income program will be able to unlock e-scooters for 50 cents and will be charged 7 cents per minute after that.
×