This archived news story is available only for your personal, non-commercial use. Information in the story may be outdated or superseded by additional information. Reading or replaying the story in its archived form does not constitute a republication of the story.
PROVO — With a brand new offensive coaching staff and coming off a dismal 4-9 season, the BYU football program could use an influx of talent during the 2018 national signing period.
If nothing else, the Cougars got more players in the right places.
With 14 players signed during the NCAA's inaugural early signing period, the Cougars' incoming class is 22 total players, as announced by the program Wednesday afternoon.
"We had a good number who came on a recruiting visit after signing, and they helped recruit for us," BYU coach Kalani Sitake said. "It took a little bit of drama out of it … less drama is usually good. But more than anything, these young men deserve a lot of praise and they are joining a team and have to go back to finding a role and a chance to play.
"They are going to compete with a lot of great players on the team."
The class, which ranks just 83rd nationally according to 247Sports, contains five offensive linemen, four linebackers, four defensive backs and two quarterbacks, among others, is comprised primarily of two- to three-star recruits with 11 prospects from the state of Utah and 14 who signed during the NCAA's inaugural early signing period.
But one potential star that BYU closed in signing is four-star Arizona wide receiver Gunner Romney.
"Gunner is a really good player; a big strong receiver who I think is not only a talented player but the right kind of kid," offensive coordinator Jeff Grimes said. "He's all business, and he's very serious about his training. He has a plan to get here and compete right away."
The 6-foot-3 product of Chandler High School committed early to the Cougars, but his primary contact was former wide receivers coach Ben Cahoon. While receiving a flurry of late interest from Arizona and Arizona State, Romney eventually remained committed to BYU with help from new receivers coach Fesi Sitake and the offensive staff.
"When I got here, I didn't know numbers. I just said 'tell me the names, and let's go.' One of those priorities was Gunner," Sitake said. "With coach Grimes, (quarterback coach Aaron) Roderick and (tight ends coach) Clark, we went on a full-court press with him and made sure that he knew we wanted him as much as the previous staff did.
"My role was just to come in and make sure that he still felt at home here."
Romney, who was upgraded to a four-star prospect by the 247Sports composite rankings earlier this week, was among the top-rated wide receiver prospect in Arizona by the popular recruiting service. The 6-foot-2, 180-pound pass catcher averaged 18.3 yards per catch for 3,494 yards and 34 touchdowns in three seasons at Chandler, helping the Wolves to a 12-2 record and a Class 6A state title in 2017.
"He doesn't have a weakness," Sitake said. "He's a big, physical receiver, superfluid, and he's got some of the most natural hands I've seen from a high school wide receiver.
"He's a guy you can throw a quick screen to and he'll make it go all the way. But on top of that skill set, he's an unbelievable kid, he's respectful, he's got a great work ethic — he works out twice a day, and he's got a good head on his shoulders."
Romney's older brother Baylor Romney enrolled at BYU for winter semester and helped seal the crucial commitment for the coaches.
"There are a few cases where some people want to create their own path. But for the most part, there's a comfort level being around family," Sitake said of Gunner Romney, who also had offers from Boise State, Hawaii, Iowa State, Princeton and Utah. "As you recruit, every coach will give you the best about the school. The players can really give the greatest insight about whether the coaches say is true.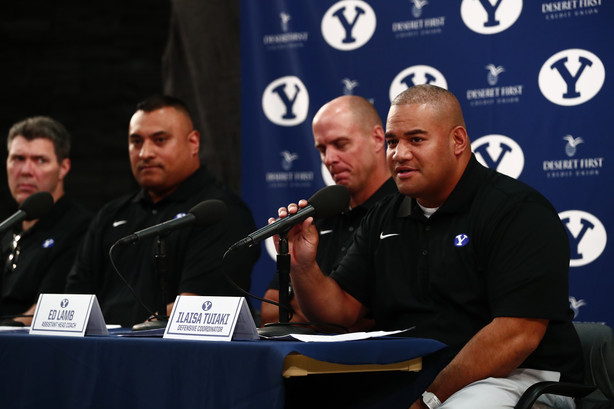 "It was nice to have someone like Baylor who could speak to Gunner and the family, if it was all in line with what he was saying."
The Cougars signed five offensive linemen, all during the early signing period, but closed out a class that will send Campbell Barrington, Jacob Smith and Lone Peak's Connor Pay on two-year missions in the immediate future while welcoming in Herriman grad Harris LaChance and Weber High's Tyson Lewis.
New offensive line coach Ryan Pugh made sure to visit all five signees the day he was hired.
"Being able to spend as much time with their families made them feel comfortable with the person who would be coaching their sons," Pugh said. "People ignore that fact often, but you need to know who you are going to play for. At the end of the day, when you begin practicing, all the facilities and weight rooms and cool jerseys disappear. You'd better be comfortable with the person you are going to play for.
"You'd better be sure that they are going to treat your sons the right way."
The group includes 14 recruits who signed during the NCAA's inaugural early signing period in December, including Corner Canyon quarterback Zach Wilson, the No. 2-rated signal caller in the state of Utah by MaxPreps and Rivals.
In addition to Romney, BYU also added former Bingham wide receiver Brayden Cosper and tight ends Ben Tuipulotu and Dallin Holker from Lehi.
The Cougars also landed another punter from Down Under in Australian Danny Jones, replacing senior New Zealander Jonny Linehan. The 6-foot-4, 223-pound Jones is a product of the Birchip-Watchem Bulls and Bendigo Pioneers' Aussie rules football programs who attended La Trobe University in Melbourne.
"His dad was disappointed that he wasn't chasing the Aussie rules football dream," said assistant head coach Ed Lamb of Jones, a traditional rugby-style punter. "But he really follows American football, and it's a dream come true for him to be here."
Former Kearns High all-state receiver and Utah signee Amone Finau made known his intentions to move to BYU. Signed as a running back, Finau has been enrolled at Salt Lake Community College after returning from a two-year mission for the LDS Church in Michigan.
The 6-foot-2, 215-pound rusher also played defensive back and kick returner in high school, and he racked up 911 yards receiving and nine touchdowns as a senior in 2013.
"Amone fits right in with a lot of the backs we've had at BYU over the years," Grimes said. "He can be a three-skill back: run, catch and block."
The Cougars' class will also include a number of preferred walk-on players, like Lehi's Kade Moore and East's Jaylon Vickers. Coaches cannot comment on walk-ons until the players are enrolled in class and practicing with the team, per NCAA regulations.
In addition, the Cougars will welcome back 14 returned missionaries, including Finau's brother Sione and former Wasatch High and U.S. Army All-American kicker Skyler Southam.
"The great part about each signing class is that we are getting some of the missionaries that we recruited back," Sitake said. "They are all coming home, and from now until the end of July, we'll welcome them back really proud of the work they did in the mission field."
Wilson commits
BYU recruiting Class of 2018
| Name | Pos | Hometown |
| --- | --- | --- |
| <a href="https://www.ksl.com/?sid=46255638&nid=1186&title=malik-moore" target="_blank" class="sense-link" data-contentId="585414">Malik Moore | DB | San Diego</a> (Point Loma HS) |
| <a href="https://www.ksl.com/?sid=46255683&nid=1186&title=amone-finau" target="_blank" class="sense-link" data-contentId="585414">Amone Finau | RB | Kearns, Utah</a> (Kearns HS) |
| <a href="https://www.ksl.com/?sid=46255341&nid=1186&title=viliami-tausinga" target="_blank" class="sense-link" data-contentId="585414">Viliami Tausinga | LB | Salt Lake City</a> (East HS) |
| <a href="https://www.ksl.com/?sid=46255608&nid=1186&title=alexander-miskela" target="_blank" class="sense-link" data-contentId="585414">Alexander Miskela | LB | Los Alamitos, Calif.</a> (Los Alamitos HS) |
| <a href="https://www.ksl.com/?sid=46220942&nid=1186&title=gunner-romney" target="_blank" class="sense-link" data-contentId="585414">Gunner Romney | WR | Chandler, Ariz.</a> (Chandler HS) |
| <a href="https://www.ksl.com/?sid=46220920&nid=1186&title=isaiah-herron" target="_blank" class="sense-link" data-contentId="585414">Isaiah Herron | CB | Las Vegas</a> (Arbor View HS) |
| <a href="https://www.ksl.com/?sid=46255596&nid=1186&title=danny-jones" target="_blank" class="sense-link" data-contentId="585414">Danny Jones | P | Essendon, Australia</a> (La Trabe University) |
| <a href="https://www.ksl.com/?sid=46220943&nid=1186&title=dallin-holker" target="_blank" class="sense-link" data-contentId="585414">Dallin Holker | TE | Lehi, Utah</a> (Lehi HS) |
| <a href="https://www.ksl.com/?sid=46222363&nid=1186&title=zachary-wilson" target="_blank" class="sense-link" data-contentId="585414">Zachary Wilson | QB | Draper, Utah</a> (Corner Canyon HS) |
| <a href="https://www.ksl.com/?sid=46220926&nid=1186&title=talan-alfrey" target="_blank" class="sense-link" data-contentId="585414">Talan Alfrey | DB | Auburn, Wash.</a> (Auburn Mountain View HS) |
| <a href="https://www.ksl.com/?sid=46220950&nid=1186&title=brayden-cosper" target="_blank" class="sense-link" data-contentId="585414">Brayden Cosper | WR | South Jordan, Utah</a> (Bingham HS) |
| <a href="https://www.ksl.com/?sid=46220927&nid=1186&title=brach-davis" target="_blank" class="sense-link" data-contentId="585414">Brach Davis | CB | Salt Lake City</a> (Olympus HS) |
| <a href="https://www.ksl.com/?sid=46220934&nid=1186&title=connor-pay" target="_blank" class="sense-link" data-contentId="585414">Connor Pay | OL | Alpine, Utah</a> (Lone Peak HS) |
| <a href="https://www.ksl.com/?sid=46220922&nid=1186&title=chinonso-opara" target="_blank" class="sense-link" data-contentId="585414">Chinonso Opara | DL | Draper, Utah</a> (Juan Diego HS) |
| <a href="https://www.ksl.com/?sid=46221317&nid=1186&title=oliver-nasilai" target="_blank" class="sense-link" data-contentId="585414">Oliver Nasilai | LB | Springdale, Ark</a>. (Har-Ber HS) |
| <a href="https://www.ksl.com/?sid=46221303&nid=1186&title=campbell-barrington" target="_blank" class="sense-link" data-contentId="585414">Campbell Barrington | OL | Spokane, Wash</a>. (University HS) |
| <a href="https://www.ksl.com/?sid=46221231&nid=1186&title=isaac-matua" target="_blank" class="sense-link" data-contentId="585414">Isaac Matua | LB | Kearns, Utah</a> (Kearns HS) |
| <a href="https://www.ksl.com/?sid=46220932&nid=1186&title=jacob-smith" target="_blank" class="sense-link" data-contentId="585414">Jacob Smith | OL | Rosemount, Minn.</a> (Rosemount HS) |
| <a href="https://www.ksl.com/?sid=46220931&nid=1186&title=ben-tuipulotu" target="_blank" class="sense-link" data-contentId="585414">Ben Tuipolotu | TE | Fort Mill, S.C</a>. |
| <a href="https://www.ksl.com/?sid=46220919&nid=1186&title=stacy-conner" target="_blank" class="sense-link" data-contentId="585414">Stacy Conner | QB | Wylie, Texas</a> (Wylie HS) |
| <a href="https://www.ksl.com/?sid=46220928&nid=1186&title=tysen-lewis" target="_blank" class="sense-link" data-contentId="585414">Tyson Lewis | OL | North Ogden, Utah</a> (Weber HS) |
| <a href="https://www.ksl.com/?sid=46221144&nid=1186&title=harris-lachance" target="_blank" class="sense-link" data-contentId="585414">Harris LaChance | OL | Herriman, Utah</a> (Herriman HS) |
×
Related Stories