This archived news story is available only for your personal, non-commercial use. Information in the story may be outdated or superseded by additional information. Reading or replaying the story in its archived form does not constitute a republication of the story.
PROVO — The youth movement is in full effect at BYU.
One freshman starter drew the headlines before last week's bye in the Cougars' 49-23 win over Hawai'i.
But BYU (4-3) has played 25 freshman in 2018, including 15 true freshman. That includes quarterback Zach Wilson, less than a year removed from leading Corner Canyon to the 5A state quarterfinals.
It also includes Gunner Romney, the four-star Arizona receiver who has recovered from a fall camp injury and now boasts 127 receiving yards and two touchdowns — both from Wilson. A glance at the Cougars' depth chart reveals more youthful standouts: redshirt freshman Lopini Katoa at running back, true freshman Dallin Holker at tight end, freshman Brady Christensen at left tackle and James Empey at center, walk-on wide receiver Dax Milne and freshmen Devin Kaufusi, Isaiah Herron and Malik Moore seeing significant playing time on defense.
The Cougars started seven freshmen on offense against Hawaii, more than any other program in a single game in the country save Minnesota — and they've produced. The incoming class of 2018 has accounted for 50.6 percent of BYU's points, or 89 out of 176.
They've earned that playing time, head coach Kalani Sitake said.
"The easy answer to that is competition," Sitake told reporters during his weekly briefing Monday before getting ready for Saturday's 1:30 p.m. MT kickoff against Northern Illinois. "You have a chance to play every time you compare, and if you have a system in place that you are willing to start the best, then it's motivating."
The underclassmen have taken their opportunity and ran with it. But it hasn't come easily, either, according to Austin Hoyt. The fifth-year senior offensive lineman has seen every freshman put in extra time — after practice, before practice, on bye weekends, and during the summer — to be ready to make an immediate impact.
BYU coach Kalani Sitake speaks to the media after the Cougars' bye week .... https://t.co/7jkxvs3Irh

— KSL SportsBeat (@kslsports) October 22, 2018
If BYU's freshman class turns out to be something special, it won't be by gift, he said.
"James and Brady were working all summer with extra sets. Gunner throws and catches every day with his brother (quarterback Baylor Romney) after practice," Hoyt said, naming just a few examples. "Those are little things that those guys have done that have put them in a situation to play so much and at such a high level."
There's an element of gamesmanship in playing so many freshmen, too. Coaches know that young players are more difficult to scout, because there is less college film to get a sense of their tendencies and quirks.
That could change, especially at quarterback, where the Huskies will have a full game of film against the Rainbow Warriors to examine Wilson.
The Cougars are ready for that, too. That includes Wilson, according to wide receiver Aleva Hifo.
"He's definitely confident in what he does, and it shows in the way he plays," said Hifo, a junior with a team-best 21 catches for 225 yards and a touchdown. "The last road game that Zach played in was in high school, and to transfer that to a stadium and environment like ours, to do what he did, is huge. He deserves a lot of credit."
It's credit that will definitely be given to Wilson. And moreso if he — like his classmates — continues to take his opportunity and run.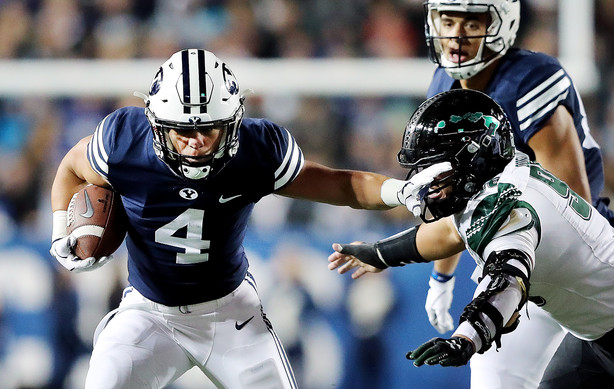 'Mike' Takitaki
Former edge rusher Sione Takitaki appears to have completed a transition to middle linebacker, or the 'mike' position, with senior team captain Butch Pau'u still on the mend with a hand injury.
The 6-foot-2, 230-pound Takitaki was listed as the lead middle 'backer Monday, which is mostly surprising in that the redshirt sione began his career at defensive end and has progressively moved further back in the front seven.
"We felt like Sione competed well, and settled into the mike position," Sitake said. "Now someone has to take that spot from him."
The Cougars have also rotated heavily at linebacker, including a cast of characters that includes Isaiah Kaufusi, Jackson Kaufusi, Michael Shelton (yes, the cornerback, playing in nickel packages), Max Tooley and Adam Pulsipher.
Not in the afternoons anymore
BYU's kickoff against the Huskies is scheduled for 1:30 p.m. MT on ESPNU, the Cougars' earliest kick time of the season at home (BYU kicked off at Wisconsin at 1:30 p.m. MT, but 2:30 local to the Camp Randall Stadium).
Don't get too used to afternoon games, though. The Cougars recently announced that next Saturday's road tilt at Boise State will start at 8:15 p.m. MT on ESPN2.
×
Related Stories