Estimated read time: 5-6 minutes
This archived news story is available only for your personal, non-commercial use. Information in the story may be outdated or superseded by additional information. Reading or replaying the story in its archived form does not constitute a republication of the story.
PROVO — BYU football wrapped up spring football Thursday afternoon on the south end of campus with a soft landing.
There was no final scrimmage, no annual spring game, nor even the excitement of the fan-driven open practice like last Saturday.
Instead, the Cougars practiced. And when they finished practice, they met in their individual position groups with their position coaches, like most practices end.
Because in the end, for as much as spring football is often hyped and driven by the country's desire for more football, that's what the Cougars have been doing for the past month.
Practicing.
So how did they do after a month of practice?
Well, they got better, head coach Kalani Sitake said.
"I'm really pleased with the 15 practices that we've had," Sitake said. "We didn't go as live as we did last year, but being able to have the quarterbacks go live a little bit was good last week.
"Overall, I think we took a huge step forward in getting where we need to be in the fall … We are way further ahead than where we've been."
The Cougars next turn their attention to player-run practices in the summer, while coaches hit the road for recruiting. The two sides will come together again in July, after BYU holds its 2019 media day in late June.
Offensive coordinator Jeff Grimes figured that the two areas where BYU improved the most this spring were at quarterback and wide receiver. The Cougars entered spring camp with 10 quarterbacks on the roster, though only a handful of them saw significant time at the position and starter Zach Wilson was held out after offseason shoulder surgery.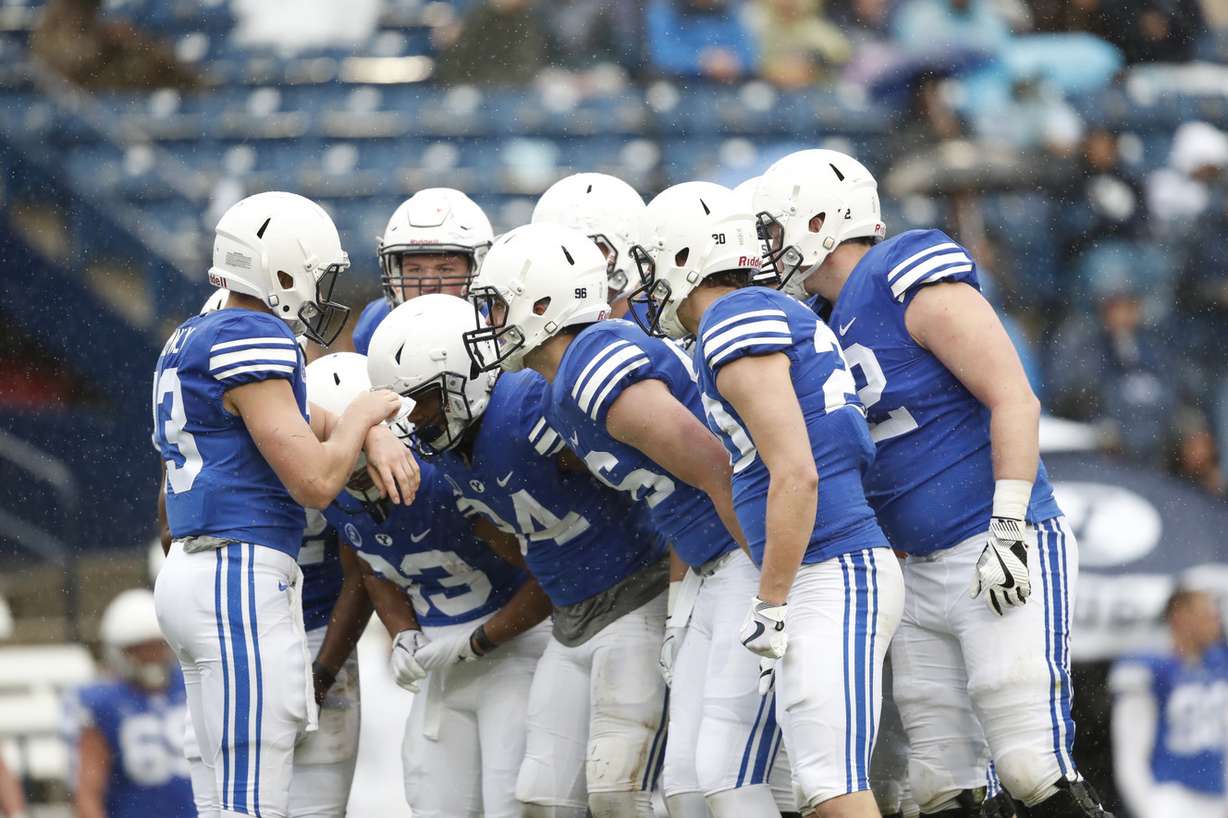 "I think the receivers have shown that even though you've got some experience there, they all have taken steps forward this spring," Grimes said. "Consistency in route running, knowledge of the offense, and the ability to make plays when you throw the football up. The one thing they can continue to get better at is blocking, but they have been a highlight of the spring — as well as the quarterbacks."
In his absence, Jaren Hall seized the opportunity to slide into the backup role — while multitasking with the BYU baseball team — and put on his own display of force in last week's final scrimmage.
If Hall seized the backup spot, though, then another signal caller seems to be right behind him.
No depth chart has been released. But it was pretty obvious from the media's limited viewing of practice that redshirt sophomore Baylor Romney is on the fast track to the third-string quarterback job.
The older brother of sophomore-to-be receiver Gunner Romney has received an increasing number of reps in March, and with Hall and Wilson both out Thursday, the coaches turned to Baylor Romney.
"He's a really good athlete; he can run and he's big," Sitake said of Baylor Romney. "I think he's been home from his mission for over a year now, so he's feeling a lot more comfortable. He started to really come on at the end of spring ball. It's really nice to have a room that is full of competition — but also quarterbacks who work together. I've seen a lot of progress from the three guys who got the bulk of the reps this spring, and Baylor is one of them."
New Back, Who Dis?
Conner Out
Of course, a casualty of one player succeeding — especially a quarterback — is often the removal of another.
Stacy Conner has entered his name into the NCAA transfer portal and is looking to leave BYU, Sitake confirmed Thursday.
"He's in the portal and I really wish him the best — whatever he is looking at," Sitake said. "I think playing time is something that he really wants, and he sees we've got a loaded quarterback room. But we'll help him going forward and wish him the best."
The 6-foot-6, 190-pound freshman from Wylie, Texas chose BYU over a scholarship from UNLV, and he also had interest in Baylor, Mississippi State, Purdue, Cal and Washington in high school.
But the convert to The Church of Jesus Christ of Latter-day Saints stuck with BYU as his "dream school," he said several times, and spent last year as a redshirt, helping to run the scout team — alongside Romney.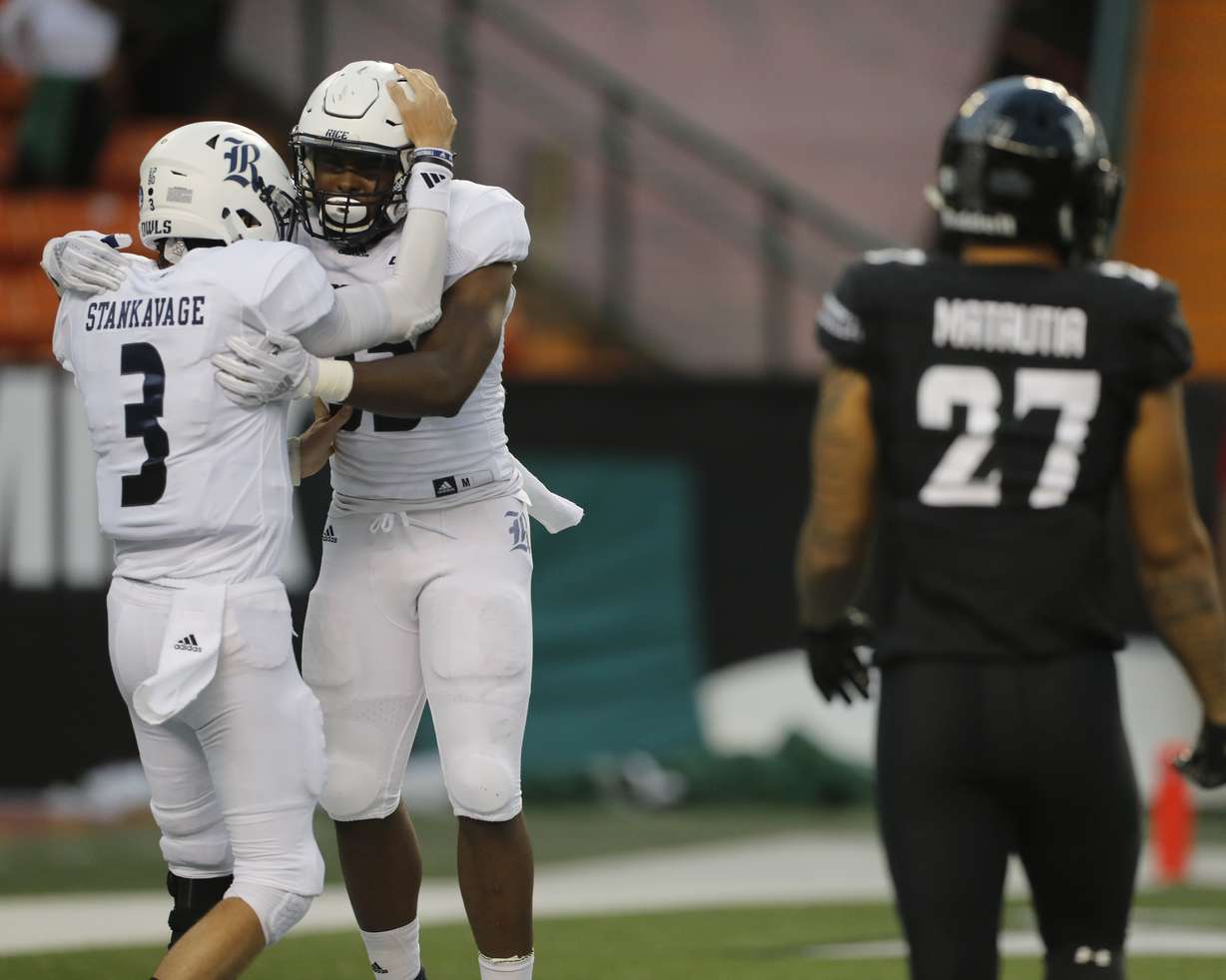 Esukpa Official
The Cougars also got better in the running back room, with Rice graduate transfer Emmanuel Esukpa set to join the Cougars after leaving the Owls with one season of eligibility remaining.
Esukpa will graduate with a degree in sports management this spring, and begin the master's of public administration course at BYU in the fall. He'll join a running backs group that includes presumed starter Lopini Katoa, along with Kavika Fonua, Tyler Allgeier and Sione Finau.
"Emmanuel is going to have to catch up in learning the offense," Sitake said. "But we have a really good group of guys willing to help and to teach.
"I'm really excited for him to come join our group. He lives this lifestyle already, and I think he's going to fit in perfectly off the field and on the field with our team and our program."
Sitake didn't rule out adding another running back in the summer, though NCAA regulations prevent him from speaking directly to the media about them.
The 5-foot-11, 230-pound Esukpa follows his former Rice running backs coach AJ Steward to Provo. The two have known each other since his junior year of high school.
"He definitely brings a veteran presence in our room that is needed," Steward said. "He has a good understanding of the game and he's ready to be a running back. He has tools that fit into our system and our scheme.
"He's going to be a tremendous asset to our team."
×
Photos
Related Stories