Estimated read time: 6-7 minutes
This archived news story is available only for your personal, non-commercial use. Information in the story may be outdated or superseded by additional information. Reading or replaying the story in its archived form does not constitute a republication of the story.
SALT LAKE CITY — It's no secret to Utahns that tech is a growing industry in the Beehive State. Now there's data to back that up.
According to a study released by the Kem C. Gardner Policy Institute Tuesday, Utah's tech job growth is the second-fastest in the nation at 4.9% per year over the last 10 years — more than double the growth rate in other Utah industries and more than triple the tech growth rate of the United States as a whole. The only state that grew faster was Washington at 5%, thanks in large part to Amazon's presence in the state.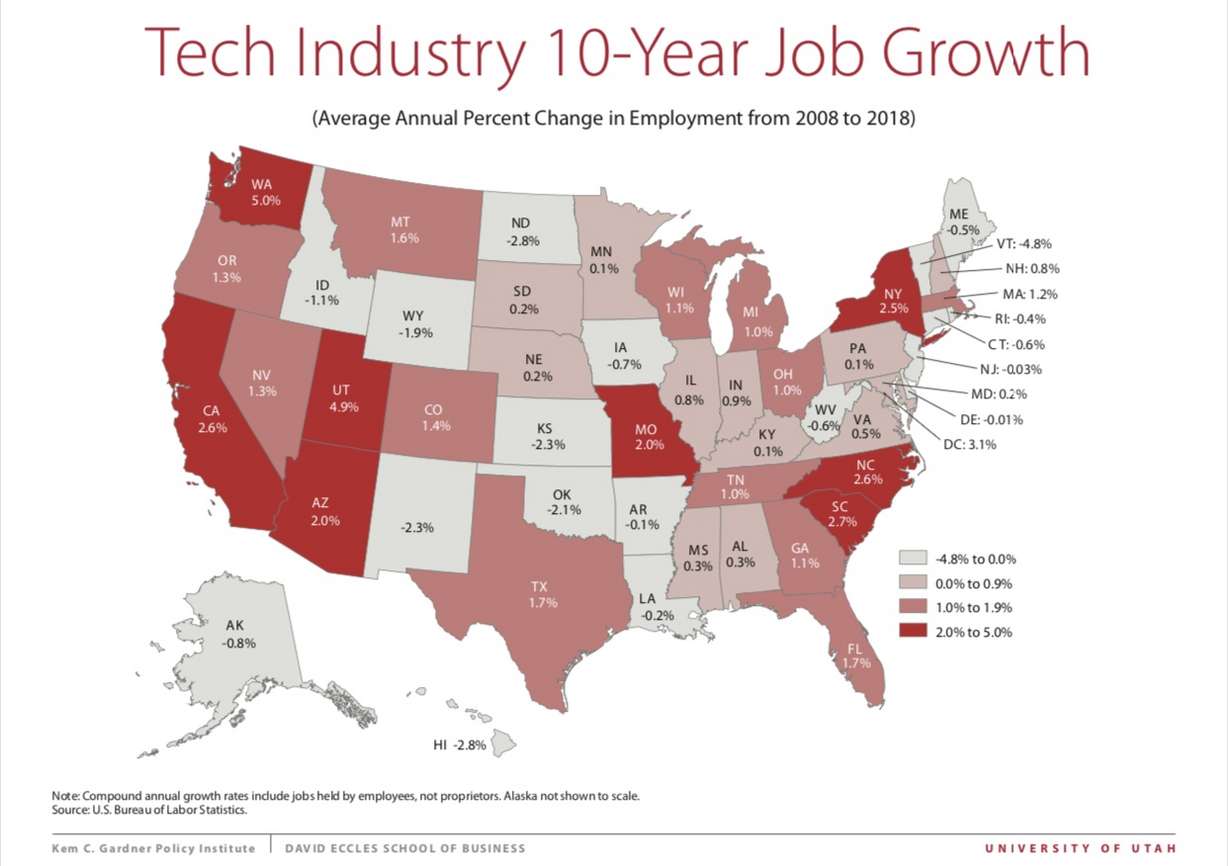 About one in seven Utahns are employed by the tech sector — a ratio higher than the national average — and their wages make up one-fifth of worker earnings in the state. Those tech workers make, on average, $106,100 a year — 81% more than employees in other industries throughout Utah.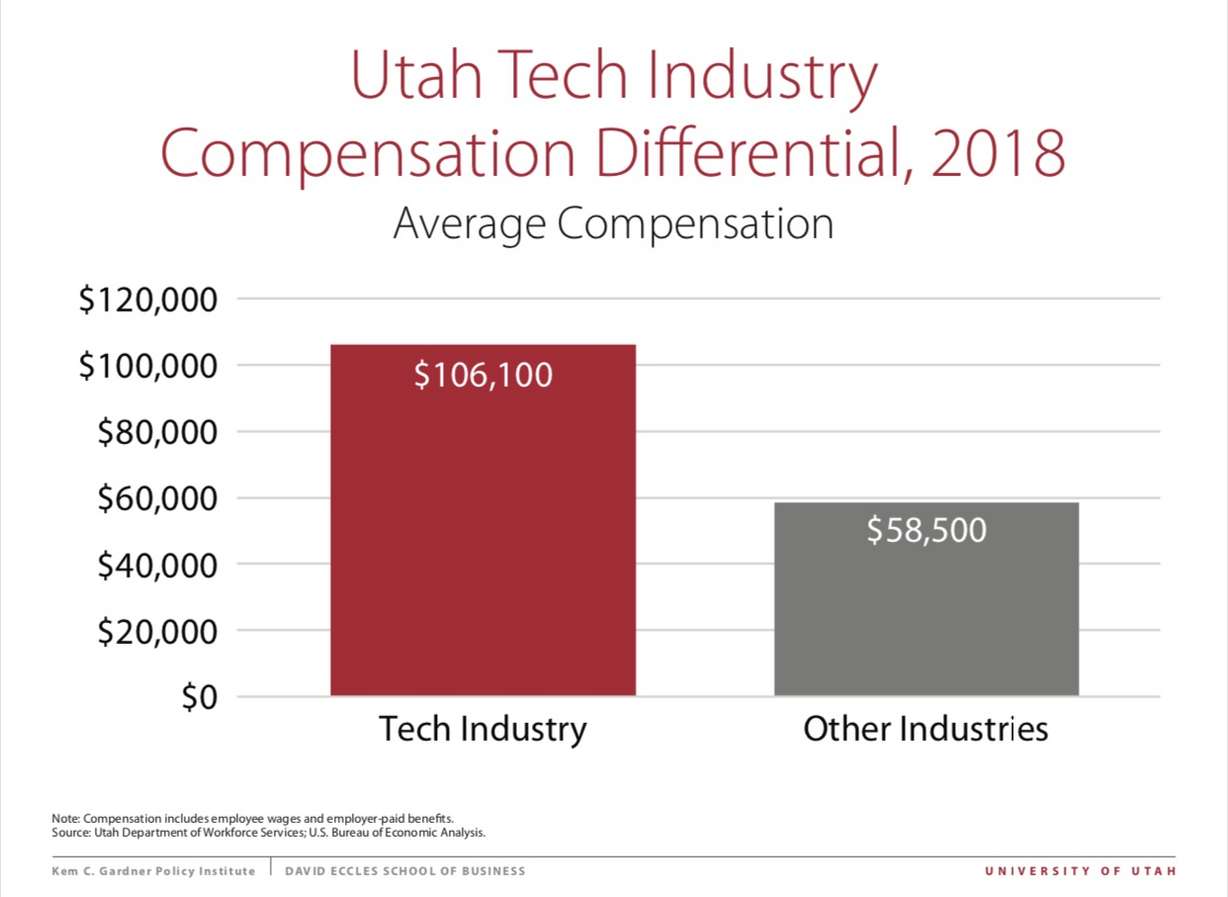 About 18% of Utah's gross domestic product, or $29.7 billion, comes directly and indirectly from the tech sector, and the state earns $2.5 billion in tax revenue from the industry.
"In terms of total employment and wages in the private sector, no state with an economy of Utah's size had a larger tech industry," the report reads.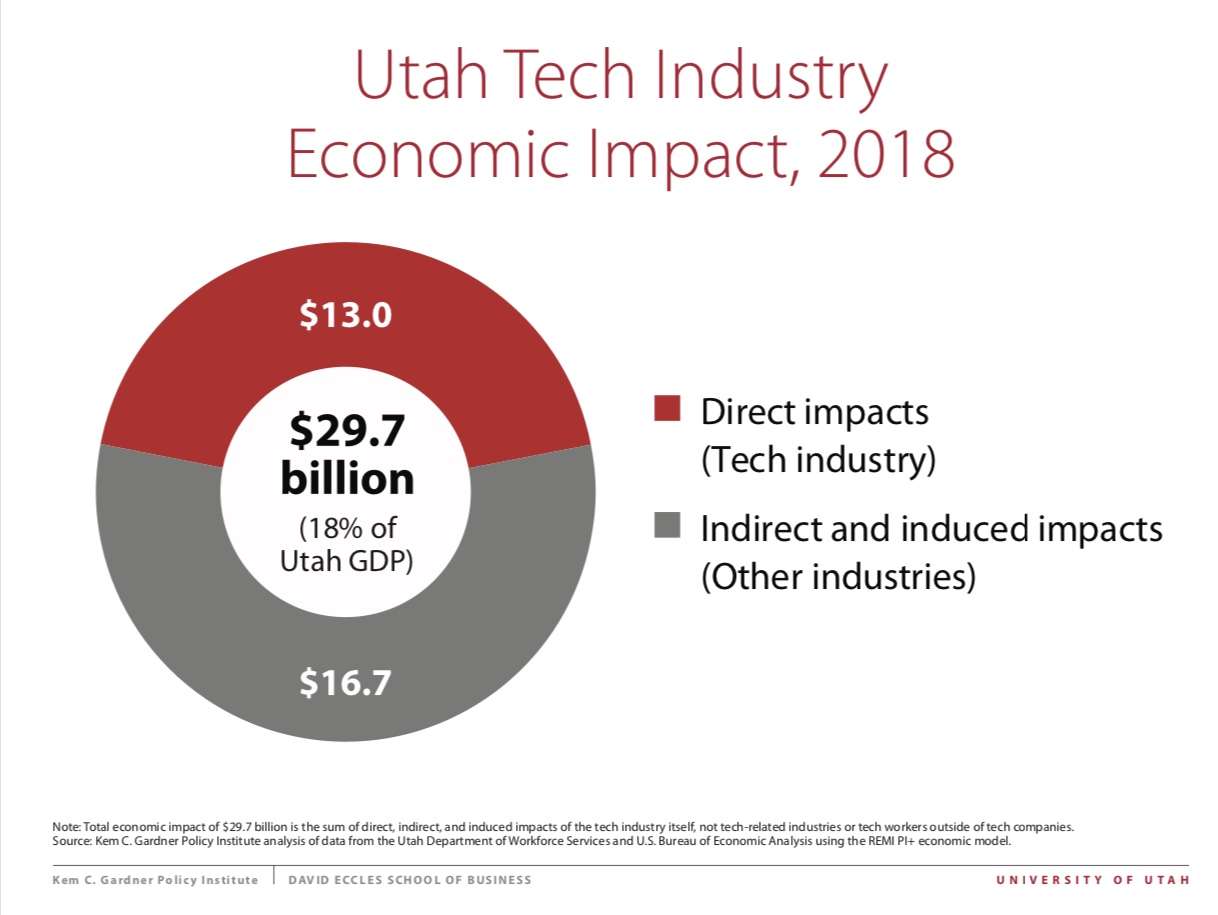 Utah really began to pull away from the rest of the country after the Great Recession and isn't showing any signs of slowing down, Levi Pace, senior research economist and lead researcher of the study, said during a roundtable meeting of the Tech Industry Advisory Council where the institute's research was presented Tuesday.
While the numbers prove success in Silicon Slopes, there are always a few pitfalls that come with achievement.
Pricing out the rest of Utah
According to Pace, there are 30,000 more residents in Utah than there would have been without the tech sector. About 5,000 of those are K-12 students. With a booming tech economy, Utah needs to ensure there's infrastructure in place for the growth that inevitably comes with that boom.
"I think we're on the verge of a housing crisis," Clint Betts, executive director of Silicon Slopes and the Utah Tech Council, said during the roundtable meeting.
Betts has long warned of what he calls this "rain cloud" and the need for Utah to avoid the problems that have affected the communities in Silicon Valley or Seattle, Washington, after their respective tech booms.
"If you don't work in tech (in Silicon Valley), you no longer live in that area," he said.
If the constant construction near the Point of the Mountain doesn't clue Utahns into the growth the tech sector has brought, the rising housing costs do. Betts believes the way to waylay a full-on crisis is to spread the success of the tech sector beyond the Wasatch Front.
More than 80% of tech industry jobs can be found in Salt Lake and Utah counties, the study shows. In order to avoid what's happened in Silicon Valley, Utah needs to spread the tech love to St. George, northern Utah and rural areas, Betts said.
But expanding to the rest of Utah shouldn't just involve big companies hiring remote employees in those areas, Betts added. When a company has to downsize, those employees will be the first to go.
Instead, Betts wants to encourage entrepreneurship in communities throughout Utah. He believes extending that opportunity will solve problems not just in housing, but in transportation, diversity and education, too.
When asked whether there may be resistance to tech growth in more rural communities, Betts said they haven't met with much. He even mentioned that Silicon Slopes plans to launch "Silicon Slopes East" in Price.
While those in more rural communities may not want to work at a big company in Salt Lake or Utah counties, they do want to be employed in their own city or town, Betts said. Right now, most people who want to work in the tech sector have to leave their community and come to the Wasatch Front.
Ginger Chinn, managing director of urban and rural business services at the Governor's Office of Economic Development, said her office doesn't hear much resistance from rural communities, either.
"What we do hear is that, 'We don't want our community to change too much, but we don't want to export our children. So how can we create jobs in our communities that will keep our families here?'" she said.
Chinn believes tech provides that avenue.
Talent acquisition
The difficulty in building those entrepreneurial ventures, however, is finding the talent. Most of Utah's potential employees end up in Salt Lake and Utah counties, thanks to the location of universities in the state. And even then it's not enough for companies along the Wasatch Front.
According to Betts, if all of the graduates from the University of Utah's tech programs decided to go work at Qualtrics, it wouldn't fill the company's need. And only 10% to 20% of new employees are relocating from outside of Utah, Pace said.
That's why Betts believes the state needs to support other educational opportunities, like coding boot camps or Silicon Slopes' new apprenticeship program, that will allow tech talent to grow outside of universities. It's another reason Silicon Slopes has pushed so hard to make sure there is computer science education in every school in Utah, not just those in Salt Lake and Utah counties, Betts added.
Part of the worker gap may also extend from Utah's below-average tech salary gap. Though tech employees do make significantly more than those in other Utah industries, the tech salary in the Beehive State is 27% lower than in other states. Even adjusting for the lower — but imminently rising — cost of living, it's sometimes not enough.
Class divide
Silicon Valley's most obvious pitfall is a growing class divide between those who work in tech and those who don't — and it's something Betts believes Utah should be worried about as well.
The hope, however, is that growing tech companies will be able to provide entry-level jobs for those not trained in a technological field, perhaps in customer support or similar areas. The study shows that for every job created in the tech industry, there are 1.6 jobs created outside the industry.
Betts hopes fostering entrepreneurship in rural communities will lead to companies that fit the spirit of the city or town.
"That's how you're going to make it viable in those communities long term," he said. "But the class divide issue is a very real issue that we should all be thinking about."
×
Related stories
Most recent Features stories