Estimated read time: 5-6 minutes
This archived news story is available only for your personal, non-commercial use. Information in the story may be outdated or superseded by additional information. Reading or replaying the story in its archived form does not constitute a republication of the story.
SALT LAKE CITY — The third-annual Silicon Slopes Tech Summit was flashy and loud — as all good tech conferences are.
Deafening pop music blared as 24,000 conference attendees filed in through the doors of the Salt Palace Convention Center Thursday to wait in excessively long lines for their registration badge.
As the clock struck 8:30 a.m., Silicon Slopes executive director Clint Betts took the stage and welcomed everyone to the conference: Thank you for coming. We're so glad everyone's here, blah blah blah.
Then he took a turn.
"I've always had a complicated relationship with chance. I spent the first few years of my life in foster care and lived my post-adoption childhood in constant fear of being abandoned by everyone I loved," he said.
He was angry at his birth parents for putting him up for adoption and angry with himself for not being worth keeping around. When he finally did meet his birth mother, he thought he'd ask her why she'd given him up. But he never did.
As she lay on her death bed a few years ago, he realized she hadn't given him up but given him a chance at a better life.
"Somewhere along the way, I'd come to learn life is as much about the chances one gives as the chances one takes," he said.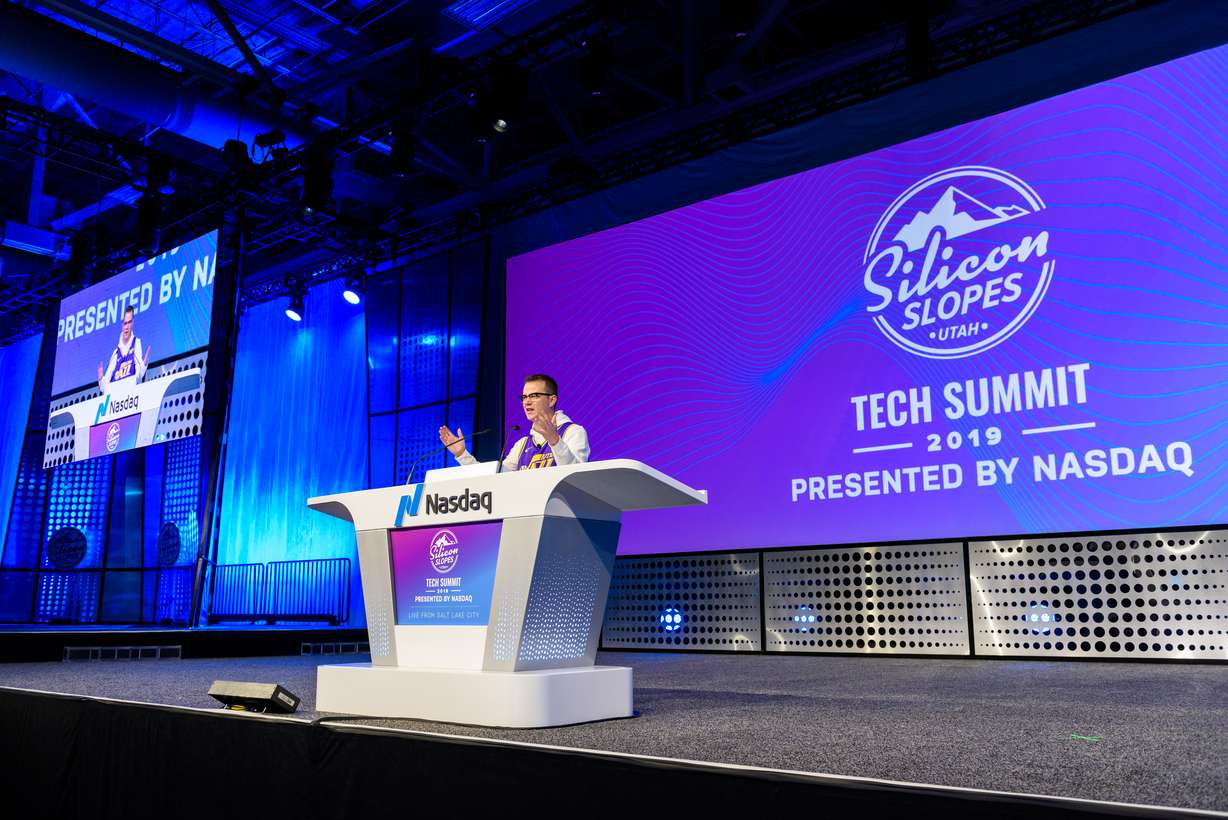 One day before Silicon Slopes' inaugural summit in 2017, Betts' wife gave birth to a stillborn baby boy. A little over a year later, when she gave birth to another boy, they discovered he had tumors in his brain and heart that made his lifespan uncertain. Through it all, Betts said his wife's love and courage sustained, inspired and changed him.
Last year, the summit was a love letter to Utah. This year, it was a love letter to Betts' wife.
"(My wife) is just so selfless. I just want to be like her," Betts told KSL.com "I'm not super impressed by wild success. I'm impressed by how you've served."
And while Silicon Slopes is a complex ecosystem of entrepreneurs, tech companies and the egos of a few multimillionaires, Betts may have the backstage power to set the culture of Utah's tech scene.
"Nobody else can do it because they all have their own ego. He's the only reason," Banyan CEO Carine Clark told KSL.com.
This year, the Silicon Slopes Tech Summit was about more than just taking chances — it was about giving them, too. It's a break from what many have called the "cutthroat" Silicon Valley culture.
"So many entrepreneurs and so many companies talk about building their company to change the world, right? And you're like, 'You're building an analytics platform. You're not changing the world,'" Betts said.
"I would like Silicon Slopes to rise above (that). What I want us thinking about, as leaders and entrepreneurs in the community, is to create companies and products to serve the world, not change the world."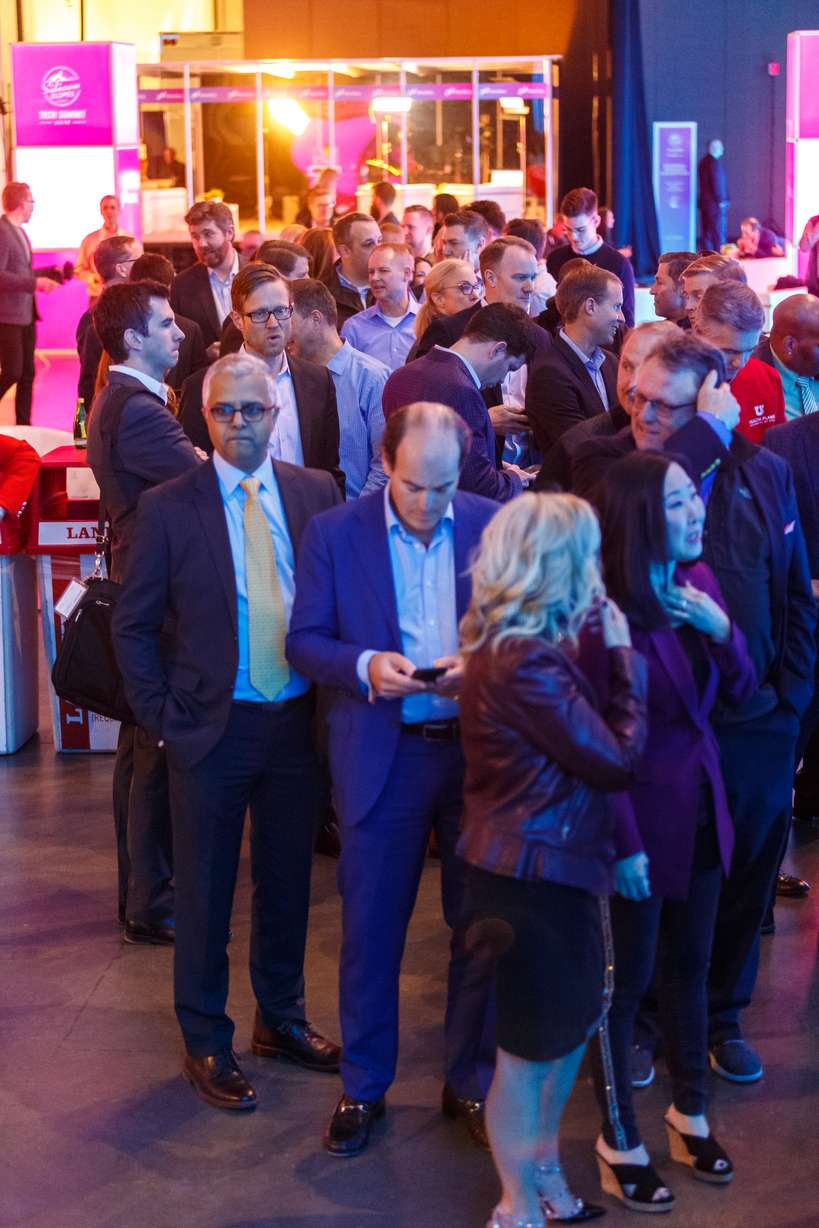 That's why Betts said he's "forcing everyone here who has tons of money" to give it back to the community "where they got it."
Case in point: Halfway through the opening session of the conference, Clark called up the five founders of Silicon Slopes: the CEOs of Domo, Vivint, Qualtrics, Pluralsight and InsideSales.com — some of Utah's most successful tech companies.
Each of them, she said, had agreed to donate $1 million of their own money to ensure that computer science education is in all schools throughout Utah by 2022 — if the legislature matches that amount in the state budget.
It was a generous move by the five men, but backstage, it was Betts' praises Clark sang.
"He raised $5 million under 12 hours," she said.
Betts sees it as a great partnership between the private and public sector.
Pluralsight CEO Aaron Skonnard, Gov Herbert and Lt Gov @SpencerJCox talk about bringing computer science education to all of Utah. And Cox going off about how cows milk themselves now because why not pic.twitter.com/LrYJ46WjTP

— Liesl Nielsen (@liesl_nielsen) January 31, 2019
"That type of leadership and that type of tight-knit community is so important to us. We have the means. It's time for us to serve the community," he said.
Betts has always been concerned that Silicon Slopes will start to cause the socioeconomic disparity of Silicon Valley as the Utah tech community continues to grow ("If you don't work in Silicon Valley, you don't live in Silicon Valley," he says).
"I know we're nothing like Silicon Valley in terms of number of companies and all that stuff, and we shouldn't compare ourselves, but we should look at some of the pitfalls, right? And some of those are coming here."
Utah is already starting to witness a housing affordability crisis, and Betts wants to make sure Silicon Slopes doesn't price out the rest of Utah. There's also the issue of air quality, transportation and diversity, he said.
Dave Elkington, CEO of InsideSales.com, believes the solution to these problems should continue as a partnership between the public and private sector.
"The reason we are all putting a million dollars on the line is because we see the future of the state and the future of these companies is based off our ability to do new things (and) innovate new things. That is … going to come from a 6-year-old who today is just learning how to code from scratch," Elkington said.
1st year of Silicon Slopes Summit: 5,000 attendees
2nd year: 14,000 attendees
3rd year: 24,000 attendees #SSTS19

— Liesl Nielsen (@liesl_nielsen) January 31, 2019
But the private sector can't teach Utah's children. It'll need help from the state to better things like tech education, road infrastructure and broadband availability in rural areas, he said.
Only with that partnership will Silicon Slopes grow organically and sustainably while avoiding the pitfalls of the California bay area, Elkington emphasized.
"One of the real negative things about Silicon Valley is it's a very 'What's in it for me' culture," he added. "There's no loyalty, no digging in with an organization. Utah is special that way."
Betts says he hopes the summit will continue to grow exponentially as it has in its first three years, drawing even more from outside Utah. But his main focus is putting on a conference that has the best quality content and highlights Utah as a global tech hub.
"As long as we stay focused on that, people are going to keep coming," he said. "What are you doing with the resources and the privilege and the access you have to serve others? That is what I would like Silicon Slopes and Utah to be known for."
×
Related stories
Most recent Science stories