WEST VALLEY CITY — Jimmer Fredette learned something about himself when he took on the challenge of coaching Team Fredette in the 2019 edition of The Basketball Tournament.
Amid his constant pacing up and down the sidelines, standing and sitting next to former BYU coach Dave Rose, calling timeouts, making substitutions and haranguing the referees, his tournament opener — a 99-96 win over CitiTeam Blazers — was a vast learning experience.
He learned he doesn't mind getting in the officials' ears, for one — "That was kind of fun," he admits — and he learned that coaching is more than just drawing up plays and making subs.
But he also learned that he's not ready to hang up his sneakers just yet.
Good thing he won't have to.
Team Fredette was eliminated from TBT Friday night by Team Challenge ALS, and Eberlein Drive won the Salt Lake regional to advance to the tournament quarterfinals in Chicago. The players from Team Fredette will move on, most back to their professional careers, many of them in Europe — where Fredette will join them.
Fredette's next adventure will take him to Greece, where he has a contract with Panathinaikos B.C. in Athens waiting for him. The two-year deal will take Fredette to a part of the planet he's never visited, a league he's never experienced, and will give him the opportunity to test himself in the Euroleague — what most consider to be the second-best basketball association on the planet, behind the NBA.
"It has some great, talented players with meaningful games," said Fredette, who will join former teammate and recent Barcelona signee Brandon Davies on his rookie voyage in Europe. "I had been to China the last three years, and it was a goal to try the Euroleague. Every time I am working out, I have a new goal to try to prove myself in this league."
If he ever has a desire to coach, his former boss in Provo thinks he'll be pretty good at it.
"Jimmer's aggressive on the bench," Rose said. "He loves to get into the refs; he never said a word to the refs when he played. But he had a lot to say."
But Fredette is not ready to take up coaching — at least, not yet.
"It's too nerve-wracking for me," Fredette said after his coaching debut in 2019. "I don't like being out there and not being able to play. I see what coach (Rose) has been going through with the last 30 years of his life. It's stressful. But he's used to it; he was so calm, and I was everywhere.
"I don't know if I see myself doing that. I definitely have more respect for the coaches, though."
If Fredette wanted to play in the tournament, he says he could. While TBT rules aren't clear about eligibility standards, the former BYU star is no longer under an NBA contract — not even with the Golden State Warriors' summer league squad.
"It's not that I can't play. I just decided not to," Fredette said, before joking, "I left my shoes at home to make sure that I would not play."
He wanted the focus of his TBT squad to be on guys like Tyler Haws and Rob Gray, the former Houston standout who plays professionally in France and put the team on his back en route to the opening round win over CitiTeam.
"This is their thing. They won the game," Fredette said. "These guys are talented players, and we brought in guards that can really score the basketball. These guys are just as talented as anybody out there. It's not me; it's all them."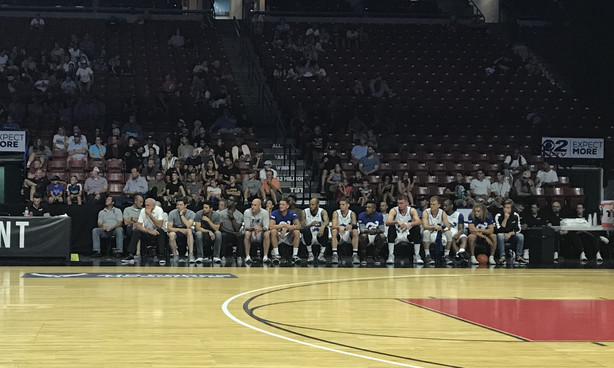 Besides, he still has plenty to prove elsewhere. After spending the past three seasons in China, the former Naismith Award winner averaged 36.82 points, 5.0 assists and 6.9 rebounds per game while shooting 46.6 percent from the field and 40.9 percent from 3-point range for the Shanghai Sharks.
Fredette became a mythical figure in China, with fans referring to him as "Jimo Dashen" — the Lonely Master — and the league commanding a million-dollar contract with all the amenities, including a private chef, driver and apartment for himself, and his wife Whitney and their children when they visited, to keep him satiated.
After his contract was up in China, Fredette returned to the mainland, where he signed a contract with the Phoenix Suns. The move was short for Fredette, averaging just 3.7 points, 1.3 assists and 1.2 rebounds in a little more than 10 minutes per game before the Suns released him following the season.
That set the stage for a move to Greece, where he'll learn from Panathinaikos head coach Argyris Pedoulakis and play on a roster that includes American imports Deshaun Thomas, Jacob Wiley, Rion Brown and Wesley Johnson, the 32-year-old NBA vet most recently of the Washington Wizards.
He's also excited to take his young family to the Mediterranean archipelago.
"My wife is excited about it, and it gives us a new adventure," Fredette said.
×
Related Stories