This archived news story is available only for your personal, non-commercial use. Information in the story may be outdated or superseded by additional information. Reading or replaying the story in its archived form does not constitute a republication of the story.
PROVO — Tyler Haws had no idea if he'd ever play again on a team led by former BYU basketball coach Dave Rose.
When the tenured Cougar coach retired back in March, there remained even more of a mystery.
Even when BYU's all-time leading scorer opted to play for the namesake team of former teammate and close friend Jimmer Fredette in this summer's The Basketball Tournament (TBT) in Salt Lake City, the club of former college standouts didn't have a head coach.
Brandon Davies wasn't going to be back with Team Fredette, since he had been invited to represent Uganda at a FIBA event in Africa. And Fredette himself wasn't eligible to play this summer, after signing an NBA contract with the Phoenix Suns for the final months of the 2018-19 season.
But in June, Haws received some good news: Rose was in. Now retired, the ex-coach of Millard High and Dixie State didn't have a lot going on in his old profession.
So he's taking a few weeks away from the charity circuit and several lobbying events related to his cancer research foundation to get back into the game.
And Haws is glad he is.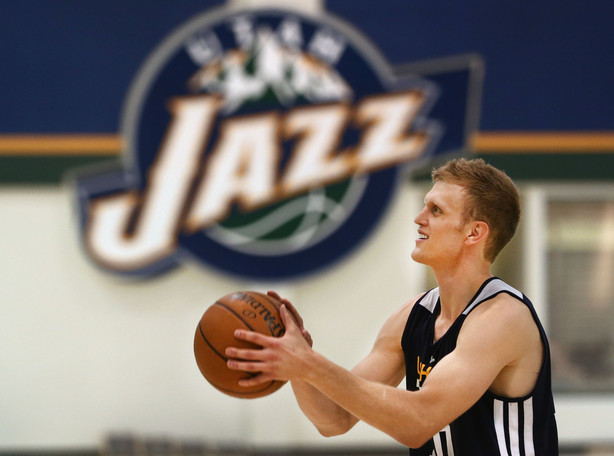 "It just kind of came together and worked out," said Haws, who is back in Utah after playing last season with Huesca in Spain. "I went to lunch with him and we are both excited to be on the same floor again. We've been through so much together.
"To try to win another game is pretty cool."
Rose, Haws and the rest of Team Fredette will tip off the sixth year of TBT at 8 p.m. MDT Thursday. The third-seeded Fredette, which will not include the titular Jimmer on the roster save as an assistant coach, will be the nightcap of the opening day at the Maverik Center in West Valley City, facing the sixth-seeded CitiTeam Blazers, an all-star squad from the pro-am Drew League in Los Angeles.
Team Utah, a squad of mostly former University of Utah stars as well as Utah Valley's Ronnie Price and Akolda Manning, will open the regional at 3 p.m. MDT against top-seeded Eberlein Drive (the tournament's runner-up from a year ago).
Seventh-seeded Utah Stallions, the Utah State alumni team led by Sean Harris and Spencer Butterfield that also includes recent Utah graduate Parker Van Dyke, will tip off against Challenge ALS at 6:40 p.m. MDT.
But the main focus of the regional will be on Team Fredette — even without the former BYU star who recently signed a contract to play for Panathinaikos in Greece. The team advanced to the TBT Final Four a year ago with Fredette and Davies at the helm, and this year's roster also includes returning teammates like Idaho's Jeff Ledbetter, Xavier's Tu Holloway and Bowling Green's Jordon Crawford, in addition to former New Mexico star Darington Hobson.
"I think we've got a group of guys who can really score," Rose said recently on BYUtv. "But I need to see how their game fits together. We know Ty's game; we can run stuff for Ty and get him open shots.
"I'm excited just to get in the gym and have a little pressure. It's fun, reuniting with the guys, and we'll get Tyler and Jimmer to play a little one-on-one in practice."
If the chance at the $2 million, winner-take-all grand prize isn't enough motivation, this year the tournament will also offer further incentives. The winning team of each game will split prize money derived from ticket sales, with an additional sum going to each regional champion.
But more than money, The Tournament has become a summer basketball sensation whose ESPN platform (every game in Salt Lake City will be streamed live on ESPN3) has helped overseas players earn a spot in the NBA, or a team's G-League affiliate.
That may prove especially useful for Haws, who has been determining the next step with his wife Summer as they've prepared to welcome their third child this year.
Could the playing ball back home help further those plans?
"It's always fun to play back in your hometown, in front of some Cougar fans," Haws said. "I loved my time at BYU and I know they travel so well. We met tons of BYU fans all around the world. It'll be cool to play another game back in Utah, in front of family and friends."
Tickets are available at thetournament.com/tickets.
×
Related Links
Related Stories