This archived news story is available only for your personal, non-commercial use. Information in the story may be outdated or superseded by additional information. Reading or replaying the story in its archived form does not constitute a republication of the story.
WEST VALLEY CITY — Golden State has Steph Curry and Klay Thompson — the Splash Brothers.
Last year's Utah Jazz had Joe Ingles and Kyle Korver — the Splash Uncles.
Team Fredette in Thursday night's The Basketball Tournament opener at Maverik Center had Jimmer Fredette. Except that Fredette wasn't playing, relegating himself to an assistant coaching role while he prepares for next season's Euroleague competition with Panathinaikos B.C. in Greece while coaching his namesake team.
So Team Fredette turned to Jordon Crawford and Rob Gray — we'll call them "the Splash Nephews."
"I told Jimmer at halftime, we've got to lock them down or figure out a way to score a lot of points," said former BYU coach Dave Rose, who currently leads Tyler Haws, Team Fredette, and an assistant coaching staff that includes the legendary Cougar marksman himself. "That's why we went small and put a lot of good scorers out there."
Gray, the former Houston standout who plays professionally in France, had 31 points, four rebounds and two assists, and Crawford added 20 points, nine assists and the game-winning jumper to help second-seeded Team Fredette rally for a 99-96 victory over CitiTeam Blazers in the opening round of TBT's Salt Lake Regional at the Maverik Center.
Former Idaho star Jeff Ledbetter added 20 points for Team Fredette, which made 11 3-pointers. The two teams combined to shoot 27-of-70 from 3-point range.
"Probably haven't (scored that many points) since I was in the G League," Gray joked.
Jeff Adrien led CitiTeam with 20 points and seven rebounds, and Justin Hamilton's floater at the first-quarter buzzer helped the Blazers double-up Team Fredette, 30-15 after one quarter en route to a 53-34 halftime lead.
There was little to look forward to after halftime.
Except that the Fredettites had another half to turn things around, Crawford said.
"The first half was loose balls, no offensive rebounding; we were just going through the motions like it's just supposed to be given to us," he said. "In the second half, we reevaluated the grind, and had to play point-by-point. I think that's what we did."
Crawford and Gray combined to pull Team Fredette within single digits, 70-61 in the third, then again at 73-66 with 2:15 left in the period.
Then, in the final minute of the third, Crawford swished his fourth triple of the quarter to pull Team Fredette within 77-74 ahead of the final period.
"We just made up our minds that we were going to come out and compete; turn it up a couple of notches," Gray said. "We hit them in the mouth, and put them on their heels. We got more aggressive with our style of player, and always being aggressive, playing hard on defense, getting rebounds and not turning the ball over is big."
Team Fredette tied the game on Ledbetter's three free throws just a minute into the fourth quarter. Then Crawford gave Team Fredette its first lead of the game, 79-77 with 7:40 remaining, and the Jimmer-coached side took a 90-88 edge into the Elam Ending, with a target score of 98.
The back-and-forth duel continued, but Devonta Pollard, who finished with 14 points and five rebounds, set up back-to-back buckets by the "Splash Nephews." And Crawford lifted an off-balance heave toward the hoop with just one point to go to give Team Fredette a 99-96 win.
"He's made a few of those in his life," Rose said of Crawford.
The former Bowling Green star chuckled, then explained, "Right around the elbow, I'm pretty confident about that."
Team Fredette will face Team Challenge ALS in the SLC regional semifinals Friday at 9 p.m. MDT at the Maverik Center.
And after the namesake led Team Fredette to last year's TBT national semifinals, why not these guys?
"We played with each other for a while, and that's a huge thing on the court," Crawford said. "We know exactly what our tendencies are, and stuff like that. I thought everybody came in today and fit right into the picture.
"This first game was huge for us to get things jelling. It should get a lot easier for us."
Team Challenge ALS 72, Utah Stallions 66
Marvelle Harris had 26 points and six rebounds to lead Team Challenge ALS to a 72-68 win over the Utah State alumni squad.
Spencer Butterfield had 25 points and eight rebounds to lead Utah, which got led by as much as 12 points in the first half. But Team Challenge overcame the deficit by holding the Utah State alums scoreless from the field for the six minutes of the half, tying the game at 32-32 at the break.
"I think it was more of us," Harris said. "We know the intensity you have to bring in this tournament. We just didn't come out and do it."
Danny Berger added 17 points and 13 rebounds for the Stallions, and Jaleel Roberts supplied 11 points and six boards.
LA Cheaters 87, Sons of Westwood 85
To call Sedrick Barefield "new" to the LA Cheaters squad in The Basketball Tournament is a bit of an understatement.
After signing with the Atlanta Hawks for NBA summer league, the former Utah guard had a few weeks to figure out his next step.
So he reached out to Cheaters assistant coach Charlie Torres about an opening on the Drew League squad playing in the sixth-annual TBT and made his way back to Salt Lake City with just enough time to put on a jersey.
That jersey didn't even have his name printed on the back.
"I haven't signed anywhere, and the next thing I've got is the G League showcase. So there's a lot of time in between that," Barefield said. "I just wanted to play."
But the Cheaters? They're glad they picked him up — if for no other reason than a missed shot.
Barefield had 19 points, seven assists and four rebounds, and his missed shot turned into Elijah Stewart's putback dunk to lift LA Cheaters to an 87-85 win Thursday afternoon over the UCLA alumni Sons of Westwood at the Maverik Center.
"I knew if it was going to be short, that it would have a bounce," Stewart said. "It just came off the right way.
"We've got some goals, and we're just ready to compete."
With both teams tied at 85-all, Barefield brought the ball up the court and sat just above the top of the arc. He faked his defender for space, then faded back as he uncorked a 3-pointer that would've been the winning difference.
The pure arcing ball sailed through his hands and reached the rim, unchallenged. After a long bounce, the ball appeared destined for the net — until it wasn't.
Luckily, Stewart was there to put it back, and as the 6-foot-4, 195-pound USC product hung on the rim celebrating a ceremonial win with a putback dunk, Barefield couldn't help but smile and hug his new teammates.
"When I shot it, I thought it was going in," Barefield said. "But I know I've got great players on this team, and (Stewart) made a tremendous play. It was awesome."
Will Davis II added 18 points and seven rebounds for the Cheaters, who advanced to face top-seeded Eberlein Drive in Friday's semifinals.
Sons of Westwood's Jordan Adams led all scorers with 37 points and six rebounds, and Malcolm Lee added 20 points, five rebounds and four assists for the Bruin alums.
Eberlein Drive 83, Team Utah 80
No one gave Team Utah and Shaun Green a chance to win a game when they opened the Salt Lake regional of The Basketball Tournament against top-seeded Eberlein Drive, the defending runners-up to four-time defending champs Overseas Elite.
No one, that is, except for the members of Team Utah.
If nothing else, they were going to put up a fight.
"We really showed that we aren't going to back down," said former Utah guard Dakarai Tucker, who recently won an NBA G League title with Rio Grande Valley. "You're always going to put up a fight. It's not going to be easy, and if you ask them, it wasn't an easy game."
Green and Tucker tied for the game-high with 21 points and eight rebounds apiece — and Team Utah came agonizingly close to shocking the tournament.
Then, in a matter of moments, Eberlein Drive came racing back and finished off an 83-80 win on Jerome Randle's fadeaway 3-pointer from the left wing Thursday afternoon at the Maverik Center.
"I think we went away from what got us that lead," Green said. "We didn't finish the game out. It's no one to blame; we all had opportunities, we all had work to do.
"I just think we went away from what got us the lead the entire game."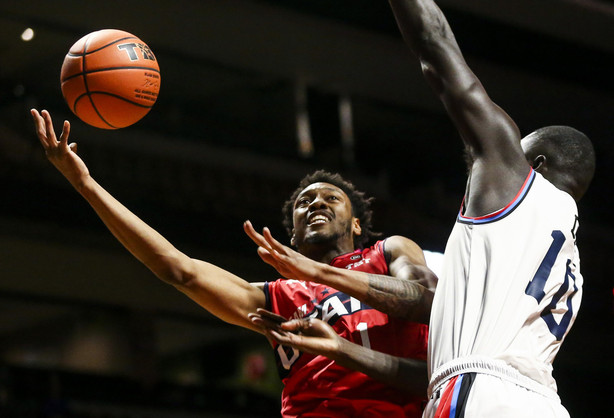 Terrence Drisdom, who played at Cal Poly Pomona, had 18 points and 10 rebounds for the Runnin' Utes alumni, and Price hit three 3-pointers for nine points.
Randle finished with 18 points, nine rebounds and four assists, and Donald Sloan, who spent four seasons in the NBA before playing most recently with Guangdong Southern Tigers in China, had 20 points and nine rebounds for Eberlein Drive.
Green scored 11 points in the third quarter for Team Utah, which ended the third on a 12-3 run to take a 68-60 advantage into the final period. The Utah alumni squad led by as much as 73-69, when the target score of 81 points was set.
But Eberlein Drive out-scored Team Utah 14-7 in the Elam Ending to finish off the game.
"I was going to shoot it anyways," Randle said. "I just got the confidence in myself that if I missed it, I miss it. But I work hard in the summertime with shots like that, and I knew at some point, the shots were going to fall.
"It fell at the right time."
×
Photos
Related Stories