Estimated read time: 3-4 minutes
This archived news story is available only for your personal, non-commercial use. Information in the story may be outdated or superseded by additional information. Reading or replaying the story in its archived form does not constitute a republication of the story.
PROVO — Jimmer Fredette's pro basketball odyssey is taking him to China.
A source with knowledge of the negotiations told KSL that the former BYU star agreed in principle Wednesday to a deal with the Shanghai Sharks of the Chinese Basketball Association. The source spoke on condition of anonymity because the deal had not been ratified.
The contract is expected to be announced this week. Multiple media reports indicated the deal was signed Tuesday, but the source independently confirmed to KSL that is not the case.
The big-money franchise that is owned by former NBA great Yao Ming has been home to several American players in the past, though none rated as high as a No. 10 overall overall pick. Though contract details were not released, Fredette's new deal is believed to be worth worth more than $1 million.
Former NBA and college stars who have prospered in China include Jordan Crawford and Stephon Marbury. J.R. Smith was another notable NBA player who played in China, and former Nets star Andray Blatche signed a then-CBA-record contract worth $7.5 million over three years in 2015.
Fredette's contract also has opt-out options for future NBA considerations.
The ex-Cougar who graduated with 2,599 career points (currently No. 2 behind former teammate Tyler Haws) also had offers with multiple NBA teams after a standout summer league performance this July. The Sharks and the CBA play a four-month season that runs from October through February or early March (depending on the playoffs).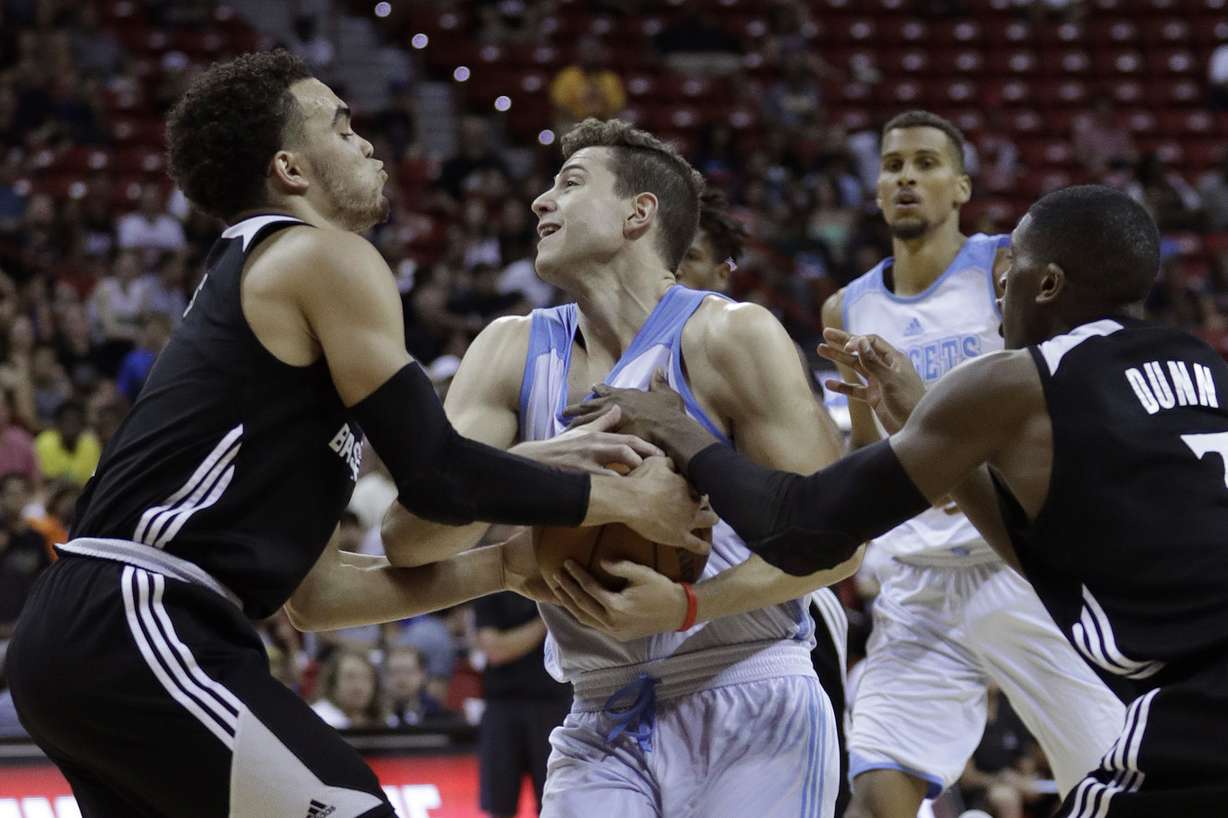 Fredette played in the NBA Summer League with the Denver Nuggets, including a group of players with whom he works out in the offseason while he stays in his wife's hometown. The 27-year-old from Glens Falls, New York averaged 15.2 points, 2.4 rebounds and 3.2 assists per game in five summer league appearances, including a 26-point effort in Denver's rout of Memphis in Las Vegas.
The recent BYU graduate with a degree in American Studies averaged 6.0 points, 1.4 assists, 1.0 rebounds and 0.4 steals per game in five seasons in the NBA after going No. 10 overall to the Sacramento Kings in 2011. He averaged 7.6 points and 1.8 assists as a rookie, but saw his minutes and production steadily decrease as he moved around with Chicago, New Orleans and San Antonio.
Fredette has never played overseas, but he reportedly received attention from various clubs and leagues prior to signing with the NBA D-League in 2015.
After being waived by Chicago, New Orleans and San Antonio, the former BYU star was selected No. 2 overall by the Westchester Knicks in the 2015 D-League draft. He averaged 21.1 points per game, shot 41 percent from 3-point range, and earned league all-star MVP honors with the Knicks. He earned a 10-day contract with New York, but saw limited playing time after nailing a 3-pointer in garbage time of his first NBA minutes.
In 2009, Ming bought the Sharks, the CBA team where he played before moving to the NBA and forging a Hall of Fame-worthy career with the Houston Rockets. The club's history goes back to 1954, and it was a founding member of the 20-team top-flight basketball league in China for the past 20 years.
Among the attractive options to many Americans willing to play in China, though, is the four-month season that runs from October through mid-March. The Sharks have already signed Boston first-round draft pick Guerschon Yabusele to a deal for next season.
×
Photos
Related Stories