This archived news story is available only for your personal, non-commercial use. Information in the story may be outdated or superseded by additional information. Reading or replaying the story in its archived form does not constitute a republication of the story.
SALT LAKE CITY — At 37 years old, Medgar Evers was assassinated by a member of a group formed to resist the civil rights movement of the 1950s and 60s.
Evers was a civil rights activist, a field officer for the National Association of the Advancement of Colored People, a champion of desegregation and a martyr.
"Medgar Evers is a true patriot. He died in the cause of freedom," leader of The Church of Jesus Christ of Latter-day Saints President Russell M. Nelson said during a speech he gave Sunday at the 110th national convention of the NAACP.
When Evers died, mourners eulogized him with a scripture from the Bible that reads, "If a man boasts of loving God, while he hates his own brother, he is a liar. He has seen his brother, and has no love for him; what love can he have for the God he has never seen?"
The sentiment that scripture embodies is not only an example of how Evers lived his life, but may also be "the cure for what ails us," according to President Nelson.
During his speech, the man Latter-day Saint faithful believe to be God's prophet emphasized that "all are alike unto God" but acknowledged that "as a society and as a country, we have not yet achieved the harmony and mutual respect" that would allow each person to become the "very best version of themselves."
To make that "heavenly truth an earthly reality," President Nelson explained that society must follow the two great commandments taught by Jesus Christ: "to love God with all our hearts and, then, to love our neighbors as ourselves."
When NAACP president Derrick Johnson received an award from Brigham Young University, he acknowledged that he was asked why he would accept an award from the church-owned school.
"Because that's our neighbor," he replied.
"That was a profound response," President Nelson said during his speech. "We are all connected. … We don't have to be alike or look alike to have love for each other. We don't even have to agree with each other to love each other."
President Nelson said he has seen an example of this very sentiment in his relationship with Baptist pastor Rev. France Davis in Salt Lake. He invited Davis to attend a concert by The Tabernacle Choir at Temple Square and was excited to see his reaction.
"Now, we are quite proud of the Tabernacle Choir," President Nelson said. "When the concert ended, I asked Reverend Davis what he thought of the program. 'It was very good,' he said graciously, 'but it was lacking in spirit. If you want to experience spirit in music, you should come to my church.'"
President Nelson said he and his wife accepted the invitation, and the pastor was right.
"The energy in the Calvary Baptist Church choir was something to behold. While our taste in music might differ, I must say that he and his church have enhanced our city in a tangible way," President Nelson said.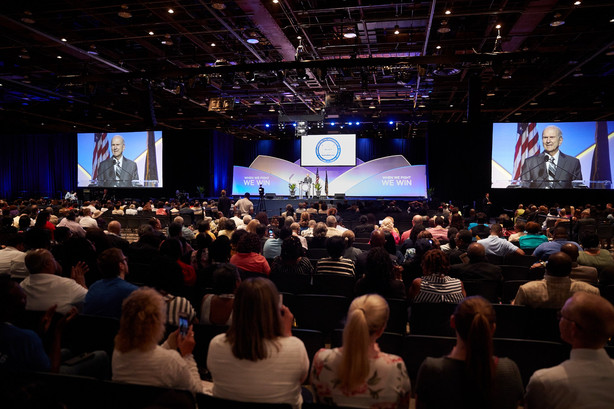 "If we have any hope of reclaiming the goodwill and sense of humanity for which we yearn, it must begin with each of us, one person at a time."
The church and the NAACP have worked for several years to form a partnership to "capitalize on our respective strengths and help more people by working together," President Nelson continued.
The two groups met in early 2018 and customized the church's self-reliance materials and programs for education and employment initiatives across the United States. Following the meeting, Johnson and President Nelson issued an invitation to people, organizations and government to work together with more civility to eliminate prejudice.
In fact, leaders in the church have worked to make the partnership with the NAACP a "high priority" over the last few years.
A year before President Nelson's meeting with Johnson, church apostle Elder Jeffrey R. Holland met with the NAACP president and visited the martyr Evers' home. During that visit, a plan took shape and, not long after, local members of the church and the NAACP were working together to restore the office where Evers worked as a field officer for the NAACP.
In June 2018, the church held a celebration of diversity that marked the 40th anniversary of a change in church policy when, in 1978, the church ended a 126-year-old policy that prohibited black male members of African descent from holding the priesthood — a privilege faithful members of the church believe is the power and authority to act in the name of God. The policy change also ended a restriction on black members from participating in certain Latter-day Saint temple ceremonies.
An op-ed in The Detroit News Sunday highlighted another partnership between the NAACP and Brigham Young University, a church-owned school.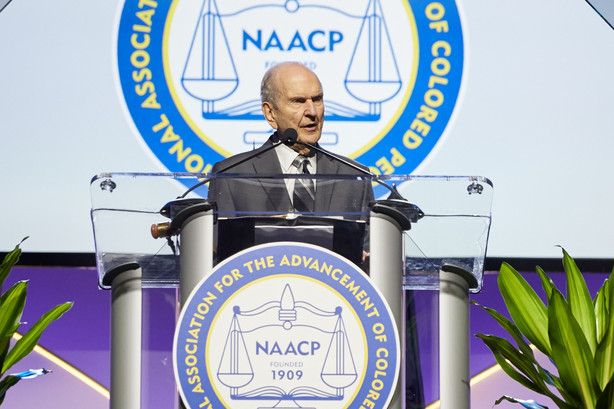 The initiative "leverages the school's large alumni lawyer network to assist people — pro bono — with minor legal issues before the courts," according to the op-ed.
These acts together embody what President Nelson described as a shared cooperation between the two groups.
"True community begins … with loving our neighbor; with honoring and serving each other," President Nelson told those at the convention Sunday. "May we go forward doing our best to exemplify the two great commandments — to love God and love each of His children. Arm in arm and shoulder to shoulder, may we strive to lift our brothers and sisters everywhere, in every way we can."
Also speaking at the national convention were five 2020 Democratic presidential candidates, including former U.S. vice president Joe Biden, Sen. Cory Booker, South Bend mayor Pete Buttigieg, Sen. Amy Klobuchar and author Marrianne Williamson. Others joining the presidential hopefuls included speaker of the U.S. House of Representatives Nancy Pelosi, U.S. surgeon general and vice admiral Dr. Jerome M. Adams, former Georgia house minority leader Stacey Abrams, Ohio Rep. Marcia Fudge and popular podcaster Kid Fury.
×
Photos
Related Stories