This archived news story is available only for your personal, non-commercial use. Information in the story may be outdated or superseded by additional information. Reading or replaying the story in its archived form does not constitute a republication of the story.
SALT LAKE CITY — Wayne Lee was 10 years old when something on a "60 Minutes" documentary sparked his interest.
The Church of Jesus Christ of Latter-day Saints was ending the 126-year-old policy that prohibited black male members of African descent from holding the priesthood — a privilege LDS faithful believe is the power and authority to act in the name of God. The policy change also ended a restriction on black members from participating in certain LDS temple ceremonies.
Though Lee still remembers the moment, it didn't mean much to him then. Forty years later, Lee, now a member of the LDS Church, and other members across the globe are preparing to celebrate the anniversary of that day with a broadcasted event on Friday called "Be One."
The event will feature messages from the LDS Church First Presidency, faith-promoting stories from members and performances by those hailing from diverse backgrounds, as they honor that singular time in church history.
As a young black child living in Michigan, however, all Lee knew about the Mormons 40 years ago was that his grandfather used to record musical programs of the Mormon Tabernacle Choir on TV.
"He was never into religion, but he really liked 'Music and the Spoken Word,' and he thought Mormons were just good people," Lee said. "I actually thought Mormons were Quakers. I had Quaker friends, and I just kind of equated the guy on the oatmeal box with Brigham Young."
It wasn't until Lee joined the army at 17 and was transferred to Hawaii for training that he thought about the Mormons again. The first few months away from home were difficult for Lee, and he began praying to God for help.
"My mother came to me in a dream, and she said to me that I needed to go back to church. So that's what I did," he said.
Lee began looking for a Jehovah's Witnesses church since he had attended one in the past, but, though he had seen the building many times before, he couldn't find it again. Instead, he found himself frequently walking by the BYU-Hawaii campus.
One night, while walking by the Laie Hawaii Temple Visitors' Center adjacent to campus, he saw the Christus, or statue of Christ, lit with a heavenly glow.
"I remember going in and looking at it and thinking, 'Whoever made this statue must have really believed in Christ,'" he said.
Soon after, he went to a dance on the college campus and met some people who were willing to answer his questions about their religion. He was baptized at the age of 21 in 1989, and soon transferred to BYU in Provo to study. Just seven months later, he was called on an LDS mission to "exotic Salt Lake City."
Lee first served in Murray, and he remembers a lot of doors slammed in his face or people who asked him about his opinion on the church's former policy that prohibited black men from holding the priesthood.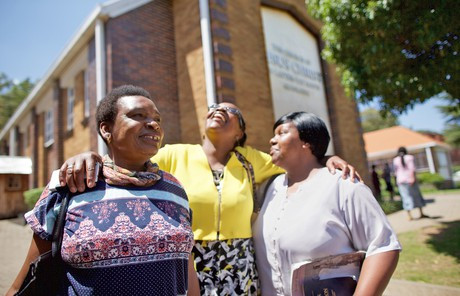 "The answer that I gave them was that God does things in his own way and in his own time. And I felt good about that. That's one thing I prayed about," he said.
He knows not everyone is satisfied with that answer, but he's always taken the question in stride. He doesn't often dwell on the past, but prefers to look to the future, he said.
Now a permanent Salt Lake City resident, Lee believes it is important to acknowledge what happened, and then focus on the black members of the church who are now using the authority that comes with the priesthood to bless their families and communities.
"I have the priesthood and am living my life accordingly so I can receive the blessings," he said. "I've got five children and give blessings when they're sick, and when they go to school and that sort of thing."
History of blacks and the LDS Church
In 1852, 22 years after the LDS Church was established, then-prophet Brigham Young announced that black men of African descent could no longer hold the priesthood — though some black male members had done so in the earliest days of the church, according to the LDS Church website. Later LDS prophets restricted black men and women from participating in certain temple ceremonies.
President Young promised, however, that one day, black members of the church would "have (all) the privilege and more" enjoyed by other members. While many theories as to why this policy was set in place have been proffered by church members and leaders over the years, the church does not claim any as official doctrine.
Given the church's long history of withholding the priesthood, however, subsequent leaders felt they needed to receive a revelation from God to change the policy. President David O. McKay, who served as leader of the church between 1951 and 1970, prayed for this revelation but did not feel impressed to change the policy, according to LDS.org.
It was in 1978, while then-President Spencer W. Kimball and other apostles were praying in the LDS temple, that church leaders received what they described as a spiritual prompting from God that instructed them to reverse the policy.
"Every man in that circle, by the power of the Holy Ghost, knew the same thing. … Not one of us who was present on that occasion was ever quite the same after that," said then-apostle and later church President Gordon B. Hinckley.
Another apostle said the revelation brought "light and knowledge" that erased previously "limited understanding."
The change in policy was received well by church members as many celebrated the long-awaited news.
Tamu Smith, a black Utah woman well-known as the co-creator of blog and podcast "Sistas in Zion," recently attended an event at the Washington D.C. Temple Visitor's Center during Black History Month. There, she met with people who expressed the loneliness they felt as black members of the church, as they confessed what pushed them away from the church.
Some were grappling with their feelings about the former priesthood restriction, others with race-related issues or hurtful things people had said to them regarding race. Yet, those who attended also maintained still-strong testimonies of the gospel taught in the LDS Church.
"In Corinthians, it talks about the body of the church, and if a part of the body is hurting, then the whole body is hurting," Smith said. "We want to heal the body. … We want to be part of the conversation."
A healing balm
Smith said she hopes Friday's "Be One" event will be a healing balm for black members of the church who have felt isolated because of the priesthood ban.
Smith, who also helped LDS Church officials plan the event, said she and several other women of African heritage pushed for a celebration on the 40th anniversary of the revelation.
"Forty is such a significant number in the scriptures," she said. "We're talking about the Israelites wandering in the wilderness for 40 years. It's a cleansing number, a purifying number. And so, 40 years ago, blacks were given the priesthood. And 40 years ago, we really started wandering. ... If we come out of this strong, the church comes out as one. We come out as one family, just like the Israelites."
Back when Smith used to be the only black member of her LDS congregation, she said it was difficult when something significant would happen in "black America," but it didn't quite affect everyone in her congregation the way it affected her. It was isolating, she said, when it dawned on her that the color of her skin was connected to the feelings of loneliness she was experiencing.
"We sit next to people who are dealing with other issues in their life," she said, "We sit next to people that we don't know what they're going through. But if church is that safe haven, then they will share with us."
To Smith, the "Be One" event is not about telling the world that the church is one, because it's still far from that.
"To me, this 'Be One' event is an invitation to saints all over the world to become one. But #becomeone isn't a very good hashtag. It's kinda long, so we had to shorten it," she said, laughing.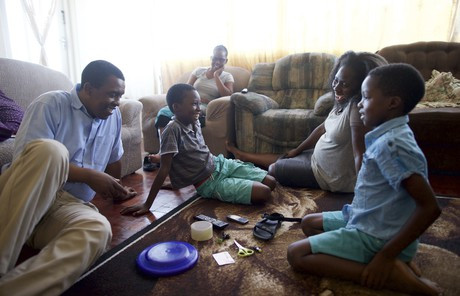 She hopes that, as black church members continue to feel welcome and understood in their congregations, their healing will heal the church as a whole.
And for Lee's son, Jacob, that hope is his reality. The 14-year-old holds the LDS priesthood with pride, he said, and works hard to be worthy of it so he can help others.
"I always felt like I belonged," he said. "You've just got to wait your time and everything will fall into place eventually."
The "Be One" event will be streamed live on LDS.org Friday at 7:30 p.m. For more information, visit LDS.org.
×
Related Stories