Estimated read time: 3-4 minutes
This archived news story is available only for your personal, non-commercial use. Information in the story may be outdated or superseded by additional information. Reading or replaying the story in its archived form does not constitute a republication of the story.
SALT LAKE CITY — A lot where a failed housing development project was to be built is one step closer to being filled by another housing project.
On Tuesday, Salt Lake City's Redevelopment Agency (RDA) approved more than $11 million in loans for a new 14-story downtown affordable-housing development at 255 S. State, an area that has caused city officials headaches over the past few years due to the previous failed project.
The board unanimously agreed to approve a $6.4 million loan request by Brinshore Development. LLC for the project and another $5 million loan for the development to acquire the land parcel. Brinshore's project calls for a mixed-use, mixed-income housing development, and will have 190 units with ranging affordability. About 66% of the residents will make 20% to 80% of the area median income. The project also includes a plan to rehabilitate the historic Cramer House and add a public walkway in the area.
It's expected to cost $70 million all together, RDA senior project manager Kort Utley said during Tuesday's meeting at the Salt Lake City-County Building. The developer applied for different tax credits and interest rate deductions, as well as Olene Walker Housing Loan Fund money, Utley explained.
The project itself also would fill in a lot left from an older project from years ago that was never completed. Construction for The Plaza on State Street began in 2012. It was supposed to be a $31.5 million project that would bring 180 total residential units to the city; however, that never came to fruition.
Construction eventually ceased and the project was never completed. The city began tearing down what was built at the end of 2018. It was evident during Tuesday's meeting the land where the project is to be built remains a sore spot for the RDA board members.
"As one of three board members who were here with previous work on this parcel, I just want to bid Brinshore the best wishes to a successful construction development and then occupation of this project. May it never come before us again," said Salt Lake City Councilwoman Erin Mendenall, chuckling. Her response prior to the vote garnered laughter from fellow RDA board members and those in attendance.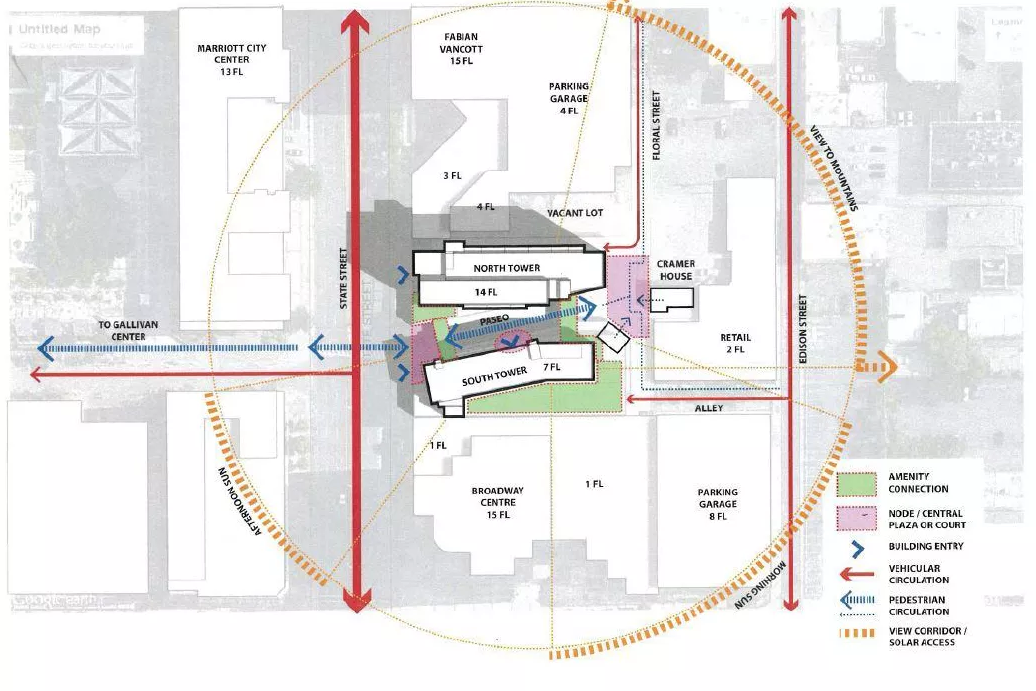 "We are looking forward to the ribbon-cutting," added Salt Lake City Councilwoman Amy Fowler, the chair of the board of directors, following the passage of the loan.
The vote came after Utley presented a brief recap of the proposal. He explained both loans would be paid back over a 30-year period. Under the plan, the $6.4 million loan will be paid back from available cash flow on the project after the bank debt is paid.
"That's not an uncommon role for a municipal government to play in an affordable-housing project," Utley explained. "It has been modeled, and the finance committee has reviewed those models and made the determination there will be available cash flow and capability to repay us."
The $5 million loan for the property is to be paid back at 1% interest over the 30-year period, Utley said. While there wasn't much discussion on the issue during the meeting, Salt Lake City Councilman James Rogers questioned the length of the loan.
"I'm wondering if in future loans that we look at, if we can look at a 10-year, 20-year, 30-year call where we bump interest rates — if we're looking at something like this, because 1% for 30 years is a long time," he said.
Fowler said that might be something the RDA could look at during future decisions on projects. However, it didn't stop members from approving the plan on Tuesday.
The project is currently projected to be completed in mid-2022, according to city officials.
×
Photos