Estimated read time: 5-6 minutes
This archived news story is available only for your personal, non-commercial use. Information in the story may be outdated or superseded by additional information. Reading or replaying the story in its archived form does not constitute a republication of the story.
MURRAY — Gwen Finlayson is the kind of mom who doesn't want to burden her children, especially as her health continued to deteriorate.
"I've always thought that if you're enthusiastic enough, that will carry the day," she said. She battled the complications of autoimmune hepatitis for 27 years, and was diagnosed with cirrhosis of the liver five years in.
It got to the point, she said, when her notable optimism "wasn't enough."
"I was getting on with life to the best of my ability, but my liver kept getting sicker and sicker," Finlayson, who is 63 and lives in Springville, said Thursday. "There were a lot of indications that this was going south in a hurry."
She was put on an organ transplant list last August, and was warned that her age might preclude her from getting a new liver.
Her children, who didn't realize the seriousness of their mother's condition until they were older, rallied.
"She is one of the most angelic people on earth and we needed to keep her around a lot longer," said Anna Finlayson, a daughter-in-law and wife of Brandon Finlayson, who ultimately ended up saving his mother's life.
The two of them researched the possibility of helping their devoted mother with a living organ donation — taking a portion of his healthy liver and giving it to his mom.
"I really felt like it was the only option," Brandon Finlayson, 37, said.
But his mother wouldn't have it.
"My first reaction was anger, and that anger was borne out of a fear for my son," she said, fighting back tears. "I knew how big this surgery was that he would go through. I didn't want that for him. He wasn't sick. He didn't need surgery — I did."
It took a few days for her to come around, but she agreed that a piece of her son's liver was probably the best chance at a second chance that she was going to get.
"She's never wanted to talk about it. She's never wanted to be the center of attention. She's never wanted this to be anyone's focus," Brandon Finlayson said. "We all knew it was the right thing to do, it just took her a long time to get on board."
So, the process began.
It was the "ultimate sacrifice," Dr. Manuel Rodriguez-Davalos, transplant surgeon at Intermountain Medical Center and medical director of the Intermountain Living Donor Liver Transplant Program, said. He said that Brandon Finlayson is not only a hero to his family, his decision helps change the ideas of society.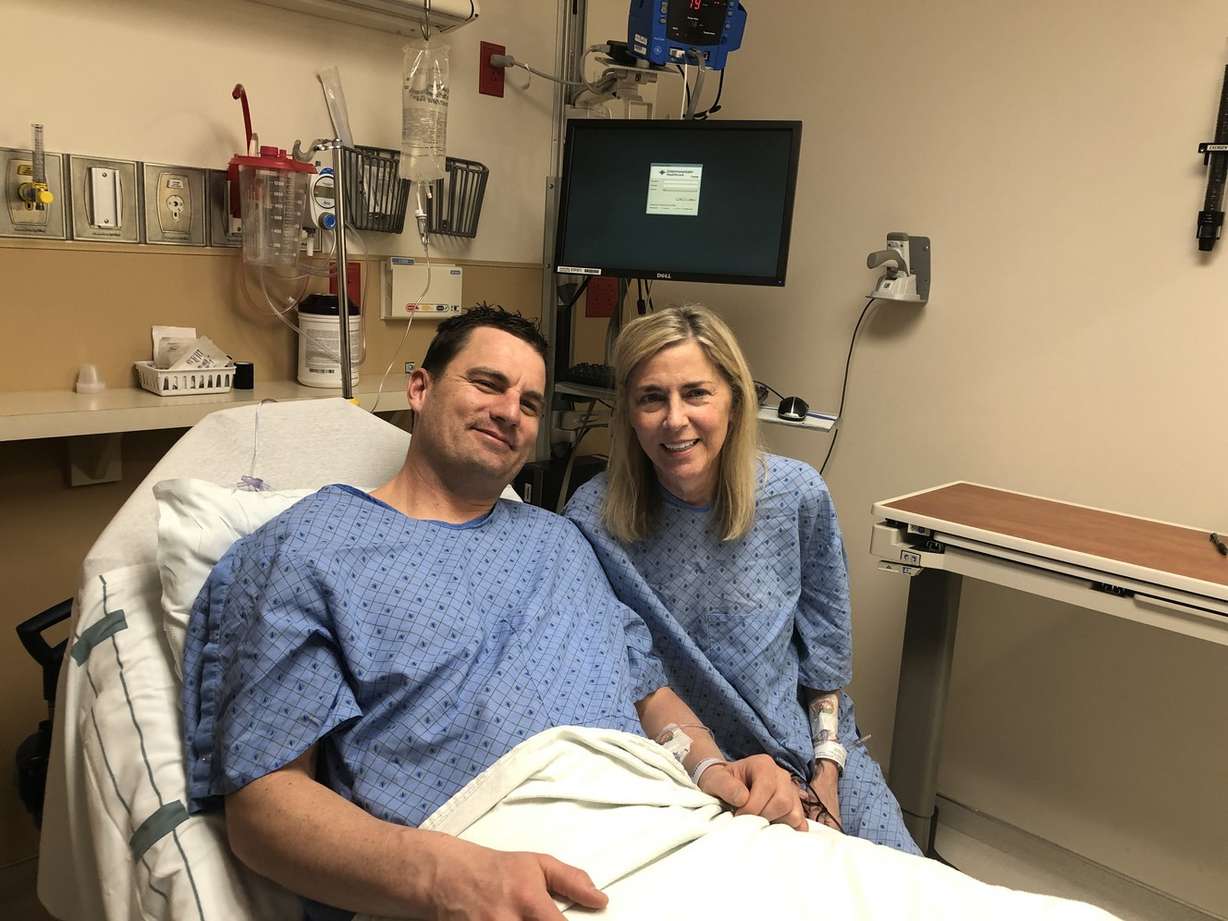 "Really, it is a very small percentage of people who will sacrifice so much for others," Rodriguez-Davalos said, adding that the mother-and-son patient duo was a perfect match for each other, medically speaking.
More than 113,000 people in the United States are awaiting an organ transplant, including 13,000 who need a liver, according to the United Network for Organ Sharing. Living donors can provide extra help, freeing up a spot on the list for someone else, said Intermountain Abdominal Transplant director Derek Ginos.
It can also be better for the diseased patient.
"The advantage of live donations is that we can help others before they get very, very sick," Rodriguez-Davalos said.
The Finlayson case is the first of its kind for Intermountain Healthcare, as doctors harvested from the left lobe of Brandon Finlayson's liver, which means they were able to take less and get similarly favorable results with lower risk and faster recovery. Typically, transplants are done using the right lobe, which consists of about 60 percent of the whole liver.
Gwen Finlayson had been told for years that organ transplantation was necessary, but it was hard for the independent go-getter to accept. She didn't want to "take that liver away from somebody else," she said.
"I wasn't that sick, I thought. I still had a great life," she said.
The Feb. 6 surgery and resulting recovery was rough on both mother and son, leaving Brandon Finlayson wondering if he did the right thing. It took about a month and she, thankfully, turned the corner.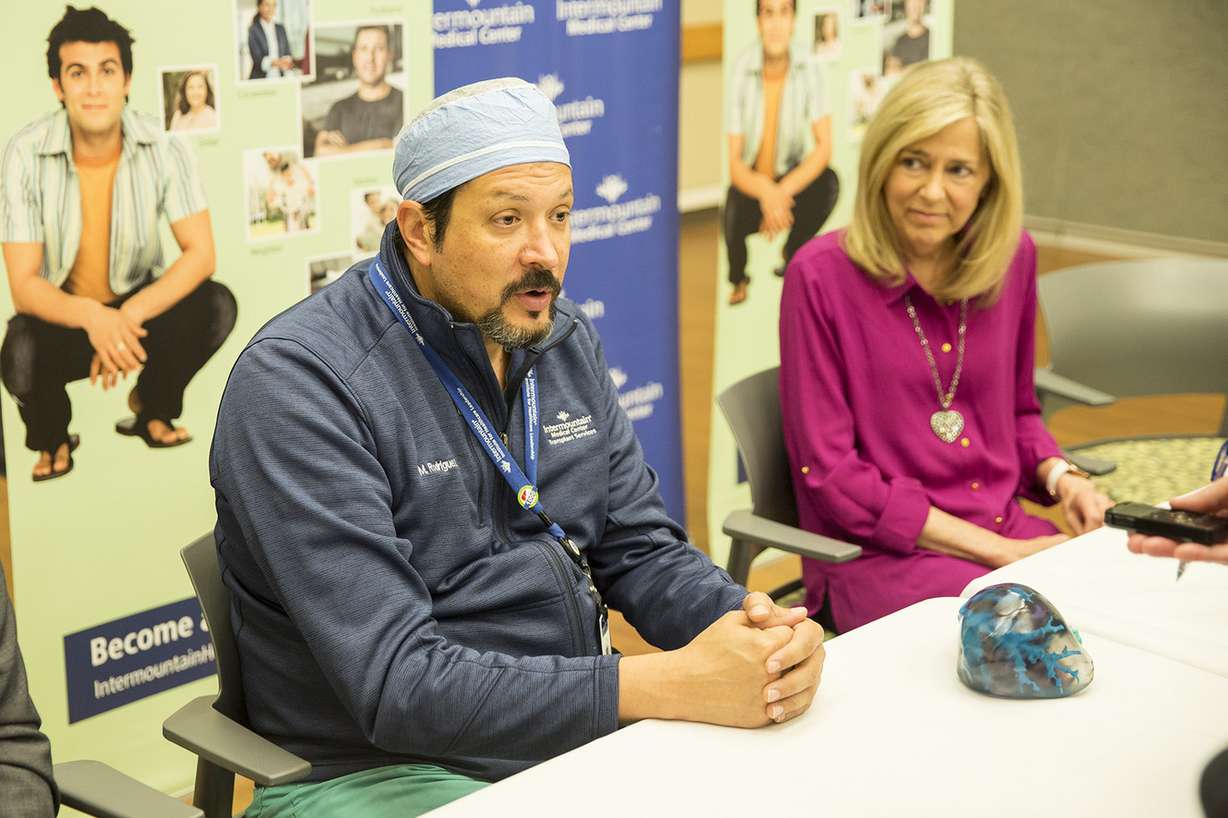 "It's really amazing to see her at this point, compared to just two months ago, when it didn't look good," he said. It's been years since he's seen his mom as healthy as she is.
Both of their livers have already regenerated, growing to at least 90 percent of normal size, which is different for each of them.
"I'm a fighter," said Gwen Finlayson, who has three daughters and one son, adding that she is "thrilled" to be alive.
"I look forward to the future with hope, instead of wondering how sick I will be," she said. "I look forward with joy and optimism and just try to figure out what we are going to do next."
Her 21 grandchildren, she said, are her "reasons to fight." Gwen Finlayson wanted to live for them, to be an influence in their lives.
As for her son, she said, "I'm grateful he is the kind of man who would do something like this, that he would risk his life for another human being. It didn't have to be his mother, it could be anybody."
"To me, that's the definition of a hero," Gwen Finlayson said.
"I think I'm a son," said Brandon Finlayson. "She was worth saving."
×
Photos
Most recent Utah stories