This archived news story is available only for your personal, non-commercial use. Information in the story may be outdated or superseded by additional information. Reading or replaying the story in its archived form does not constitute a republication of the story.
PROVO — Mark Pope's journey to BYU didn't take long, as he was introduced as BYU's 17th head coach of the men's basketball program Wednesday afternoon.
About 5.8 miles from the UCCU Center to the Cougars' Marriott Center, if you believe Google Maps.
But four years ago, when he left Dave Rose's coaching staff to take his first Division I head coaching job at Utah Valley University, he wasn't sure he'd be back so quickly.
Life has a way of working things out, though. Twists and turns. Triumphs and tragedies. Wins and losses.
And when BYU athletic director Tom Holmoe and deputy AD Brian Santiago wanted to meet with Pope on the floor of the Marriott Center — specifically picked because it was the one place on earth that Utah's local media wouldn't find him, he joked — he got in his car and left. That was less than 13 days ago, after Rose had announced his retirement following a 14-year career with the Cougars — a career Pope himself called 'extraordinary.'
Utah Valley was in the midst of the College Basketball Invitational, eventually losing in the second round to South Florida. But Pope kept in contact with the two BYU athletic heads. He spent many long nights on the phone with Santiago, two guys who "love to talk," discussing the job, the opportunity and the chance to coach at BYU — a school that is not his alma mater, but has become well known to him in his time as an assistant, as well as growing up a member of The Church of Jesus Christ of Latter-day Saints.
The final decision, though, came down to his wife Lee Anne, the daughter of former Utah coach Lynn Archibald who was at home in Utah County, raising four daughters, and sending one on to her own Division I basketball career after finishing at nearby Timpview High.
"I'm not going to go anywhere with you if you don't have me back right away," Lee Anne Pope texted her husband while he rubbed shoulders with college basketball coaches around the country at last week's Final Four.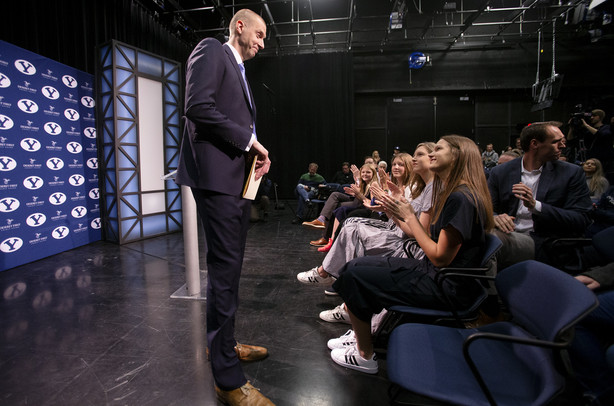 "There is something real in my heart about that feeling: where do you want to win the most?" Pope said during his introductory press conference. "You want to go win in a community that is your family, friends and loved ones, and a community that values big dreams.
"This is exactly where we are supposed to be. It had a lot to do with staying here right now — including maintaining my marriage."
Pope, 46, will arrive at BYU after spending the past four seasons as the head coach at nearby Utah Valley University.
"Mark has the pedigree, which is really important with players," former BYU and Utah Valley standout Travis Hansen told the Deseret News. "And the credibility that he has — he won a national championship as a player, he played under (Rick) Pitino and he played in the NBA. You can check all of those boxes."
Pope was also a reported candidate for job openings at Cal, UNLV and Georgia State, and it's easy to see why. He was 77-56 as a head coach, including a 12-18 mark in his first season at Utah Valley in 2015-16. That's when he inherited a roster from former head man Dick Hunsaker and immediately began overhauling the squad with junior college and Division I transfers.
He finished with back-to-back program records for wins, including a 25-10 finish in 2018-19 in the Wolverines' third-straight trip to the CBI. And he's done it with an immense amount of energy, grind and passion for basketball — the same passion he brings to his career, his community and his family.
"He's relentless in being in the office, and at UVU, he was focused on his players, his fans, the student section, the boosters — he does so much, and he's a hard worker," said Chris Burgess, an assistant to Pope for the past four seasons. "There's a reason why a 6-foot-9 white guy from Bellevue, Washington won a national championship at Kentucky, and then survived nine years in the NBA as a late, late, late second-round pick. It's because of heart, and because he worked harder than everybody."
It's the same energy that Pope used to attack his assistant coaching job at BYU. It's the same energy he used to recruit to UVU.
It's the same energy Pope took into meetings with the administration, staff members, media and boosters — an energy that took the Wolverines from a sub-200 KenPom team to the favored metric's top 100, a feat previously unimaginable.
Now it's the same energy he'll take into BYU.
"He out-worked everybody," Burgess said. "That's what they are getting with him, and whoever works for him. here is going to feed off that."
And so, surrounded by his wife and four daughters — much like he was four years ago in the P.E. gym at UVU — Pope accepted the job of head basketball coach at Brigham Young University.
"This place is like nowhere else," Pope said. "It is a beacon on a hill. It is such an honor and a privilege to have the opportunity to be the head men's basketball coach at Brigham Young University. I couldn't be more proud or more excited. There is a standard of excellence in everything that happens on this campus — and certainly with this basketball program."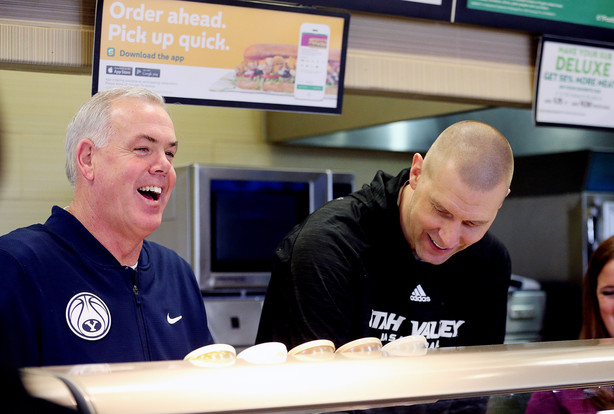 After an all-SEC career at Kentucky, Pope was a second-round draft pick of the Indiana Pacers in 1996, and he spent the better part of a decade in the NBA and other professional leagues around the world. After retiring in 2005, he enrolled in medical school at Columbia University in New York.
But he never finished his education; the coaching bug was strong.
Pope got a job as Georgia's director of basketball operations in 2009, and quickly moved on to assistant coach jobs at Wake Forest and BYU before being named the Wolverines' head coach in 2015.
The former top assistant at BYU under Rose just finished his fourth season as head coach a few miles north on University Parkway, wrapping up a program-record 25-10 season with a loss at South Florida in the quarterfinals of the College Basketball Invitational.
"He's a really bright mind," former BYU basketball coach Steve Cleveland told KSL.com's Patrick Kinahan. "Yeah, there's some things he hasn't done — other than maybe Mark Pope all of them haven't done this before. Quincy is really qualified. He understands the game (on) both ends. I've had intimate conversations with him. He's a bright, bright guy and he gets along well with people. I have no doubt that he could go out and recruit and represent the institution."
Patrick Kinahan
Pope signed a six-year extension with Utah Valley through the 2022-23 season a year ago, an extension that increased his salary to $200,000 for the 2018-19 school year. With each passing season, that salary would've gone up $5,000 per year, beginning with the 2019-20 academic year.
At the time, Pope said his "whole heart," as well as that of his wife and family, was with Utah Valley. That stays true, even with the move to BYU.
It just comes with the added drive along University Parkway.
"Mark Pope's impact on Utah Valley University basketball is even bigger than his 6'10" frame," said UVU president Astrid S. Tuminez in a statement from the school. "While his achievements and records at UVU will undoubtedly be discussed at length, the two things I appreciate most about him are his passion and tenacity for seeing student-athletes succeed. We thank him for his service and wish him and his family the very best."
With Pope's move to BYU, he and the university owe Utah Valley a $200,000 buyout, according to the contract obtained by KSL.com last year. The buyout is payable to the university in one lump sump, and may include other stipulations not immediately available in the first draft of the contract provided to KSL.com.
Thank you Coach Pope and your family for all you've done for Utah Valley University. #GoUVU#UVUpic.twitter.com/UxgsFhW0Tx

— UVU Athletics (@GoUVU) April 10, 2019
Cody Fueger will be the interim head coach at Utah Valley while the Wolverines launch a "national search" for the next head coach. The university is also in the midst of hiring a new athletic director to replace former AD Vince Otoupal, who was replaced by interim athletic director Jared Sumsion.
UVU will hold a special place in the heart of both Mark Pope and his wife Lee Anne. The coach said he plans to continue the annual basketball series between the two inter-city rivals, and the hardest part about leaving Orem was telling his players, including WAC Player of the Year Jake Toolson and Freshman of the Year Wyatt Lowell.
"We formed a bond that supersedes everything else," Pope said of his time at UVU. "Those guys came there and trusted us. It was extraordinary, and it was the only thing that made this a difficult decision for me."
×
Related Stories