This archived news story is available only for your personal, non-commercial use. Information in the story may be outdated or superseded by additional information. Reading or replaying the story in its archived form does not constitute a republication of the story.
OREM — Officially, Mark Pope's tenure as Utah Valley University head men's basketball coach begins this fall when the Wolverines gear up for the 2015-16 season.
But Pope didn't waste any time getting to work after signing his contract late Monday evening.
The Wolverines officially announced Pope as their new head coach at a press conference Tuesday afternoon, just hours after the former BYU assistant coach had gone through a team meeting and workout with his squad of players at the college's student life building.
"I could not be more excited to be the new head coach at Utah Valley University," Pope told a packed gymnasium Tuesday. "This is going to be a special time, and a special run."
Pope used the word 'magic' to describe his vision for UVU basketball in several interviews with athletic director Vince Otuopal and university president Matthew Holland. The enthusiasm caught on with the duo who made the hire along with vice president Val Peterson after a short process that involved more than 100 national and international-based applicants despite no formal job posting by the university.
"If you talk to people around the WCC (BYU's current conference), he was on their radar a whole bunch," said Otuopal, whose team selected Pope from a list of 25 finalists. "We had a chance in Vegas to talk about some young coaches. People were seeking us out, we were seeking them out, and coach Pope's name kept coming up in conversation as a guy we needed to look at.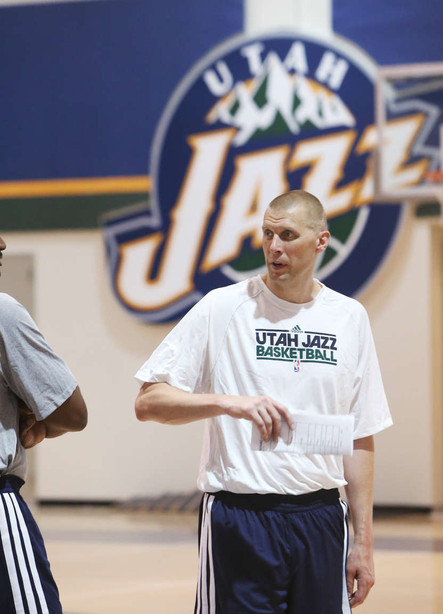 "He's hot property and people are looking at him."
Having a coach that fit Pope's background, which included working with great basketball minds like Larry Bird, George Karl, Rick Carlisle and Dave Rose, coupled with his local ties, seemed like a win-win situation.
Utah Valley currently lists six players from the state of Utah on its roster, including American Fork product Marcel Davis, who transferred from Utah State, and West Jordan graduate Jaden Jackson, who first went to Salt Lake Community College.
"I think it was vital," Holland said of Pope's local connection. "What (former basketball coach) Dick Hunsaker has done with this program has been nothing short of miraculous, as the fastest move from junior college to Division I basketball.
"But I think if there was a sense for the next phase, we could do more with some of our local players and talent. I think (Pope) brings a lot of magic to that equation. That's not going to be the sole source of recruiting, but it's got to be an important source."
Holland, a former BYU professor whose father was also president of the Provo-based campus, also stressed that Pope's ties to his old job weren't always a strength — they proved to occasionally be a hindrance during the application process.
"To be honest, I think he had to overcome it," Holland said. "I think long-gone are the days that there's a big brother-little brother feeling in town. We're Utah Valley University; we're on our way to becoming the largest institution in the state. For a lot of us, we felt that we could hire from anywhere.
"On the other hand, we're mature enough now to say we aren't going to not go there. He had to prove himself a bit more; we weren't going to go with the neighbor. But he impressed us as the best candidate, the best fit for the time, and we couldn't be more thrilled."
Pope's presence at the Orem campus won't immediately rekindle a basketball series with BYU, just a 13-minute drive up University Parkway. But it also "can't hurt us," Otuopal said.
"He's got great relationships all over the country, and with coach Rose and other coaches in colleges and high schools in the state. That's not going to hurt us, and I think that will help us get to some of those games."
Indeed, Pope has been known as a likeable character since arriving at BYU following a season as an assistant coach at Wake Forest. He's built relationships everywhere he's gone, including bringing BYU guard Chase Fischer with him after the Ripley, West Virginia, product originally signed with the Demon Deacons.
In the gym for Tuesday's announcement were a consortium of Pope's proteges at BYU, including former guards Craig Cusick, Skyler Halford and Anson Winder, current players Fischer and Frank Bartley IV, and women's basketball standout Xojian Harry.
---
I could not be more excited to be the new head coach at Utah Valley University. This is going to be a special time, and a special run.
–Utah Valley head coach Mark Pope
---
Pope was mum as to the prospects of a future series with the Cougars — he prefers to leave scheduling to the athletic heads. But he added a game between the two regional rivals would be good for both sides.
"I know it would be very good for this valley to have that game," he said. "It's a fun game, and it's going to be a hard game for us. But it's a game that will be engaged in the community and really engaging for the student body. It's something we are looking at as a possibility, and we'll see if we can make it work."
Pope will go to work recruiting, both in-state and out, as well as assembling his staff. He already has one assistant in mind, though he declined to name names. Multiple reports indicated BYU director of basketball operations Cody Fueger will join Pope on staff at UVU, though the athletic department has not made the hire official.
"I've worked with him; he's got a very diverse background in basketball, and been all over the country coaching," Pope said of his first assistant. "He's going to be a great part of this staff. And then we're still in the beginning stages of putting together the rest of the staff."
BYU head coach Dave Rose expressed his endorsement of UVU's hire, saying that Utah Valley is "getting a great coach in Mark Pope," even as the process of hiring a new assistant coach falls on the Cougars' staff and administration.
"He will bring great energy and a love for the game to that program," Rose said in a statement. "Mark is a great recruiter and has all the tools to be a successful head coach. This is a great opportunity for him and his family. I wish him nothing but the best."
Whether with fans, students, administrators, players or rival coaches, Pope stressed relationships as he takes his first head coaching job in Division I basketball after leaving medical school at Columbia to take a job at the University of Georgia.
"If I could tell you one thing that is important about this job, it's that I love these guys," Pope said as several current UVU players sat behind his wife Lee Anne and their four daughters. "Coaching these young men, getting to grow with them and help see them grow, and having them teach me is the best part of this profession. I see some guys back here that I can work with, and it's the best part of the deal."
×
Photos
Related Stories