SALT LAKE CITY — The winter storm that began Tuesday night and blasted the state through much of Wednesday was hard to miss. Not only did it bring great snow for skiers, but it also pushed Utah into the above-normal range for snow-water totals.
"We've had incredible storm activity," said Brian McInerney, a National Weather Service hydrologist. "The precipitation amounts, when you compare them to average, have been 300 to 400 percent (higher) for the month of February."
Dozens of schools across northern Utah closed for the day, some of which had never closed due to weather in their 10-year history. Skiers made pilgrimages to try to get into the mountains and take part in the powder day, and hazardous road conditions led to hundreds of accidents.
Aside from fun snow days and slush-related pileups, what will all of this winter weather mean for snow and water totals along the Wasatch Front and northern Utah?
Ski resorts reported a variety of snowpack totals from the storm, from 55 inches over the course of four days at Deer Valley, to 70 inches over the past five days at Snowbird. Brighton and Solitude both reported snow totals in the 66-68 inch range, and Park City said it got a total of 27 inches in only 48 hours.
🚨70" in 5 days.🚨

Get in your car, board a plane, hitchhike - do whatever it takes to get here. pic.twitter.com/Ql5Y6vK3Go— Snowbird (@Snowbird) February 7, 2019
Even Salt Lake County reported getting 18 inches of snow, and 42 inches were dumped onto Park City's residential areas. The snow totals aren't only good for ski season, though; they will also help Utah avoid another painfully dry summer riddling the state with fires.
55" of Snow in 4 Days at Deer Valley from Deer Valley Resort on Vimeo.
Current snow-water totals as of Feb. 7 showed saturated water supplies all across the state. The Salt Lake area's snow-water equivalent is currently 126 percent of normal. Southeastern Utah is at 133 percent of normal, and southwestern Utah is swimming at 169 percent of normal, as of Thursday evening, according to SNOTEL's Utah snowpack levels.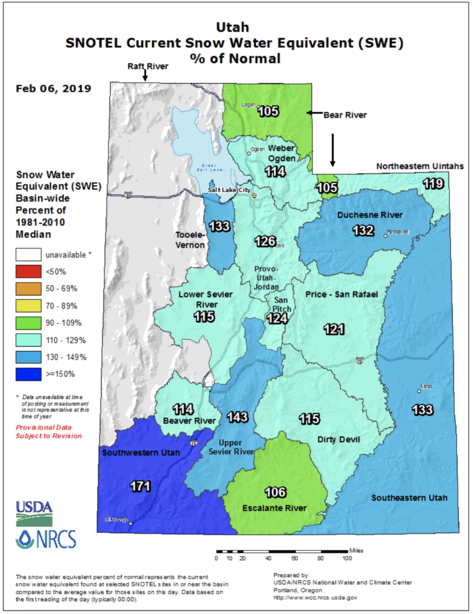 The Park Record reported that in January 2018 snow totals were at 51 percent of normal. Prior to this week's big storm, Utah was already at a healthy 92 percent of normal. Unfortunately, considering how dry 2018 was, much of the runoff water will likely soak into the ground before reaching reservoirs, according to McInerney.
"I think we all get excited when we see this amount of snow," he said. "But, for the most part, it's just a little bit above average."
The rest of February and March will determine how the season ends up, and with a cold, wet spring, the runoff forecast will continue to improve.
"We have a pretty good shot, at least right now, of putting a (good) dent in the reservoirs," McInerney said.
Time your breathing. 42" in the last 48 hours and it's STILL SNOWING. #GoPropic.twitter.com/hpOkrf6Gdn— Snowbird (@Snowbird) February 6, 2019
Contributing: Jed Boal, KSL TV
×
Related Links
Related Stories