Estimated read time: 3-4 minutes
This archived news story is available only for your personal, non-commercial use. Information in the story may be outdated or superseded by additional information. Reading or replaying the story in its archived form does not constitute a republication of the story.
SALT LAKE CITY — What a difference a year makes.
With dry conditions and temperatures as high as the 50s and 60s in the state this week, Utah's weather has been a far cry from last winter when the snowpack in the state's basins well-exceeded the normal averages.
The result? Utah's basin snowpack totals — defined by the amount of water contained within fallen snow (snow water equivalent) — are below the average across the state.
The percentage is as low as 33 percent in some basins, while the Northeastern Uinta is the only basin above 80 percent as of Feb. 1, at 87 percent, according to Natural Resource Conservation Service data.
In comparison, the Southwestern Utah basin, which is at 38 percent this year, led all basins this time last year at 220 percent of the average snowpack total. The lowest, Escalante River basin, was at 132 percent the average on Feb. 1, 2017.
The basin totals itself are an average of locations across the basin. Specific locations are also experiencing completely different numbers this year. For example, Ben Lomond Peak had 45 inches of snow water equivalent (SWE) this time last year and had 11 inches SWE as of Thursday.
---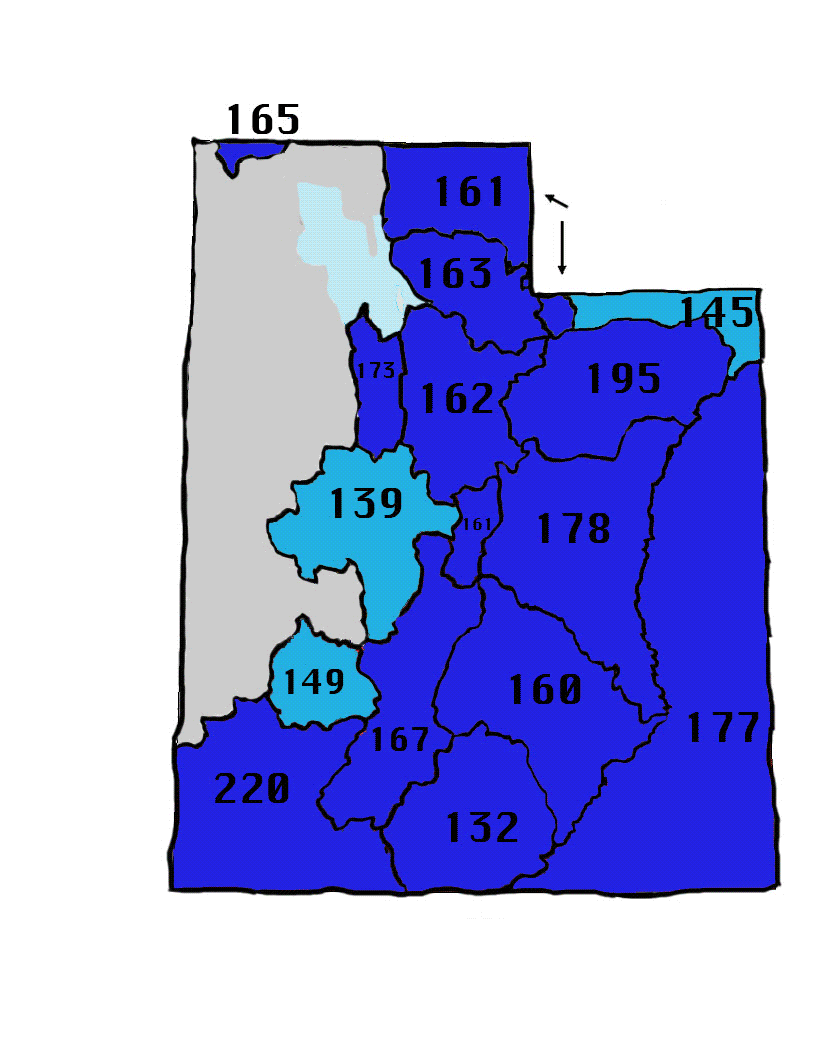 - - - - - -
Percentages based off of the median snowpack (1981-2010). First image (blue) is snowpack on Feb. 1, 2017 and the subsequent one is Feb. 1, 2018. Credit: Natural Resource Conservation Service data.
This comes from a completely different weather pattern this year than last year. This winter has been filled with high-pressure systems, while last year was filled with "atmospheric river events," said National Weather Service hydrologist Brian McInerney. Those are long and narrow regions in the atmosphere that transport water vapor from the tropics, according to National Oceanic and Atmospheric Administration.
"It brought tons of moisture — copious amounts of moisture," McInerney said about 2017's winter weather.
It was rather unexpected at the time. Prior to the snow, the leaders of each water district met with the weather service to discuss another possible dry winter and the concerns from that, he said. Two months later, those concerns went from a prolonged drought to dealing with flooding.
Wayne Pullan, manager of the Provo Area Office of the U.S. Bureau of Reclamation, noted in March 2017 the predicament water district leaders were in heading into the spring runoff season.
"Mother Nature threw us a knuckleball," he said.
This winter has been closer to the situations anticipated last year. McInerney blames constant high-pressure systems for less of the game atmospheric river events and Utah's lack of snow this winter.
Forecasts also show no imminent major relief is in sight, and that lack of snowstorms could mean poorer air quality, less projected spring runoff and the return of a drought — among other things — to the state in the future, McInerney added.
×
Most recent Utah stories