This archived news story is available only for your personal, non-commercial use. Information in the story may be outdated or superseded by additional information. Reading or replaying the story in its archived form does not constitute a republication of the story.
SALT LAKE CITY — More than 40 Utah faith leaders have signed on to a letter released Thursday urging Gov. Gary Herbert and Republican legislative leaders to oppose efforts "to delay or limit" the full Medicaid expansion approved by voters.
A bill backed by House and Senate GOP leadership, SB96, has already received initial approval in the Senate, but a final vote that had been expected as soon as Thursday has been delayed.
Sen. Allen Christensen, R-North Ogden, the sponsor of SB96, said he has issues with the fiscal note detailing how much the bill will cost taxpayers. That note has not yet been made public and Christensen declined to specify the bottom line.
"I said, 'I can't approve that,'" Christensen said. "The fiscal note is still in a state of flux. Hopefully, tomorrow (Friday) it will be finished." Senate rules require bills to have a fiscal note before a final vote.
The bill that would replace Proposition 3's full Medicaid expansion with a more limited plan has been fast-tracked by the Legislature's Republican supermajority despite growing public opposition.
Christensen said nobody is suggesting he put the brakes on the bill, which House leaders have said they hope to have passed with a veto-proof majority by the end of next week.
"Slow it down? I'm getting pressure to speed it up," he said.
The governor has not endorsed the bill and talked only in general terms about Medicaid expansion in his State of the State speech Wednesday night, saying "with some common sense adjustments" it could be implemented without delay.
"I take that as good, with all the pressure we're getting from the outside, if he's not saying, 'No go,'" Christensen said.
The faith leaders' letter urges Herbert, along with House Speaker Brad Wilson, R-Kaysville, and Senate President Stuart Adams, R-Layton, "to oppose any legislation that would delay or limit the implementation" of Proposition 3.
Some of the tens of thousands of Utahns who are poor and uninsured "are currently sick and looking forward to receiving treatment with the voter approved Medicaid expansion begins on April 1," the letter states, calling any delay unfair.
Salt Lake City Mayor Jackie Biskupski called Medicaid expansion an issue of "moral consequence" at the Coalition of Religious Communities' late morning news conference on Capitol Hill.
"I believe the voters in my city and the thousands of others who voted for Prop. 3 understood what they were doing," the mayor said to applause from about 100 coalition members assembled for Faith and Poverty Day at the Legislature.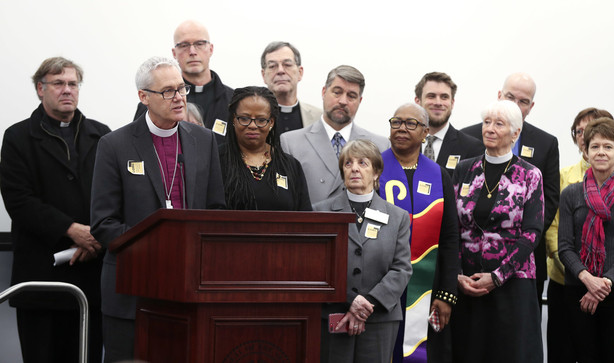 But Biskupski said many Utahns "didn't understand, and what many still can't comprehend, is that in this nation the will of voters can be overturned. Today, I am proud to stand with faith leaders and community activists."
The Rt. Rev. Scott Hayashi of the Episcopal Diocese of Utah, one of the sponsors of Proposition 3, said the issue shouldn't be about money but about understanding those who struggle because they do not have health care.
That is "simply the definition of compassion," the Rev. Hayashi said, pledging to "continue to hold the feet to the fire of those who said they would expand this and make this begin on April 1. The people are watching."
Senate Minority Whip Luz Escamilla, D-Salt Lake City, praised those at the news conference for coming to the Capitol "in faith asking for good faith from our Legislature."
She said Democrats have asked why there is such urgency to get the bill passed.
Later, the Senate president said a law needs to be passed so there is enough time to get the federal waivers needed for a so-called bridge program in SB96 to take effect on April 1, as called for in Proposition 3.
---
I believe the voters in my city and the thousands of others who voted for Prop. 3 understood what they were doing.
–Mayor Jackie Biskupski
---
Adams said if the waiver does not come through in time, lawmakers will come back in special session if necessary to come up with an alternative plan.
"I don't know that we have an exact answer," he said.
The full Medicaid expansion approved by voters last November does not need federal waivers to take effect and would be funded by a 0.15 percent sales tax increase expected to raise around $91 million.
Backers of SB96, however, say that's not enough money. The bill would limit coverage to Utahns earning below 100 percent of the federal poverty rate, about $12,000.
The bill leaves out the 41,000 making between 100 percent and 138 percent of that rate covered under the full expansion available under the Affordable Care Act, but they are eligible to buy federally subsidized insurance.
The state would pay 30 percent of the cost of the bridge program while seeking additional waivers for the full 90 percent to 10 percent federal-to-state funding match offered for full expansion.
Previous attempts to secure similar waivers by Utah and other states have not been successful.


×
Photos
Related Stories