This archived news story is available only for your personal, non-commercial use. Information in the story may be outdated or superseded by additional information. Reading or replaying the story in its archived form does not constitute a republication of the story.
SALT LAKE CITY — In 2008, Paul Gibbs was going to college and working part-time, as well as caring for his sister's kids while their parents worked, when he found out he needed a kidney transplant immediately.
"I was trying very hard to contribute to society, but I didn't have any health insurance," Gibbs told a few hundred Utahns gathered Monday at the Utah State Capitol.
The protesters filled the building's Rotunda to express anger that legislators might repeal and replace the full Medicaid expansion bill approved by voters last November. Many held signs with slogans such as, "Respect voters," "Utah decided," "Have some compassion, health care for all," and "Please respect the will of the people."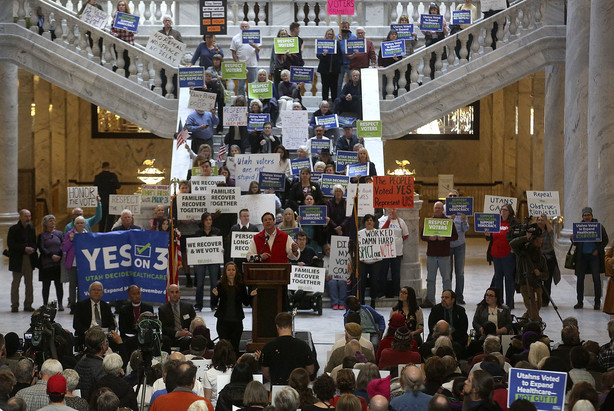 #group_pic
Gibbs needed two surgeries and "countless expensive tests" to prepare him for the surgeries, as well anti-rejection medication twice a day for the rest of his life. Those medications "cost more per month than my mortgage payments," Gibbs said.
"The point is, I could not do that without health insurance. There's no way. But because, in large part due to Medicaid, on Aug. 11 I'll be celebrating 10 years with that kidney," he explained, adding that without the help, he wouldn't have lived to have his son and another son on the way.
Gibbs was one of several advocates who spoke during the rally, some of whom also said their lives were saved by Medicaid.
Bill Willett told the Deseret News that advocates for Proposition 3 in Utah have worked hard to be heard.
"We the people have voted for this. We went out and got the signatures, got it on the ballot, went out and got the votes. We the people want this, and for the legislature to now take it away from us after all that work, no. That is not what they're here for," Willett said.
Bryce Anderson also expressed his frustration. "I think it's important that we give health care to our most struggling, marginalized, impoverished people.
"It's actually an incredible deal — I mean, we get $9 from federal (funding) for every dollar that the state has to chip in. I don't understand why the legislature, as a body, just can't do the math."
Joli Passey said the issue is important to her "because I believe everyone has a right to health care." She said the thought that Proposition 3 might be repealed is "atrocious. The voice of the voters need to be heard. And we voted for it, and they need to implement it."
Lynn Caroll said, "No. 1, when the voters take the initiative to do an initiative, and it wins, that should be the end of the conversation. This should be the time to implement it. And No. 2, it's something that I want my tax money spent on, something this basic to solving human need."
Though Miriam Harper has health care coverage, she knows "that many people in Utah fall in the gap, and I care about them."
---
We the people have voted for this. ... We the people want this, and for the legislature to now take it away from us after all that work, no. That is not what they're here for.
–Bill Willett, protester
---
"I think that we have a duty as a society to help them in their time of need the way they've helped others, so this is very important, mostly because that's what the people voted for, and the legislature has no right to try to take that away from the voters," Harper said.
"The people have voted. I think for the legislators to say that people didn't understand what they voted for, basically that their voters are stupid, and that they know what's better … it makes me very sad that these people who we elected are not representing their constituents, which is who we are," Harper said.
Correction: A previous version incorrectly quoted Medicaid expansion advocate Paul Gibbs saying he received a new kidney 12 years ago. It was actually 10 years ago.
×
Photos
Related Stories