This archived news story is available only for your personal, non-commercial use. Information in the story may be outdated or superseded by additional information. Reading or replaying the story in its archived form does not constitute a republication of the story.
Update: U.S. Highway 189 through Provo Canyon remains closed Friday morning after crews worked through the night to clear an avalanche. Some vehicles are taking a smaller alternate road, but it requires four-wheel drive, KSL TV reported.
Little Cottonwood Canyon is closed until 10 a.m. for avalanche control. Chains or four-wheel drive are required in Big Cottonwood Canyon. Restrictions are also in place for most other higher-elevation roads.
Get traffic updates every 10 minutes on KSL Newsradio and check commute times on the KSL Traffic Page.
Get the complete forecast here.
---
PROVO — An avalanche closed Provo Canyon Thursday night, Utah Highway Patrol reported.
The avalanche occurred shortly before 7 p.m. at mile marker 12 on U.S. Highway 189 in Provo Canyon, closing the road. UHP reported that snow is as deep as 30 feet in some places.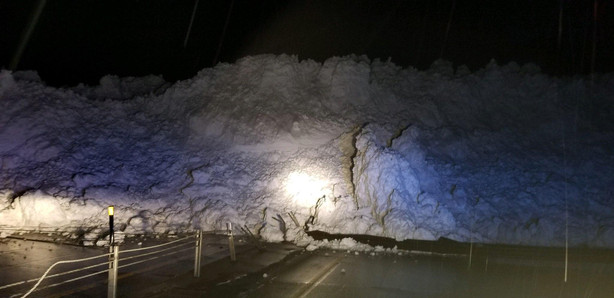 No people or vehicles were caught or damaged, but the snow has covered all lanes and will take hours to clean up, officials said. With U.S. Highway 189 closed while crews clear the snow, drivers should consider using I-15, I-80, and U.S. 40 when connecting to and from Utah and Wasatch Counties.
Crews triggered the avalanche as part of avalanche control efforts in Provo Canyon, according to the Utah Department of Transportation.
Thursday's storm is one of the biggest storms officials have seen in the last two seasons, according to UDOT public information officer John Gleason. He added that crews would be working "all night long and probably for the next 24 hours" to clear the road.
We've had an avalanche at MM 12 on SR-189 in Provo Cyn. The canyon is currently closed. Reports are that it is 10'-15' deep in some spots on the roadway. It is covering all the lanes. No persons or vehicles were caught in the avalanche. Cleanup will take hours.

— Utah Highway Patrol (@UTHighwayPatrol) January 18, 2019
Also on Thursday night, a rock slide in American Fork Canyon blocked off state Route 92, UHP officials said. "Unrelated to the avalanche, but there are several-hundred-pound boulders blocking the road. Heavy rain is causing some serious issues in our canyons right now," UHP officials said in a tweet.
Provo Fire & Rescue had their hands full as well on Thursday evening after a hiker was reported stranded in Slate Canyon. According to the Provo police, a 19-year-old man got his foot stuck in the snow during very wet and cold conditions. The man was assisted down and treated by paramedics for hypothermia, officials said. He was transported to a nearby hospital for "further evaluation."
×
Related Stories