This archived news story is available only for your personal, non-commercial use. Information in the story may be outdated or superseded by additional information. Reading or replaying the story in its archived form does not constitute a republication of the story.
ALTA — Among the skiers and snowboarders having fun on the slopes in Utah this week are a pack of playful dogs training for avalanche rescues.
The dogs are participating in the Wasatch Backcountry Rescue International Dog School, a four-day program for dogs and trainers that is held in Little Cottonwood Canyon every other year.
Hatch went to the school for the first time this year with his handler, Nichole Dye. The dog began training by getting used to the slopes last year, Dye said, and the struggle for him this week was focusing all of his energy into the tasks.
"This was super fun for him, he's a border collie-Brittany spaniel mix so he needs a lot of brain games," Dye said.
The purpose of the Wasatch Backcountry Rescue school is not just to train the dogs, but to help their handlers learn different techniques, according to Marguerite VanKomen, dog coordinator for Wasatch Backcountry Rescue.
"What we do is an ever-evolving organization, we're always looking to progress or excel … so the more we can train with the rest of the world the better," VanKomen said.
Mark Chytka, a trainer for the school, owns a dog he works with at Deer Valley Resort. He said having dogs available is like an insurance policy for a resort.
"Every dog has issues that they're working on, and it's cool to be presented with that problem as an instructor and have to think through it with the handler and try some things and then start seeing things work," Chytka said.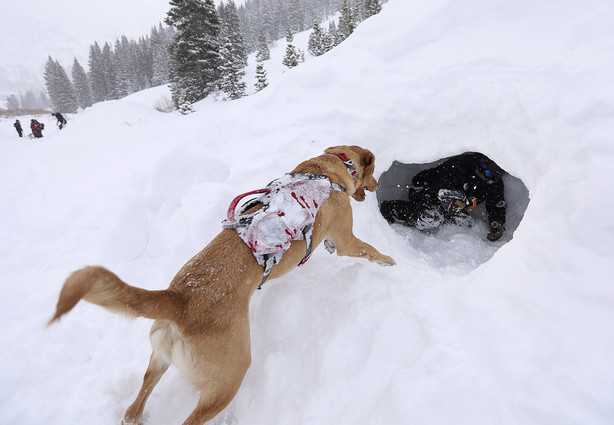 According to Chytka, during training the dogs first watch their handler get into a hole and follow them in. They gradually work towards being able to find people they don't know who are already buried inside a snow cave. The dogs receive a reward when they find something, sometimes a treat and other times a "tug," or an opportunity to play.
"We're training the dogs to associate human scent in the snow with fun so that they want to find that," Chytka said.
Two dog handlers from Poland attended this year's program to learn from the trainers in Utah, though their dogs were not able to come because of legal issues. VanKomen said the Wasatch Backcountry Rescue sends teams to Switzerland to train each year.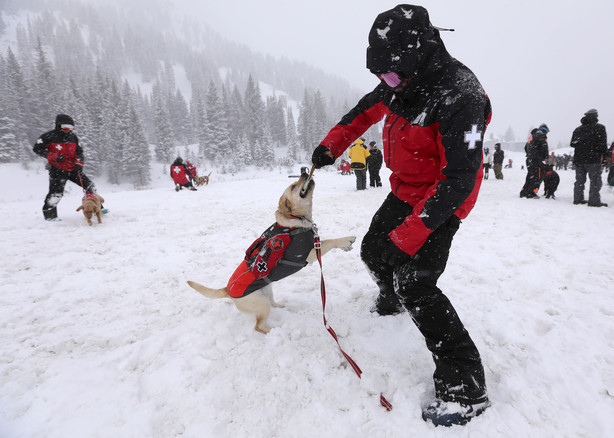 "It's a meeting of the minds, we love meeting new people and learning how they train as well as showing them what we do. Every year, I see huge progression of people and their dogs out of this school," VanKomen said.
The Wasatch Backcountry Rescue is a collective of nine resorts along the Wasatch Front. To be prepared, each resort always has a dog and a handler available.
VanKomen said that in Utah, the dogs are most often used to make sure no one is involved when there is a slide. Little Cottonwood Canyon is the most avalanche-prone canyon in North America, she said. Most of the time officials are aware of danger beforehand and have shut down roads, but the dogs are still often brought in to check the area.
×
Photos