Estimated read time: 4-5 minutes
This archived news story is available only for your personal, non-commercial use. Information in the story may be outdated or superseded by additional information. Reading or replaying the story in its archived form does not constitute a republication of the story.
SOUTH SALT LAKE — Students at a South Salt Lake school got a firsthand lesson on the meaning of military sacrifice as they honored a group of fallen veterans who decades earlier had roamed the same halls and sat in the same classrooms as they do today.
For most junior high-age students, the Vietnam War is something they may have read about in history books or discussed in civics class. But in commemoration of Veterans Day this month, students and staff at Granite Park Junior High School Thursday honored seven former students who were killed in action during the Vietnam War.
To help immerse students in the overall experience, Granite Park administrators showed recently discovered 8mm film footage depicting school life in the 1960s and 1970s.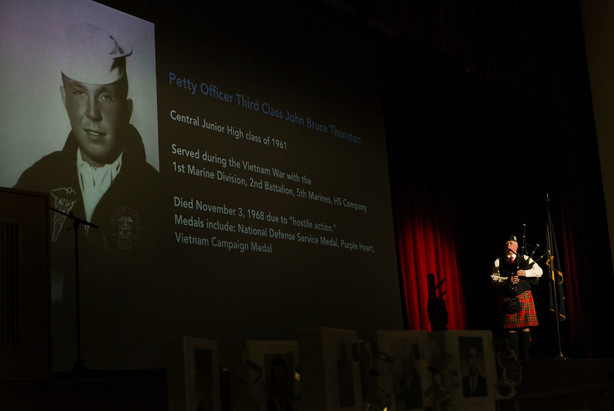 For some, like eighth-grade student Fenway Furbish, 13, seeing the footage and learning about the lives of the alumni who served in the war helped to connect her to the grandfather she never got to know who served in Vietnam.
Among the stories relayed by her family was how her grandfather loved good food, but seldom had much time to eat while on military duty, so he adapted to his surroundings.
"I learned that he really liked to eat fast and that he ate snake soup," Furbish said with a smile. "They told me he was a really nice person and I really wish I'd gotten to meet him."
She said having programs that honor veterans give students the chance to gain greater understanding about the sacrifices made by people who gave their lives to serve the country.
"I feel like it's our job to (remember) them because if we don't, then who will," she said.
Surviving family members of veterans were in attendance as the school unveiled a new Vietnam War memorial to accompany a World War II plaque that was installed last year. They were given binders with information about their lost soldier's time at Granite Park, as well as glass keepsake sculptures donated by O.C. Tanner.
Jeannette Colbert's brother-in-law, Pfc. George Colbert, was just 20 years old when he was killed in Vietnam in 1967. She said providing today's students with the background on students who died on the battlefield offers important civics lessons that often are overlooked.
"Teaching kids what it means to serve your country, the sacrifices that have been made and what it means to their actual lives," Colbert said. "(George) gave his life and it should be a civics lesson that (his) sacrifice should mean something."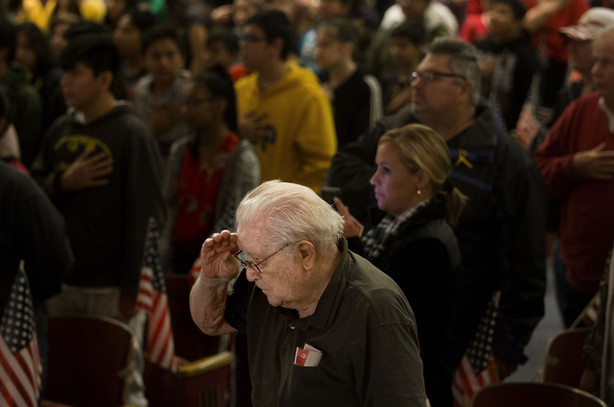 She said the students should learn the importance of what it means to live in a democracy that provides rights so they can have the opportunity to live in freedom.
"They should learn about their civic duties, the duty to vote, the duty to be active in your community," she said. "(You) should know about politics, know about your government and what it means when a president is able to send troops somewhere. (To know) what does that mean to you as a citizen."
Sgt. Steve Fullmer of the Utah National Guard was among the current military members on hand to participate in the event. He said he appreciates the efforts Granite Park Junior High is making to educate students about military history.
"It's awesome that younger kids recognize and give thanks to those who came before them," he said. "My uncle was a Vietnam vet and I go and visit his grave to this day."
---
Without these veterans here today, I really wouldn't have freedom or the ability to go to school and be safe. Our school really appreciates veterans. They give up a lot for our freedom.
–Ayad Al Samaray, 8th grader
---
Fullmer noted that other family members also currently serve in the military and previous generations have also served, which is one of the reasons he is so grateful for such school programs.
"I've always looked up to our forefathers and what they went through," he said. "Me serving makes me feel like I'm somewhat connected to those men that I look up to and that made this country so great."
Granite Park Principal Aaron Wilson said the program is meant to serve multiple purposes by helping to bridge the gap for homegrown American students and others who may not have been born here but are now part of the community.
"Many of our students are refugees. We're trying to make a connection between those who went to school in this building who served and died in Vietnam and current events today," he said. "We want our students to know that no matter how you feel about the current political landscape, you should always honor our veterans."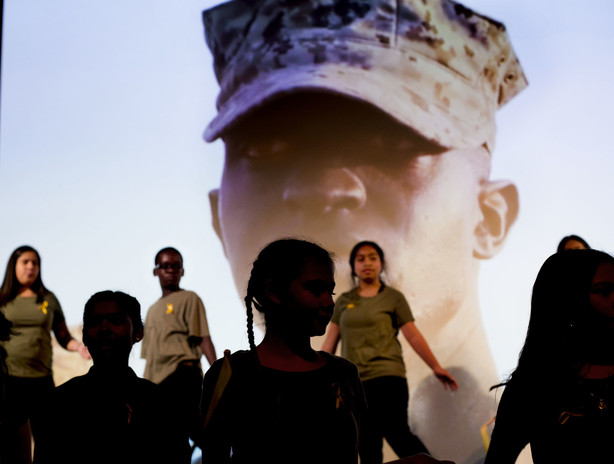 Wilson noted that as part of the program, each student in the school was given a biography of one of the seven alumni being honored.
"They were able to read that, understand this person and write a letter to their families which are being presented in a ceremony after the assembly," he said. The purpose of the letters was to make connections with the families, he said.
Eighth-grader Ayad Al Samaray, 13, immigrated with his family from Iraq four years ago. He said being able to recognize the fallen alumni and other military veterans is an honor and a privilege he does not take for granted.
"Without these veterans here today, I really wouldn't have freedom or the ability to go to school and be safe," he said. "Our school really appreciates veterans. They give up a lot for our freedom."
×
Photos