Estimated read time: 3-4 minutes
This archived news story is available only for your personal, non-commercial use. Information in the story may be outdated or superseded by additional information. Reading or replaying the story in its archived form does not constitute a republication of the story.
SALT LAKE CITY — Floyd and Marjorie Galloway surprised their grandchildren — Xander, Kiaora, Aislynn and Teague — with a trip to the opening day of the Utah State Fair Thursday before the kids move to Oregon.
"I was wondering what the surprise was," Aislynn said. "The carnival!"
Aislynn was most excited for the games at the fair, while her younger brother Teague was more focused on the prizes to be won.
"I want some toys," he said.
Xander and Kiaora looked forward to spending time with their family, and also getting some candy.
"I'm excited just to be with my grandchildren for the last time for a while," Floyd Galloway, of Kearns, said.
The 163rd annual fair kicked off Thursday morning, the first of 10 consecutive days. Attendees can expect the usual attractions: food, games, rides, agriculture shows, rodeo, art and craft exhibits. As well as concerts and rodeos on various evenings.
In the creative arts exhibit building, Debbie Brown and Matt McNaughton have sculpted with butter a group of three cows doing Jazzercise — including brightly colored headbands and leg warmers.
The butter cow sculpture, sponsored by Dairy Farmers of Utah, has been a state fair tradition for 20 years, and Brown has been there the whole time. In 1998, Dairy Farmers of Utah flew in butter sculpting expert Norma Lyon from Iowa to teach her art to Brown and her former butter sculpting partner Barbara Westover. Lyon had been sculpting cows out of butter since 1960.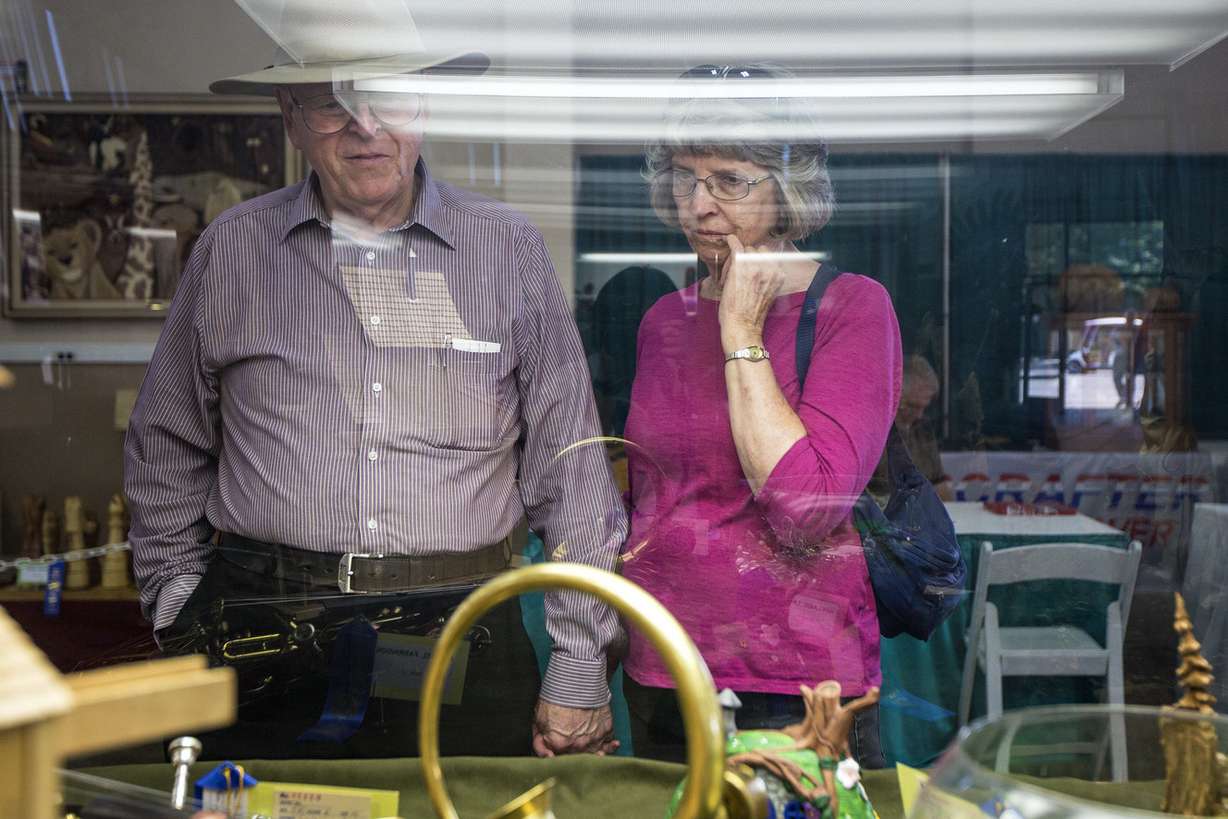 McNaughton, an art teacher at Wasatch High School, took Westover's place around 12 years ago, Brown said.
"He does the big sweeping moves, and I do the fine detail," Brown said. "It's a good combination."
Brown and McNaughton work in a refrigerated display case kept around 45 degrees from Labor Day until it's complete, usually Thursday or Friday. McNaughton brought some of his students to help earlier this week as well.
The Jazzercising cows, titled "Dairy Doing a Body Good," were inspired by the theme of the fair this year: the 1980s. They use almost 800 pounds of butter every year, donated by Meadow Gold, which is then returned and recycled into usable butter.
In the same building, artists Brian Baity and RK Winfree host an interactive exhibit where people can learn to carve an empty egg.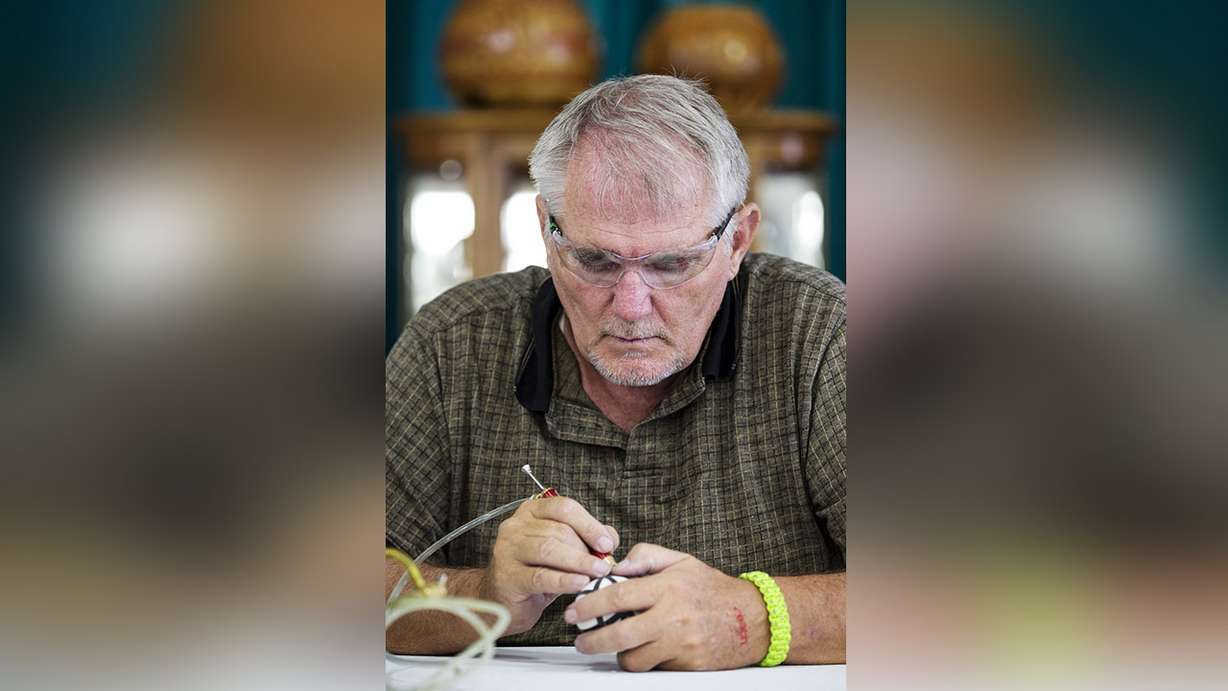 Baity has been carving duck, goose, emu and ostrich eggs for about 15 years; Winfree for five. This year will be Baity's sixth hosting his booth at the state fair, where Winfree — primarily a woodcarver — often comes to help. Baity has traveled around the country and the world giving kids and adults the chance to carve their own eggs — even to Bulgaria.
Over the years, Baity has gained a fan base in Utah and at the fair. He sells intricately carved emu and ostrich eggs during the year, and every summer he sees regular participants come by to carve their duck and goose eggshells. He uses a tool similar to a dentist's drill (invented by a Utah dentist, in fact) and shows participants how to use it on their eggs. People can purchase a duck egg for $5, goose for $10.
Cindy Mangone also hosts an interactive art booth. People can purchase a small ceramic figures that she has molded and paint them with various colors of acrylic paint. Figures cost between $1 to $5, and they come already fired in Mangone's kiln.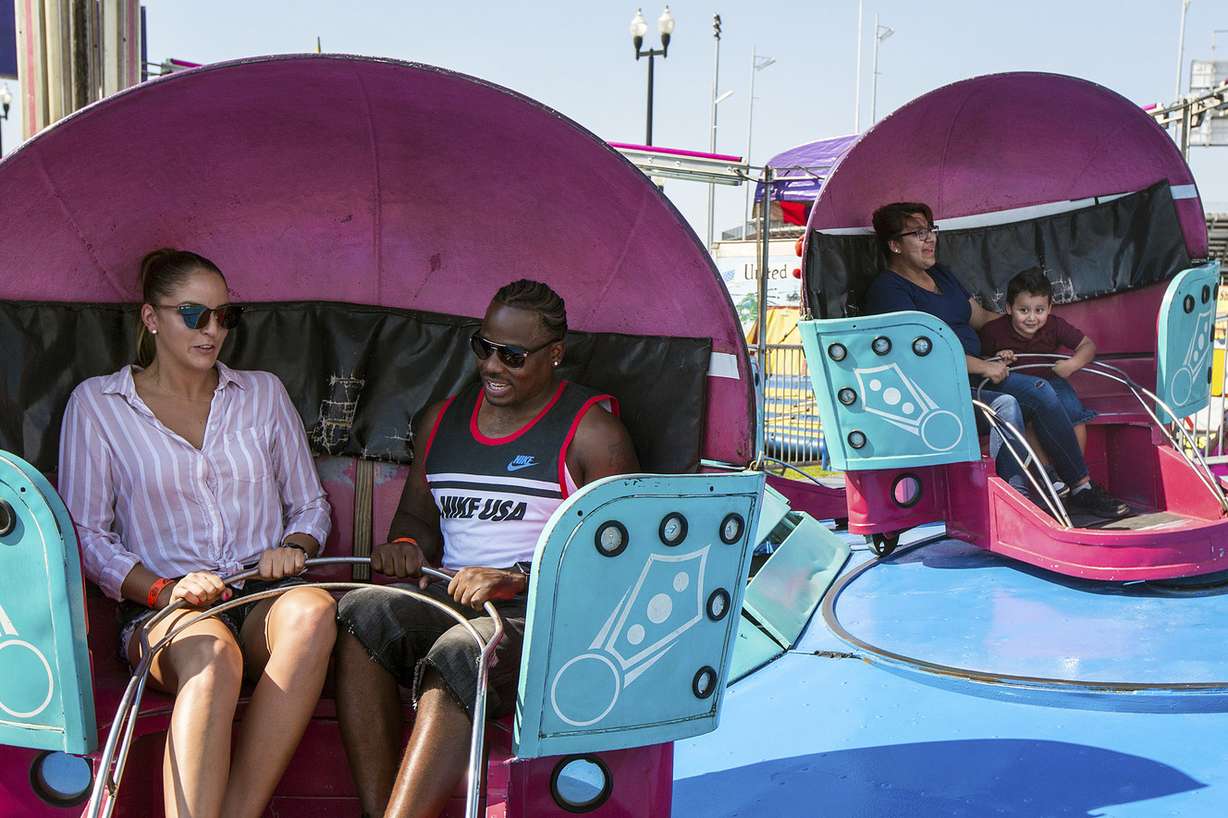 Mangone has hosted her interactive exhibit for five years, attracting participants of all ages.
"I just love the atmosphere," she said.
Although they are not new attractions, some unique, less-typical attractions can be found at the fair. The Division of Wildlife Resources has a building with 10 new aquariums full of native Utah fish, totaling 4,000 gallons. There is also a stocked fishing pond behind the building for youth to try each day from 4-7 p.m. All exhibits, including the fishing pond, are free with entry to the fair.
The fair opens every day at 10 a.m. and closes at 10 p.m. on weekdays, 11 p.m. on weekends. The last day is Sep. 16. Tickets cost $8, and children 5 years and younger get in free.
×
Photos
Related stories
Most recent Utah stories