This archived news story is available only for your personal, non-commercial use. Information in the story may be outdated or superseded by additional information. Reading or replaying the story in its archived form does not constitute a republication of the story.
WEST VALLEY CITY — To know what kind of person Jill Lanette Robinson was, one only has to look at her children.
Her work ethic, her smile, her feisty attitude, her sense of humor, her creativity and her love for her family. Halie Merrill said her mother gave so much to her four children that it would be impossible for them not to be like her.
"Mom was our best friend, our confidant, our cheerleader, our support," added daughter Katie Merrill. "She was the hardest worker we've ever known, and she put her heart into everything she did."
On Friday, Robinson, 52, a city code enforcement officer for West Valley City who was shot and killed Aug. 9 while performing her duties, was honored with funeral services at the Maverik Center and laid to rest by her family.
"This past week has been the hardest week for me and our family. We are shocked and devastated beyond what one can even comprehend," Robinson's sister and best friend Julie Robinson Egelund said prior to the funeral.
On Friday, family members, friends, co-workers, police officers and firefighters from across the state gathered to honor a woman who was not only remembered as an outstanding and dedicated worker, but a caring mother who raised four children on her own and inspired them to pursue their dreams.
Robinson graduated from Peace Officer Standards and Training in 2004 and kept her certification current, even through it was not required for her code enforcement job. She was hired by the city 10 years ago.
The Emerald Society Pipe and Drum band escorted the Robinson family and Robinson's casket into the Maverik Center. Gov. Gary Herbert ordered all flags in Utah to be lowered to half-staff Friday in honor of Robinson.
Mike Mower, reading a statement from the governor, said all of Utah's hearts are heavy because of a "despicable act of violence."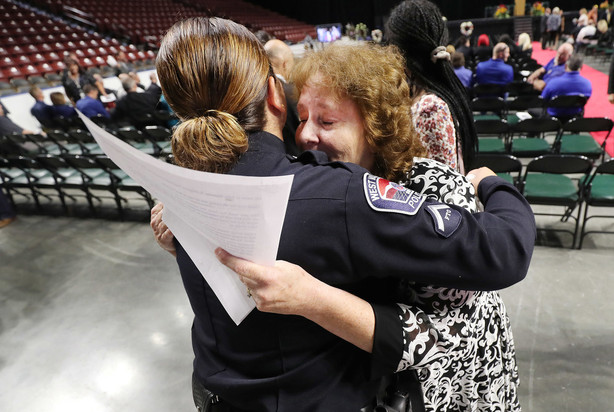 "Utah has lost a wonderful mother, public servant, and friend," said the governor's deputy chief of staff. "Jill was an inspiration to many people and her legacy will continue."
West Valley City Manager Wayne Pyle said Robinson was dedicated to her job and noted, "Our city is a better place because of her contribution."
But to know Robinson is to know her family. Her sister, brother and her children all remembered Friday both her hard-working attitude, and her sometimes off-beat sense of humor. Robinson's children — Jessi, Katie, Halie and Riley — walked to the podium at the Maverik Center hand in hand. They recalled how she pushed all of them to pursue their dreams, and how they grew up to become a teacher, a lawyer, an actor and a stage technician.
"We know she was so proud of what each of us accomplished. And in turn, we are so proud of Mom's accomplishments," Halie Merrill said.
Katie Merrill talked about her mother's creativity with a smile as she remembered how she would make all the Halloween costumes each year no matter how outrageous her children's requests, even if they wanted to be "a kid abducted by aliens."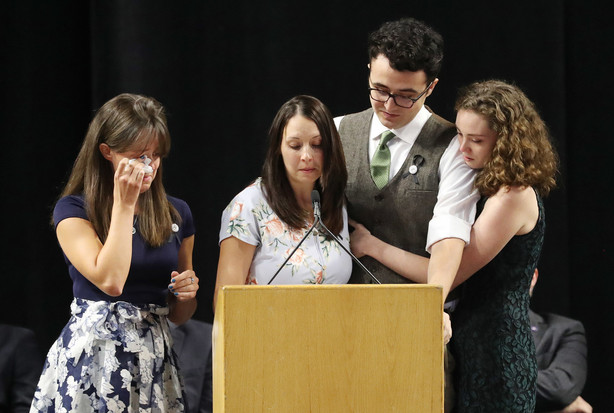 "We know how much she loved us because she told us every single day," Halie Merrill said.
"I loved everything about my mom. But what I loved most was her hugs," added Jessica Knorr. "With each and every hug I could feel her love for me."
"Mom, we will never stop making you proud. We love you," Halie Merrill said.
Jaren Ronald Robinson, Robinson's brother, said his parents taught him and his sister at a very young age to serve and to be the nicest, friendliest, most helpful people they could be.
But he also holds a special connection to his sister. She was a bone marrow donor when he got leukemia.
"Her DNA is now my DNA," he said. "Jill was my personal hero. She is a hero to all of us. She's my hero and lifesaver."
---
She was the hardest worker we've ever known, and she put her heart into everything she did.
–Katie Merrill, Jill Robinson's daughter
---
Egelund thanked many people for helping since that "horrible moment" last week, from the first responders who helped her sister, to the Maverik Center staff for "making this especially hard day as perfect as possible."
"Your love was needed and appreciated. It kept me going," she said of all the messages and words of support she and her family have received.
Egelund said her sister was always up for anything, and she loved going camping, attending hockey games or horse races in Evanston, Wyoming, with her. Jaren Robinson said his sister would even think it's appropriate that her funeral be held in a hockey arena, and then added that she would have preferred that a hockey game was going on at the Maverik Center rather than people paying so much attention to her.
The funeral service for Robinson lasted more than an hour, much of it filled with stories of the woman who loved her grandchildren, loved her job and looked forward to certain days each year, such as April Fool's Day. Her boss, Layne Morris, West Valley City's director of community preservation, recalled how she had a smile and an extra jump in her step on one April 1 when goldfish were found in the water cooler.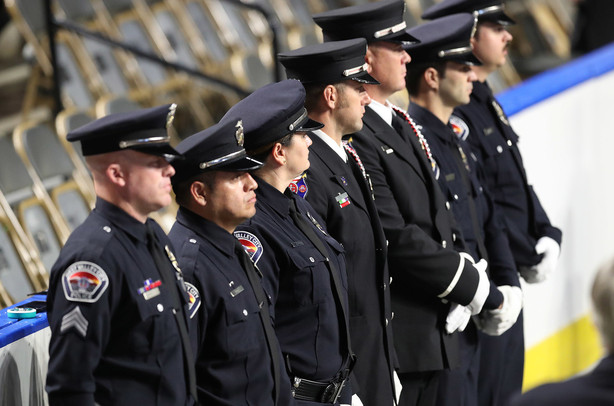 Her children laughed as they recalled her style of fishing, which was to yell "fishy, fishy, fishy" no matter how many stares she got from other anglers. And Egelund remembered a talk her sister gave in church in which she seemed flustered at first, then caught everyone's attention by having a "conversation" with God at the podium.
"I'm going to have a hard time, because she was so full of life," she said.
Afer Robinson was shot, the man accused of killing her allegedly set his neighbor's house on fire. Stephanie Sheen and Ryan Luke escaped their burning home, but it was declared a total loss and their six dogs and two cats died in the fire.
"Jill was an animal lover of all kinds. And I know they are together now. Jill will take care of them," Egelund said of the animals.
She believes that love of animals, and service animals, might help code enforcement officers in the future.
"I have gone over in my head what happened to Jill multiple times to seek answers and to figure out what could we have done to change the events that day. And in all of my thinking, nothing could have changed those events. However, Jill had a love for the service animals, and I have the idea for the future protection of code enforcement by allowing you to have your own service animal for protection. This is my personal thought on how Jill might have had a chance that day," she said.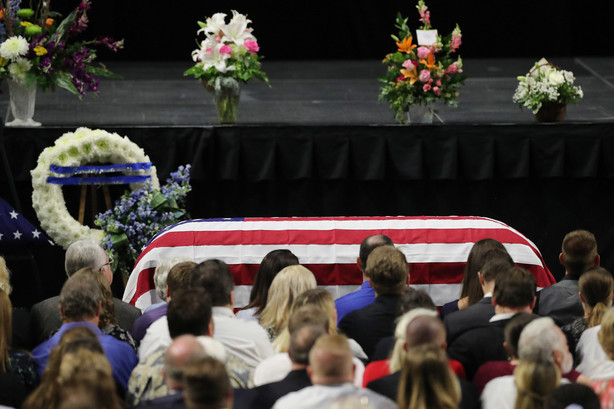 Following the funeral, a small procession of West Valley police motorcycles, code enforcement vehicles and a fire engine escorted the hearse to the interment site, driving under an American flag hanging from two West Valley fire engines.
The interment was held at Elysian Burial Grounds, 1075 E. 4580 South.
The Salt Lake County District Attorney's Office began screening charges Thursday against Kevin Wayne Billings, 64, who is suspected of shooting and killing her while she was at his house for a follow-up investigation. Formal charges are expected to be filed early next week, possibly by Monday.
×
Photos
Related Stories