SALT LAKE CITY — Motorists should expect some delays when runners participate in the 15th annual Salt Lake City Marathon Saturday.
The marathon itself begins 7 a.m. at Olympic Legacy Bridge on the University of Utah campus. The finish line, Library Square in downtown Salt Lake, will close at 1:30 p.m. Several events, such as a bike tour, half-marathon, 10K and 5K, are also planned for Saturday.
The course, which meanders around Salt Lake County's northeast side, will force 56 road closures in the county.
Many of the closures will last just a few hours. The longest closure will be for 200 East, which will close from 400 South to 500 South at midnight and isn't expected to reopen until at least 5 p.m. Saturday.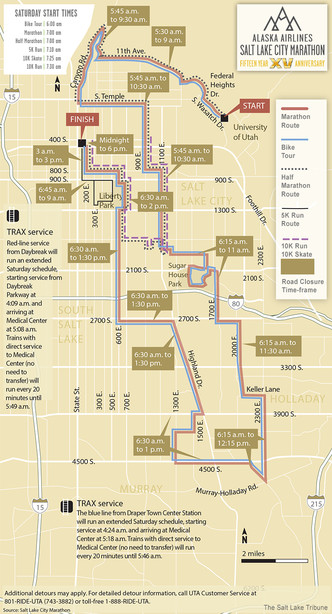 More than a dozen Utah Transit Authority bus routes will also either have limited or no service during periods of the race or detoured routes Saturday morning. Those with concerns or questions about route changes for that period are encouraged to call 801-743-3882.
TRAX lines will begin early with the first trains leaving Daybreak Parkway on the red line at 4:07 a.m. and from Draper Town Center at 4:21 a.m. Train fares are free for those with their race number or bib.
×