This archived news story is available only for your personal, non-commercial use. Information in the story may be outdated or superseded by additional information. Reading or replaying the story in its archived form does not constitute a republication of the story.
SALT LAKE CITY — A few short hours before the University of Utah men's basketball program was to square off against Pac-12 rival Colorado on the road last week, Larry Krystkowiak received a text message.
Jon M. Huntsman Sr. had died.
The news "set me back" Krystkowiak said, reflecting on a dear friend who was suddenly gone at the age of 80 after a life defined by his hard work and philanthropic heart. It was a moment that shaped the remainder of Krystkowiak's day — a somber distraction to an otherwise important day for the basketball program.
Utah would go on to lose 67-55 in one of the worst offensive performances of the season for the team. And while the news of Huntsman wasn't the sole reason for the loss, it was a difficult game nonetheless.
"I'll be first and foremost to say I wasn't a very good coach last Friday," Krystkowiak said Thursday.
Instead, his thoughts were on his friend and mentor — a trusted associate who helped build the University of Utah basketball program into the successful entity it is today. That's to say nothing of his impact on the university as a whole — most notably the Huntsman Cancer Institute that has helped thousands since its founding in 1993.
But Krystkowiak and Huntsman were more than just associates or a coach who was forced to appease one of the wealthy donors of the university. No, the two shared a connection that was more than just a business transaction.
"I've said it to a handful of people and I mean this from the bottom of my heart," Krystkowiak said. "I've been around 53 years and I've looked up to a lot of people, and I have been fortunate to meet a lot of people. I don't think that there's — and I told Jon this in one of my last text threads with him — I don't think that there's ever been anybody that's had more of an impact on me in seven short years."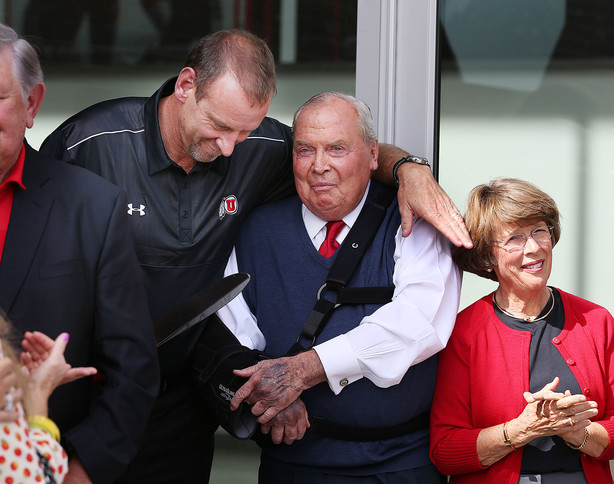 Krystkowiak added that he was "a person that I want to be like — I think a lot of us want to be like, in terms of how he was humble and was an unbelievable businessman and driven."
Krystkowiak was brought on in 2011 to serve as the new Utah men's basketball coach, and in that time, he said Huntsman "took me and my family under his wing here." The two would share many private lunches in Huntsman's office and several text exchanges back and forth to each other over the years.
Approximately five years ago, the two embarked on a cross-country trip to review other basketball programs and their facilities in an effort to improve the student-athlete experience at Utah. The goal: build a world-class basketball facility that would attract the nation's best recruits and lead to sustained success at the university.
And with the help of Huntsman and several other key donors, the goal was realized in October 2015 with a $36 million facility for the men's and women's basketball programs. The facility would bare Huntsman's name along with that of his wife's, who was always an equal participant to the charitable giving and charitable devotion to the university and others.
Huntsman was never about the accolades or recognition for his charitable contributions, though. In fact, when Huntsman was told the basketball facility would bear his name, he declined, saying he'd rather just be a supporter of the program. But after some convincing from the university and others, Huntsman told a crowd at the basketball facility ribbon-cutting ceremony, he agreed to the name being on the building.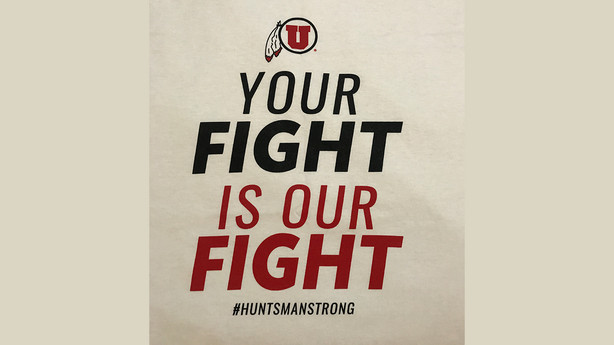 Huntsman wasn't shy about his lack of ability to compete at a high level in basketball — he once scored 2 points for the University of Pennsylvania's varsity team — but he loved the University of Utah basketball program. And his relationship with the coaches that have come and gone over the years, including Krystkowiak, was always an important aspect to his life.
"The University of Utah is a special place because it's home," Huntsman told KSL.com at the facilities ribbon-cutting ceremony in 2015. "We want this to be the most outstanding university in America. The basketball facility, for those of us who tried our best and still only made the gray squad, it really means a great deal because when you see that arena filled and people cheering, it lifts a whole city, it lifts a community, it lifts the state."
"I'm so pleased that we had a small role to play in it," Huntsman told the audience in attendance.
In Huntsman's lifetime, he donated approximately $1.4 billion to various entities, including massive financial support to the university, which bears his name on an arena that has welcomed fans since 1969.
One seat will be empty tonight as @UtahMBB honors philanthropist Jon Huntsman Sr. — the namesake of the arena and huge supporter of @utahathletics. pic.twitter.com/wVB6hctWK1

— Josh Furlong (@JFurKSL) February 8, 2018
On Thursday, as the men's basketball team returned home to play Stanford, Utah honored Huntsman with a pre-game tribute video, a moment of silence and an empty courtside seat donning a jersey with his name on it. Fans, too, wore T-shirts that said "your fight is our fight #HuntsmanStrong," paying tribute to a four-time cancer survivor that spent the latter part of his life trying to eradicate all forms of cancer.
"I know he's not here, physically, but I mean, this is the house that Jon built, and we're going to try to pass a lot of those positive traits that I talked about forward," Krystkowiak said. "I'm going to try to live a better life."
Krystkowiak added that Thursday's game, which Utah won 75-60, was "more than a one-game deal for us" to pay tribute to the late Huntsman. "This season is dedicated to him," he added.
Huntsman's life embodied the sign that welcomes visitors to the basketball facility that bears his name: It's a great day to be a Ute.
Utah honored Jon Huntsman Sr. prior to tonight's game. pic.twitter.com/9kdIkpq5L0

— Josh Furlong (@JFurKSL) February 9, 2018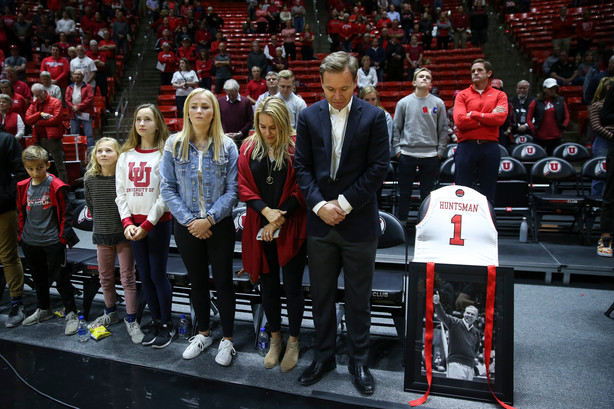 ×