Estimated read time: 3-4 minutes
This archived news story is available only for your personal, non-commercial use. Information in the story may be outdated or superseded by additional information. Reading or replaying the story in its archived form does not constitute a republication of the story.
LEHI — Scott Madsen has been working on one particular job for more than 15 years.
He's had a long career as an expert in preparing fossils. His work is exceptionally delicate and he often spends hours at a time peering through a microscope, peeling back layers of rock one layer at a time.
In 2001, along with state paleontologist Jim Kirkland, Madsen followed the directions of a grad student to a site near Moab, and found the very tip of what would eventually become one of the largest finds in history.
"It was pretty jubilant when we found it," Madsen said. "We could tell that there was a foot going in, and you don't see that sort of thing every day."
There were several feet of rock that were jam-packed with bone, Madsen recalled. Madsen and Kirkland's discovery led to the next several years of quarrying.
What they'd uncovered was a giant pool of fossilized quicksand, full of the remains of a large group of dinosaurs which hadn't moved for about 126 million years.
Even more startling to Madsen and the rest of the team was that they'd essentially found a moment trapped in time: an entire pack of Utahraptors, who showed up to feed on a trapped iguanodon, then became trapped themselves.
The Utahraptor is a carnivorous dinosaur from the early Cretaceous Period, not entirely unlike the portrayal of the velociraptors in the "Jurassic Park" movies.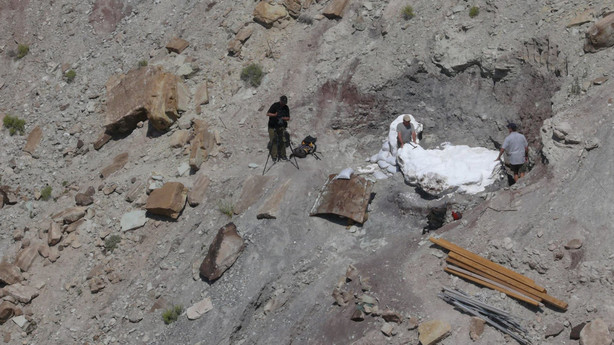 "We have juveniles, full-grown adults in here and little tiny babies, which kind of makes you start to speculate on whether or not you're looking at a herd of Utahraptors, or even a family ... but clearly, they were drawn here," Madsen said.
After years of difficult excavation and transportation, Madsen couldn't wait to start the real work. In 2015, the entire 18,000-pound block of rock was moved into its home at the Museum of Ancient Life at Thanksgiving Point. The block was so heavy that the floor had to be reinforced from below just to accommodate the find, he said.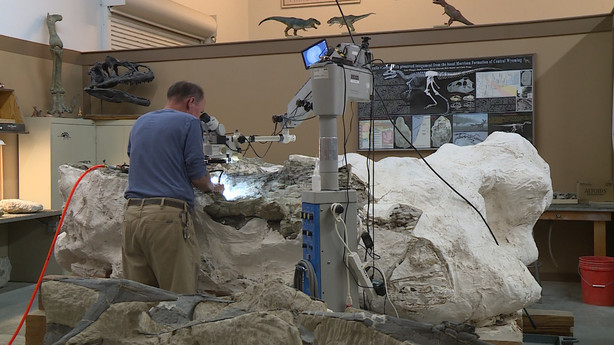 But then, the work itself became mired in its own form of quicksand.
"Everything was fine," Madsen said with a sigh. "What ended up happening was my job was being paid through oil and gas revenues — royalties being generated on state lands in Utah. And when the price of oil went down below $40 a barrel, about a third of the staff of the Utah Geological Survey, where I worked, was laid off. Including me."
But the true test of whether or not you love a job is if you'd do it for free.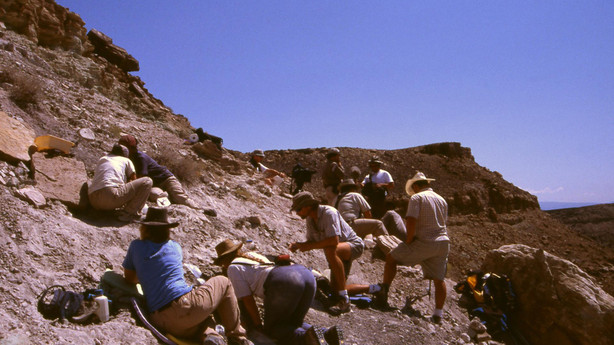 "I'm still donating my services," Madsen said. "This is all volunteer on my part. I've logged several hundred hours here, doing this work, getting this started."
But Madsen thinks this work will take about five full years. Without any valid leads on new sources of funding, he turned to crowdfunding, asking the public to make donations on GoFundMe.
"That paid for all the equipment we're using here now," he said, gesturing to an enormous articulating microscope.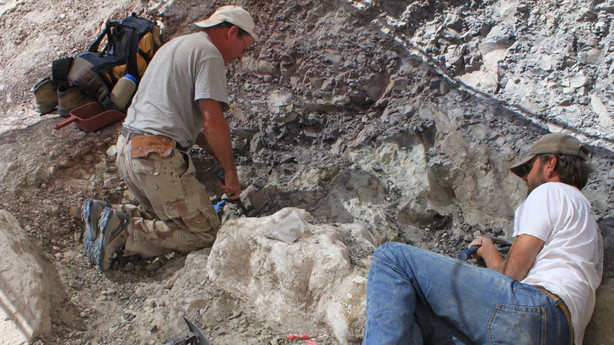 Madsen's hoping to eventually get a paycheck for the work he's putting in — even though for him, the main draw of the job is the thrill of discovery.
"Not everything has to have a purpose," he said. "Music really doesn't. Maybe there's not a cure for cancer in here, or anything like that, but I think it's just intrinsically interesting for most people."'
Those interested in following the team's progress can visit the Utahraptor Project Blog. Anyone interested in helping Madsen and his team finish excavating the block of Utahraptor fossils, can make a donation to "The Utahraptor Project" on GoFundMe*.
---
KSL.com does not assure that the money deposited to the account will be applied for the benefit of the persons named as beneficiaries. If you are considering a deposit to the account, you should consult your own advisors and otherwise proceed at your own risk.
×
Photos
Related Stories