This archived news story is available only for your personal, non-commercial use. Information in the story may be outdated or superseded by additional information. Reading or replaying the story in its archived form does not constitute a republication of the story.
Editor's Note: This article is the first part of a series about Utah tech companies that may be on their way to unicorn-dom. The second article in the series will run Wednesday, June 14. ALPINE — In the fantasy world, the unicorn is a rare creature. In the tech world, it's even rarer.
In corporate culture, "unicorns" are what techies and investors have started calling private startup companies valued at one billion dollars. The term was first coined in 2013 by longtime tech venture capitalist Aileen Lee when she began researching the probability of discovering and investing in one of these companies.
After some research, Lee found that only 0.07 percent of venture-backed companies reach one billion dollars (though the percentage is now slightly higher). There are currently only about 234 unicorns in the world, according to TechCrunch. Utah is home to four of those including tech companies Domo, InsideSales, PluralSight and Qualtrics.
Thanks to Utah's rapidly growing tech economy, however, there are a few other startups that may be on the path to unicorn-dom, according to TechCrunch.
Alpine-based Purple, a comfort technology company well-known for its innovative mattresses, has witnessed unprecedented and explosive growth since the Purple brand launched a year and a half ago. In the last 17 months, Purple has achieved $200 million in annual sales and has grown from 30 employees to 655.
So how did that happen?
The startup's meteoric rise didn't come all at once. Purple's origins extend back 20 years when two Utah brothers, Tony and Terry Pearce, decided to create a wheelchair that was light and flexible. After wheelchair sales flopped, the Pearce brothers realized they may have been barking up the wrong tree.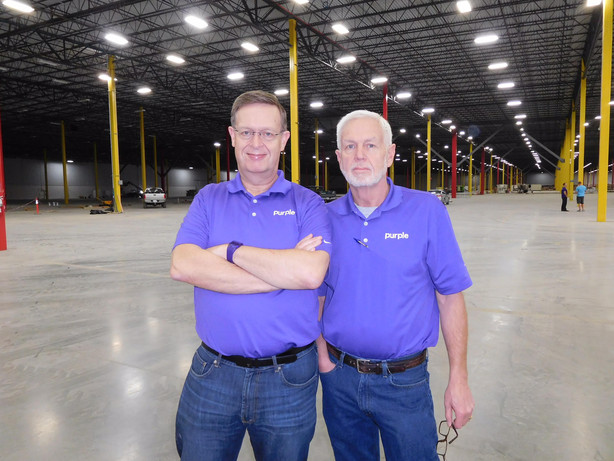 They soon learned that wheelchair users commonly develop pressure sores from sitting so long and the sores often send them to the hospital, occasionally proving lethal. So the Pearce brothers set out to solve a new problem.
"They realized that, from an engineering mentality, they could actually solve it," said Sam Bernards, current CEO of Purple. "It's all just a matter of physics. There's an equal and opposite force. … They realized they could figure this out with new material and new geometry which would actually deflect the force that pulls you down and cradles the body."
The brothers created a new material called "floam" and licensees began to use the material in everything from wheelchair cushions and medical beds to shoes and backpacks. The real breakthrough came, however, when the brothers invented what they now call "hyper-elastic polymer" which could be molded into a shape that would relax under pressure points and redistribute the pressure to other areas.
In 2010, the brothers acquired headquarters in Alpine and began manufacturing their own products. Along with their original seat cushion (which sustained the company for a while), the company invented a machine called the "Mattress Max" which could produce mattresses made of hyper-elastic polymer.
Finally, in January 2016, Purple took sole control of its manufacturing process and officially launched the Purple brand.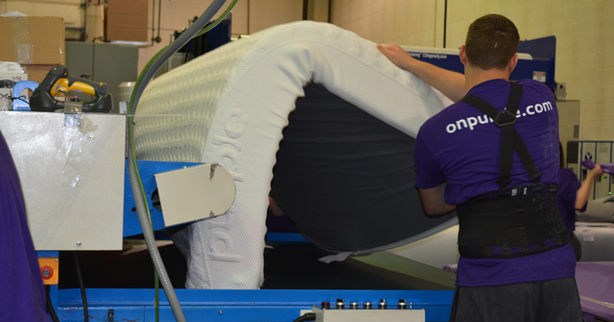 "Upon the launch of (the brand), the sales just took off to such a degree that there was a tremendous backlog of beds," Bernards said. "The Mattress Max at the time could only do about 10 to 20 beds a day … but the team was able to … improve the productivity, doubling the production capacity to the extent they were able to significantly raise the number of beds they could sell. And that's when things really started taking off for Purple."
Purple now boasts over 650 employees and a new facility in Grantsville that opened once the company outgrew its Alpine headquarters. The facility is 574,000 square feet (over a dozen acres) and will create hundreds of jobs in the community, according to Bernards.
"We're so young as a company," Bernards said. "We're still kind of figuring out the fundamentals of the business and it's really messy here. If you come into our facility, there's evidence of growing pains all over."
The company currently sells its famous Purple mattress, along with its original seat cushion, a pillow, a platform base, sheets, a mattress protector and a power base. The startup aims to create comfort for consumers whether they're sleeping, sitting or standing and currently plans on launching more products for those constantly on their feet.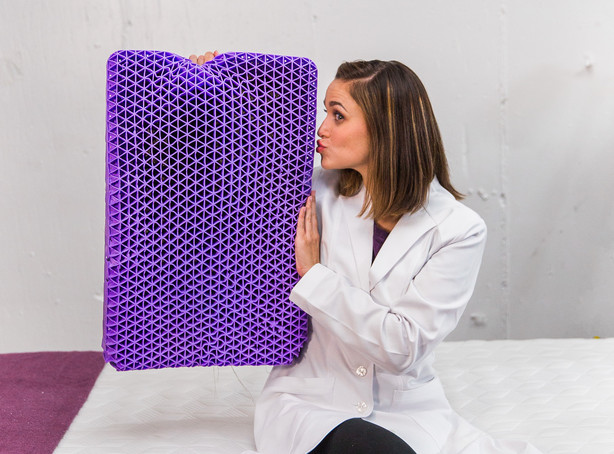 What makes Purple different?
Bernards attributes Purple's success to three key factors:
Unique product: Purple's products combine a new, patented material with a geometrical design not found anywhere else in the market, according to Bernards. "If you take a look at every other bed in the industry, it's kind of just a remix of technologies that have been around for five decades," Bernards said.
Bed-in-a-box: Other mattress companies (like Purple's competitor Casper) have introduced customers to a new way to buy mattresses and have convinced them they don't need to go to a showroom and try out a product before purchase. Customers can order a bed online and it will arrive at their home packaged neatly in a box. This new model of business has helped Purple tremendously. "Other competitors … have done a wonderful job educating their North American audience that it's OK to buy a bed online, unseen, untested, try it out for a few months in your home, and then get your money back in case you are unsatisfied," Bernards said.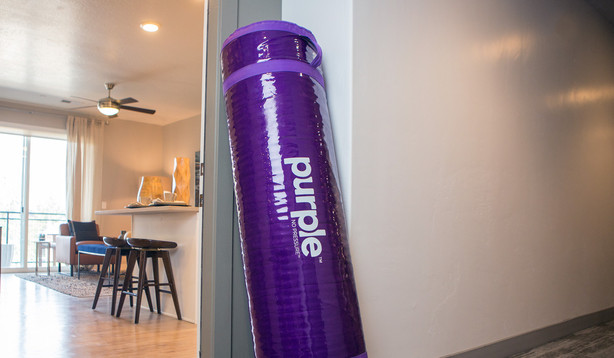 Marketing prowess: One of Purple's first ads went viral after the company ran an ad demonstrating the "raw egg test" where the company showed the mattress was soft, yet so supportive, that you could drop 330 pounds of tempered glass with an egg attached to the bottom onto the mattress and still not break the egg. After the ad went viral, copycat videos cropped up on YouTube as customers tried the raw egg test on their own Purple mattresses. Since then, social media has been a huge part of Purple's success. Other promotional videos also went viral and Purple now boasts over 450 million combined video views with 75 percent of the social media engagement of the bedding industry revolving around Purple, according to Bernards. "You only get that when people choose of their own accord to talk about Purple," Bernards said. "And that's why our customers are just so wonderful for us. … There are people that are so moved by the Purple experience that they invite their friends and family into their own bedroom and say, 'You've got to try my bed, it's amazing.'"
What's next for Purple?
So far, Purple has completely bootstrapped its way to success. While it's participated in a lot of internal investment, Purple has still not accepted funding from venture capitalists or other external investors.
"It's been really hard for the company to be bootstrapped and therefore it's been really good," Bernards said. "The founders, in particular, went all out, mortgaged their homes and the building we're in to launch what we're doing right now. … I've spoken to a lot of investors (but) it's actually been better for us to control our own destiny because of who we are and what we care about than it has been ... to take money.
"So we just haven't found exactly the right fit, but we are very much open to investing. … Our doors are open and we are actively engaged in exploratory conversations with potential investors."
Purple's desire to expand, however, is rooted more in the desire to touch customers' lives with their products, Bernards said. Purple's motto "feel better" is what the CEO hopes motivates Purple employees.
"It's highly likely that, if an investor were to come in and value our company in the near future, that we would indeed be in that herd of unicorns," Bernards said.
"It's nice, but we don't really care. … It's kind of exciting we could be Utah's next unicorn, (but) what we really care about is the individual touch point that Purple has with the consumer. … We receive these notices and comments that bring smiles and tears and the pattern is so distinct: 'I was in pain, then I bought a Purple and I'm no longer in pain.'"
×
Related Stories