Estimated read time: 4-5 minutes
This archived news story is available only for your personal, non-commercial use. Information in the story may be outdated or superseded by additional information. Reading or replaying the story in its archived form does not constitute a republication of the story.
WEST JORDAN — The moment when he kissed his bride at the altar may seem effortless, but the journey to get there was long and hard.
Dustin Shillcox, of West Jordan, is paralyzed from the chest down. When his work van rolled 6 1/2 years ago, he wasn't wearing his seat belt and flew out the window.
He woke to a life of no's and can'ts: No to normalcy. No to dreams that might never come true.
He couldn't "get up out of bed and walk to the bathroom," Dustin said. "(There are) just so many things that your life is changed forever."
Then, thanks to Tinder, Dustin met his future wife, Sydney.
"I was like, 'There's a cute girl," Dustin remembered thinking when he saw her picture on the app.
Sparks flew for Sydney too, but she didn't know his story. When they first spoke on the phone, Sydney Shillcox remembered "he was like, 'So, you know how I'm in a wheelchair?". She told him, "No, but tell me more."
On their first date, duty called. Dustin used a catheter to relieve himself into a bag.
"When she dropped me off, I got out of the car and she took off. And I was like, 'Oh my gosh! I left the bag of pee in the car.' I had to call her back (and say), 'Hey, there's a sack of pee in your door panel, if you don't mind throwing it away for me,'" Dustin said.
It's experiences like these that forced them to cut through the shallowness. "Those are the things that took us to a whole other level," he said.
Dustin learned what Sydney was made of, and they began to fall in love.
"There's nothing we can't do," she said. "We just do it differently."
"He lightens up any room you go into, so it's just one of those things that it never fazed me, ever. You just know that this person is meant to be in your life."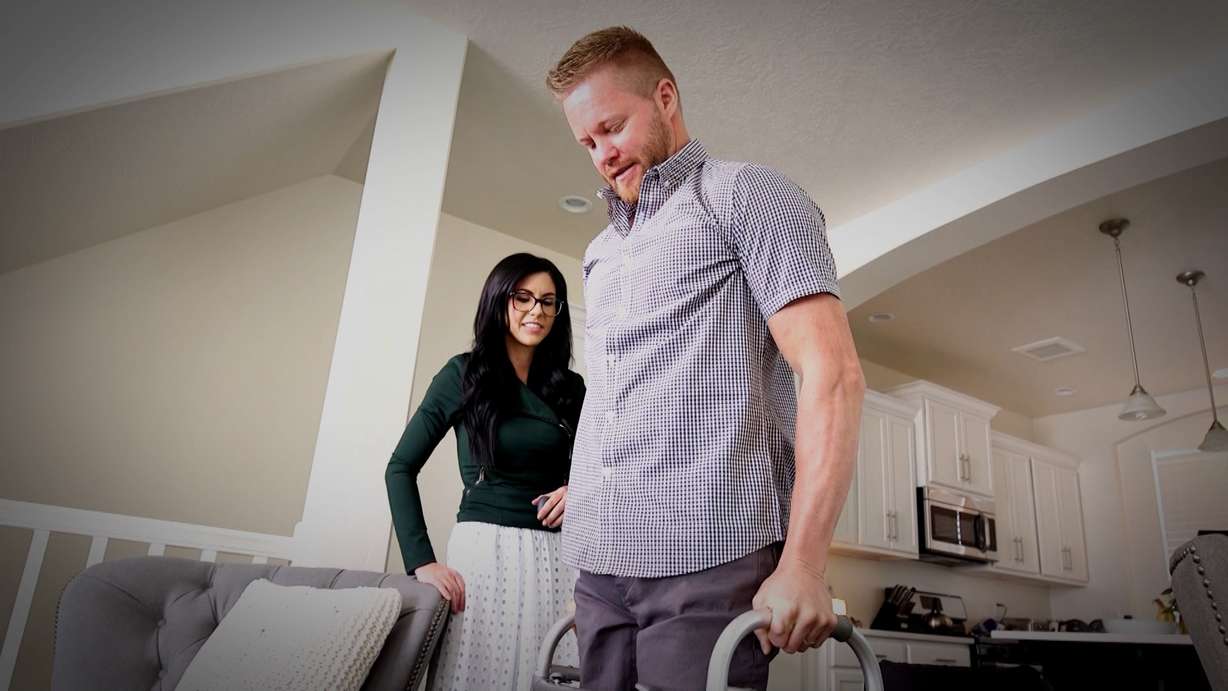 Dustin has an epidural stimulator — a box on his abdomen that releases electrical charges to the nerves on his spinal cord. He turns it on with a remote, "How many guys do you know that can turn themselves on?" he said.
Every day his therapy regiment is to stand, an exercise that improves his bone density, blood flow and circulation. Learning to stand was tough and took practice; every go a precarious workout. His wedding would be the first time he would use it for a monumental purpose.
While practicing standing in the groom's room before the wedding "my father-in-law says, 'Hey, are you gonna pull your pants up?' My pants had (fallen) down," Dustin said. "I was like, 'Gosh dang, if this happens during the wedding, I'm just going to freak.'"
Luckily, the preacher loaned him his belt and Dustin cinched it tight.
As the wedding music started, Dustin rolled in, followed by Sydney, who said she already knew Dustin was a man of stature. "I love him regardless," she said.
As they prepared to say their vows, there were no guarantees. His abdominal muscles don't work, and since he has no feeling, by the time he could tell his legs had given out it would be too late. He has no control of his hips; if she'd have let go, he'd have fallen backwards.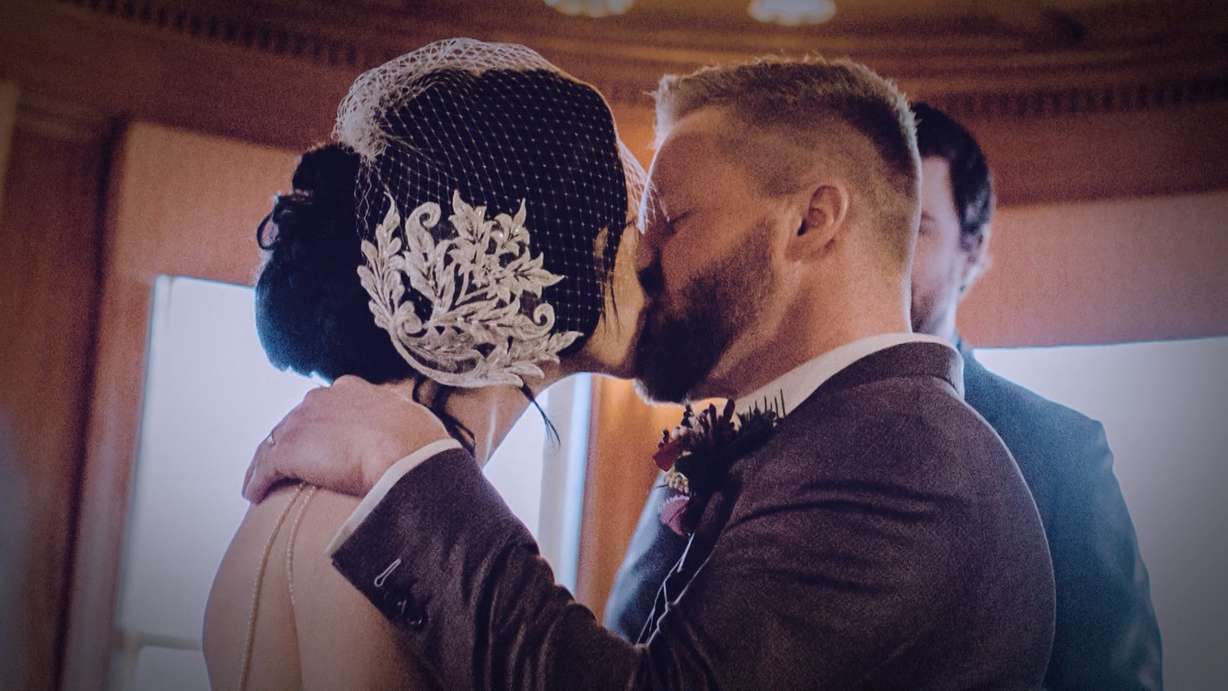 Dustin stood from his wheelchair holding on to a walker. The preacher announced them husband and wife. He paused to get his balance and put one hand on her shoulder, and then the other. She placed both hands on his hips.
"It takes your breath away, because I'm looking into his eyes, and mind you, that's the first time," Sydney said.
He kissed her and the audience full of family and friends cheered.
"That's just one step closer to being where we want to be in our lives, as far as getting out of a wheelchair," Dustin said.
A key element made this easy, Sydney said: "When you love someone, you'd do anything for him."
No matter what the future holds, they know that when life gives you no's and can'ts, you answer with "I do."
The couple is embracing their future and building a house in Midway. You'd think it would be handicapped accessible, but no. Dustin said it will be a two-story house with stairs.
×
Photos
Most recent Utah stories