Estimated read time: 3-4 minutes
This archived news story is available only for your personal, non-commercial use. Information in the story may be outdated or superseded by additional information. Reading or replaying the story in its archived form does not constitute a republication of the story.
SALT LAKE CITY — Salt Lake City has decided to build only two homeless resource centers instead of the four originally planned for Salt Lake City, officials announced Friday.
Salt Lake City Mayor Jackie Biskupski made the announcement Friday. The locations that will remain are at 275 W. High Ave (approximately 1400 South) and 131 E. 700 South. The other two locations at 653 E. Simpson Ave (near 2300 South) and 648 W. 100 South will no longer be considered after further input from the community.
"I want to stress that while this is a change in locations, the principles behind these resource centers remain the same," Biskupski said. "These centers are spaces of hope, being built to help those most in need, and access treatment and resources to put them on a path to independence and a life reinvented."
There will be two more locations outside of the city, but still in Salt Lake County. The Midvale Family Center will be used as a third homeless resource center, with a fourth location being determined at a later date. Murray Mayor D. Ted Eyre said his city is being considered but that a decision has not yet been made.
House Speaker Greg Hughes, R-Draper, said a date for the announcement of the fourth location will come "in a relatively short time." Salt Lake County Mayor Ben McAdams added that the county hoped to have a decision on the fourth location by March 30.
Biskupski said each resource center in Salt Lake will have a total of 200 beds, which is 50 more than previously considered for each location, with one servicing single women and the other servicing single women and men.
"Our goal has always been and continues to be to compassionately move people from homelessness to housing and to independence again," Biskupski said.
She added that the process of selecting the locations for the resource centers "hasn't been and easy process," but that "this has not been an easy problem to solve."
"We are working every day to create a successful path forward in helping those most in need, while trying to deal with the crisis we are currently facing," she added. "We are balancing homeless services, crime prevention, the drug trade, neighborhood preservation, funding and much more."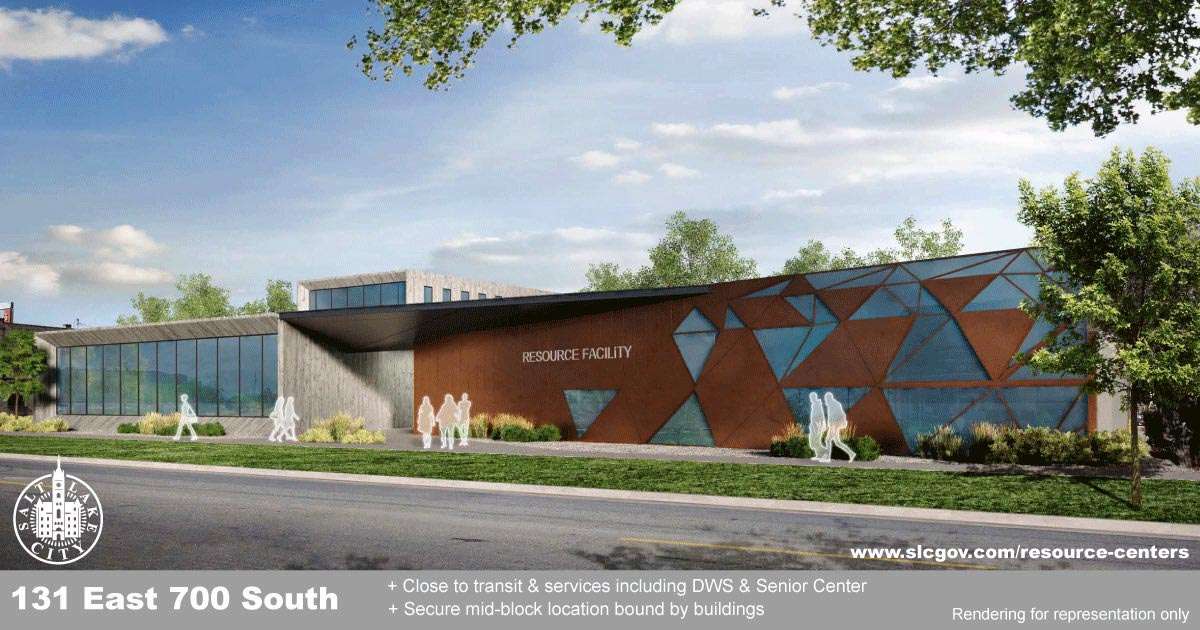 The decision to build new homeless resource centers came after a two-year process among city and state officials. The intent was to help individuals and families transition from a "shelter-based system to a housing-based system," where individuals can get help to eventually move into permanent housing.
The city originally identified 20 possible locations before narrowing it down to four on Dec. 13, 2016. Following its December announcement, Biskupski and other city leaders held several meetings with the community to receive input on the locations.
McAdams said the time invested in identifying ways to better help the homeless population was "time well spent."
"It gave everybody a chance to put forward ideas to make us focus on our outcomes that we want to achieve for homeless services: helping to meet the needs of people in crisis, diverting people from emergency shelter wherever possible; trying to prevent homelessness and making sure that all neighborhoods are safe and secure."
Also announced Friday was an official date for the closure of the Road Home shelter in downtown Salt Lake City. The shelter, which houses 1,100 beds for the homeless population, will be closed by June 30, 2019. The shelter was already scheduled to be closed, but a timeframe had not been previously given.
The state Legislature will soon consider a bill that will be presented by Rep. Francis Gibson, R-Mapleton, that will finalize the funding for the new resource centers. The State Homeless Coordinating Committee will work with the Department of Workforce Services and city and county officials to ensure funds are used in a way consistent with the plan.
To view the full homelessness proposal presented by the Legislature, click here.
Watch: Officials give latest on homeless resource centers
×
Photos
Related stories
Most recent Utah stories