This archived news story is available only for your personal, non-commercial use. Information in the story may be outdated or superseded by additional information. Reading or replaying the story in its archived form does not constitute a republication of the story.
AMERICAN FORK CANYON — Environmental and health risks posed by abandoned mines in American Fork Canyon are the "elephant in the canyon," the founder of a group of that aims to protect the canyon told elected officials and government agency representatives on a tour of the area Tuesday.
Mark Allen, founder of Protect and Preserve American Fork Canyon, said the potential exists for another Gold King Mine spill in the Wasatch Mountains because no one is properly monitoring and addressing the risks of water that carries heavy metals from historical mining activity.
Snowbird's planned construction of two ski lifts on property it owns on Mary Ellen Gulch will only exacerbate problems, Allen said.
"They're proposing bringing tens of thousands of people to the area. I think the best thing they could do is walk out of here and give the Forest Service this land and let the Forest Service figure out what to do with it because they have a good track record over in Mineral Basin in cleaning up," he said.
Allen, who arranged the tour of stakeholders and news media, said he wants the government agency to take ownership of what he describes as a "ticking time bomb."
Snowbird President Bob Bonar took a different view. He said Tuesday's visit to the canyon was a good opportunity for all interested parties to have meaningful conversations about access, water quality and resource use in the area.
"So far we've had a great discussion on a lot of the issues and cleared up a lot of misconceptions. We had some really good discussions we hope will lead to better understanding," Bonar said.
Utah County has granted Snowbird a conditional-use permit to construct two ski lifts on private property it owns in upper Mary Ellen Gulch.
As a condition for construction, Snowbird will sample water quality for two years prior to and during construction, and continue for a decade "from the time of approval to ensure no degradation in water quality occurs due to the change in use," a Snowbird news release said.
Related
Water quality tests, which are certified by a third-party contractor, began in April.
"We think they are very positive. The results show all the samples meet water quality standards for high metals, which is really important," Bonar said.
Meanwhile, samples from the confluence of Mary Ellen Creek and the American Fork stream met aquatic wildlife standards for water, "which are much more stringent than drinking water standards," he said.
Bonar said Snowbird's plans include "no condos, no hotels, no connection down to Tibble Fork Reservoir. Our plan is just to have better hiking trails, better biking trails, continue the off-road motorized uses per county access, enhance the already great skiing at Snowbird."
Others on the tour worry that development of the area will limit access to other canyon users.
Marlin Sharp with Lone Peak 4-Wheelers Club, said the club, in partnership with the U.S. Forest Service, adopted the trail in Mary Ellen Creek Gulch in 2010. The group visits three times a year to pick up trash, repair eroded areas, build fences or place signs or any other assistance the Forest Service needs.
The organization has concerns about continued access.
"We want it to remain pristine as we can, if it's at all possible, because there aren't too many alpine places left in this area. We definitely want to keep it pristine. I don't know how that's going to work out with the ski lift. It might work. It might not. We're concerned because we'd like to continue to come up here," Sharp said.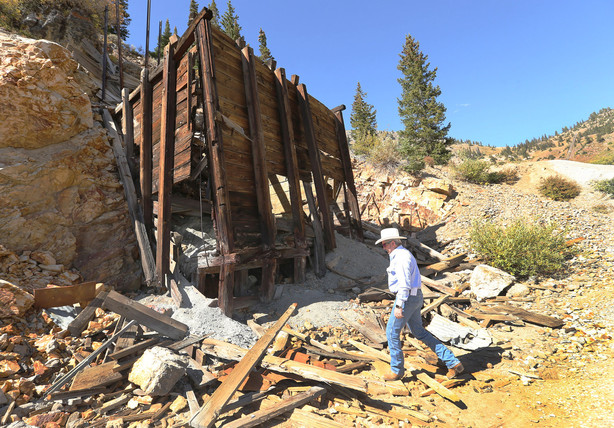 Allen said he arranged the tour with hope that government agencies that oversee the environment and can leverage resources for extensive monitoring, possible mitigation or diversion activities take a leading role in protection of the canyon and watershed.
"We've got great leadership here. Eighteen months ago, there was a vacuum and our group filled it. I want to pass the baton. This is not the Mark Allen project. It's not the Protect and Preserve American Fork Canyon project. It's a collective project. This should be a statewide project," he said.
The Utah Division of Water Quality previously announced the state will insist on an action plan to prevent further contamination of the American Fork River from lead in sediment that killed thousands of fish in a 2-mile stretch.
Division director Walt Baker said an assessment needs to be conducted to determine the scope of the problem and the next steps to remediate it.
Utah has many abandoned mines. When snow melts or other precipitation enters the mines, it carries sediment containing varying amounts of heavy metals as the water flows downhill, he said.
The Gold King Mine spill in Colorado in 2015 "piqued" Utah's interests in conditions in the Beehive State, Baker said.
In that case, 3 million gallons of mustard-colored water flooded into the Animas River above Silverton, Colorado, contaminating water in Utah, Colorado, New Mexico and the Navajo nation. The spill was blamed on Environmental Protection Agency contractors who botched efforts to open a mine portal.
The division is working with Utah Division of Oil, Gas and Mining "to find out where these abandoned mines are, how many of them have perennial flows coming from them, and (whether we should) be concerned about the water coming out of them," Baker said.
×
Photos
Related Stories