This archived news story is available only for your personal, non-commercial use. Information in the story may be outdated or superseded by additional information. Reading or replaying the story in its archived form does not constitute a republication of the story.
SALT LAKE CITY — State water quality officials will insist on an action plan to prevent further contamination of the American Fork River from lead-laden sediment that killed thousands of fish in a two-mile stretch.
That plan will be put together by the North Utah Water Conservancy District with an eye toward preventing sediment from being stirred up by rain or spring runoff, said Walt Baker, director of the Utah Division of Water Quality.
He said the division also expects to get an estimate from project engineers on the amount of sediment that washed into the river as a result of the Tibble Fork Dam's $7.3 million rehabilitation and expansion project.
"We have moved sediment from point A to point B over a six-mile expanse," Baker said. "There needs to be an assessment of how bad it is and what steps need to be taken to remediate it."
It's the latest plan following completion by project engineers of a diversion channel that placed a 200-foot pipeline to reroute flows into the nearly empty Tibble Fork basin to prevent another sediment flush while work continues on the dam.
Baker said a lot of factors will come into play to mitigate the impacts of the sludge, especially given that high flows from spring runoff.
"Mother Nature is going to come with spring runoff regardless of any planning we do," he said. "We need to know what needs to be done."
Dave Brown, the Utah state conservationist with the U.S. Department of Agriculture's Natural Resources Conservation Service, said an aerial drone flew over the site Monday to quantify the amount of material that washed into the river.
"There is a very clear mini-canyon that is exposed now," he said. "The engineer indicated they could use survey technology to calculate how much sediment was deposited."
Dam project
The NRCS is the federal agency on the Tibble Fork rehabilitation project, which rose as a priority after a 2004 assessment found that 1960s-era dam did not meet safety standards. Work began in June, with the NRCS advising downstream users that as the reservoir began draining around Aug. 19, people could expect to see elevated levels of sediment in the river.
Brown said continuing inflows into the basin released larger amounts of sediment than anticipated. The result was a two-mile section of the river just below the dam that lost all its fish populations due to suffocation.
The Utah Division of Wildlife Resources said historically, there are about 1,000 to 2,000 fish per mile in that section of the river.
While water samples taken by the state show metal concentrations within screening values for health, recreation and aquatic life downstream, the sediment showed high levels of lead that likely resulted from legacy mining operations in the Wasatch Mountains.
Several hundred abandoned mines dot the mountains, some experiencing acid mine drainage and an unknown number are within proximity of perennial stream flows.
Baker said his division has worked in partnership with the Utah Division of Oil, Gas and Mining, to craft a blueprint of where there may be water quality risks — a concern accentuated with the disastrous Gold King Mine spill of 2015.
In that incident, EPA-led contractors bungled efforts to open a mine portal and sent a 3-million gallon torrent of mustard-colored mine waste into the Animas River above Silverton, Colo. The breach contaminated water in Colorado, New Mexico, Utah and the Navajo Nation in an environmental catastrophe critics say was avoidable.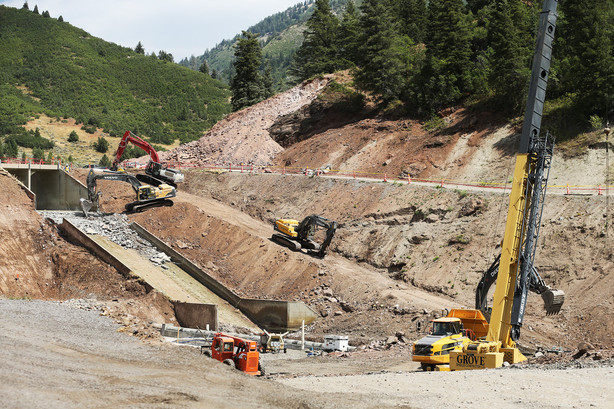 Baker said the Gold King mine disaster underscores the need for Utah officials to get a handle on potential problems, sooner rather than later.
"It ought to be enough of a concern that we do some investigation," he said. "My greatest concern is if there needs to be an action plan and if these are time bombs waiting to go off."
Abandoned mines
While state officials over abandoned mine reclamation have mapped the hundreds of mines and their owners — if available — with work done in the 1990s, Baker said it is not clear how many of them pose risks to waterways.
"If, in fact, they do have flows and there are responsible parties, we can issue a permit and get an idea of the water quality of the mines' drainage," he said. "We will be way ahead to know if we have a problem or not."
The mining division closes up abandoned mines if there is a public safety risk, and Baker's division can enforce the Clean Water Act if water is at risk, but there is no state regulatory oversight absent those factors.
"We really don't know the extent," said Steve Fluke, administrator over the state's abandoned mine reclamation program. "We are trying to figure out how many are discharging and may be an environmental issue in light of Gold King."
While there is funding in place to deal with the cleanup of abandoned coal mines, no funding exists for other mines.
"There is no such law for cleaning up hard rock mine sites," Fluke said.
Mark Allen of Protect and Preserve American Fork Canyon sees the potential for another Gold King Mine spill in the Wasatch Mountains because he said no one is properly addressing the risks.
"The Wasatch Mountains have a bunch of ticking time bombs and no one wants to talk about them," he said.
Allen said the U.S. Environmental Protection Agency should step in and declare the Tibble Fork sediment release into American Fork River a Superfund site.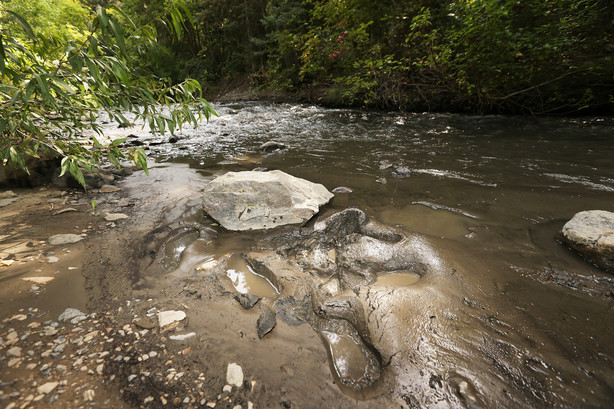 EPA had a response team in Utah County last week, but the federal agency has not disclosed what its employees determined about the Tibble Fork Dam release.
"We will continue to coordinate with Utah and federal agencies to evaluate data, information, and potential next steps related to the sediment release," said EPA spokesman Rich Mylott.
"We're certainly aware of concerns related to historic mining and metals impacts in the American Fork watershed and have worked with state and local partners on previous assessment and cleanup projects in the basin."
Allen is leading a tour to legacy mine sites mid-month that Baker and Fluke said they plan to attend.
"I have been barking pretty loud," he said. "We're taking everybody up there who has some stewardship and asking them to figure out what to do."
Baker and several members of his staff are touring the New Yankee Mine on Snowbird property Wednesday to assess any downstream impacts.
The division is also looking at the resort's expansion into Mary Ellen Gulch, an approval granted earlier this year that requires water quality monitoring for two years before any construction on ski lifts or other facilities begins.
×
Photos
Related Stories