Estimated read time: 2-3 minutes
This archived news story is available only for your personal, non-commercial use. Information in the story may be outdated or superseded by additional information. Reading or replaying the story in its archived form does not constitute a republication of the story.
HOLLADAY — A crowd of family and friends wearing "Hayes Tough" T-shirts made their way behind Steve and Savanna Tate as they carried their triplets into Primary Children's Hospital. It was a celebration they weren't sure would ever happen.
"It has been the biggest roller coaster ever," said Savanna Tate, who lives in Holladay. Her idyllic life with six kids shattered last January. Hayes, one of the triplets, had a rare brain tumor. After surgeons removed it, they began chemotherapy. But scans a month and a half later showed it wasn't working.
"Our lives were pretty much over," she said.
The Tates faced a crossroads. They said doctors recommended switching Hayes to oral chemotherapy at home. "There was something in the back of my mind that told me it was not right," Savanna Tate said. "I was sick to my stomach over that plan."
Steve and Savanna sent his MRIs to doctors across the country and made a difficult choice. "You know what's right and wrong for your child. We knew more than anyone else what was best for Hayes," she said.
They stuck with the in-patient chemo, which meant more misery for Hayes, over 110 days and nights and in the hospital, with no guarantees. "It was almost like I knew, I knew it was gonna work," Savanna Tate said.
Hayes is stealing hearts wherever he goes, including thousands of fans on Facebook page "HayesTough - TateTough" and on instagram @savannat8. The Tates have received packages from Germany and Belgium. Now that they have faced death, they say the simple moments matter more. So they carried on.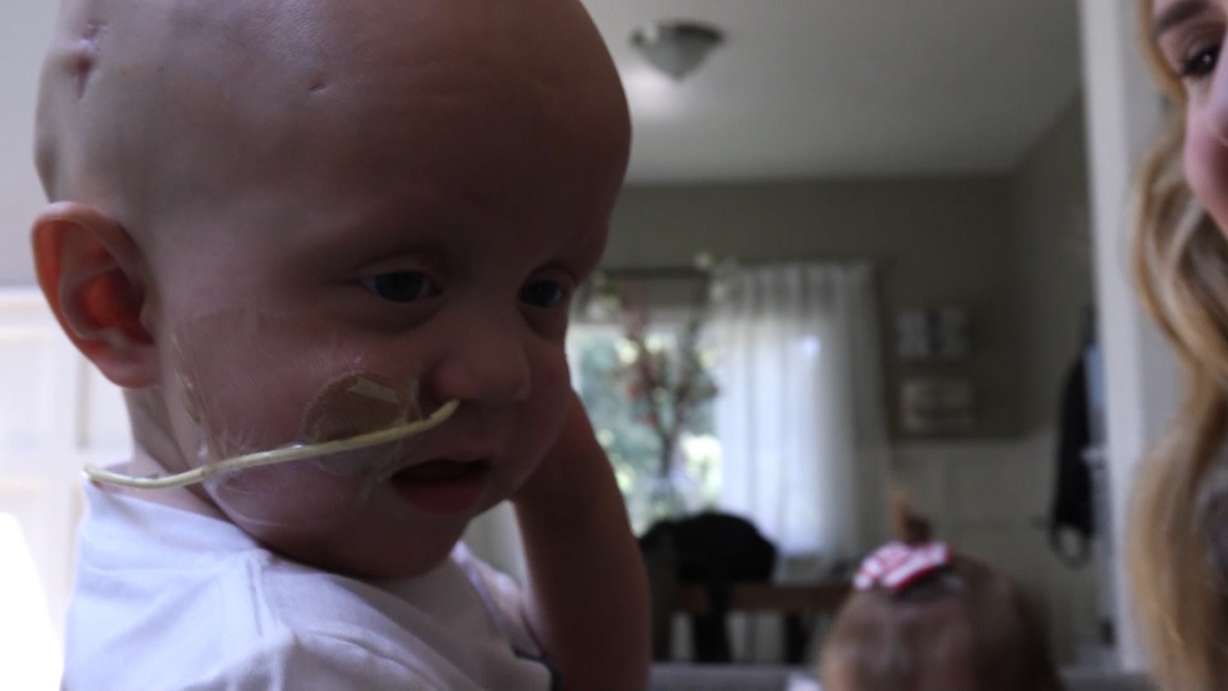 Six months into treatment, it was time for Hayes' bone marrow transplant. Nurses and doctors gathered in Hayes' room at Primary Children's Hospital with the Tates to celebrate this final, critical step in his recovery.
On July 28, surrounded by that cheering crowd, and in his parents' arms, he rang the bell in the hospital to signify his chemotherapy was over. Then Hayes turned around and rang it again all by himself. Steve and Savanna said they learned they can't underestimate their little guy's strength.
"How amazing was that?" said Steve Tate. "He turned around and was like, 'No, I'm gonna grab that.' It was fitting."
They also said you can't quantify a father's love. A dad who was once larger-than-life on the University of Utah football field, is now a champion at home, who proudly takes on the ultimate title: Dad.
"Nothing — nothing compares with being up there with my family and having Hayes there and ringing that bell," Steve Tate said.
×
Photos
Related Stories