Estimated read time: 3-4 minutes
This archived news story is available only for your personal, non-commercial use. Information in the story may be outdated or superseded by additional information. Reading or replaying the story in its archived form does not constitute a republication of the story.
PROVO — The college football season is almost here, and that means it's time for college football preview season.
In the first of three previews of local teams, we'll break down all the intrigue and storylines of the first season of the Kalani Sitake era at BYU. That season includes a daunting schedule with the likes of Arizona, Utah, UCLA, West Virginia, Mississippi State and Michigan State slated to face off against the new-look Cougars.
Even non-Power 5 opponents like Toledo are not to be taken likely; the Rockets won 10 games last year and have been a regular contender in the Mid-American Conference.
"Competition will make you better," senior BYU cornerback Michael Davis said. "Play against better competition and teams, and you'll get better."
BYU will take on that challenge with a brand-new coaching staff, one that not only include a first-time head coach but also nascent offensive coordinator Ty Detmer and new defensive coordinator Ilaisa Tuiaki. The staff consists primarily of former BYU standouts like Ed Lamb, Reno Mahe and Jernaro Gifford.
But while the coaches are young and lack experience, they have already earned the respect of the players.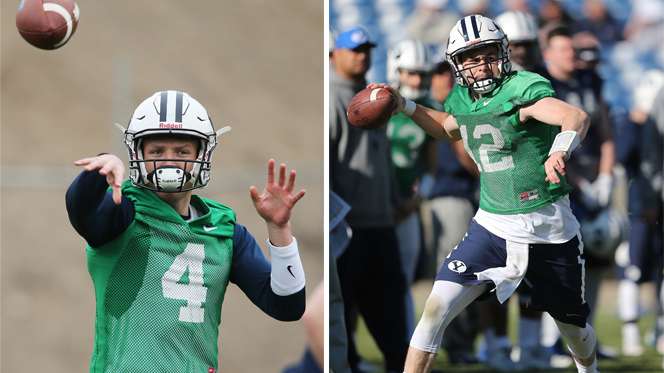 "The transition has been awesome," said junior linebacker Fred Warner, one of the defense's tenured veterans. "I take my hat off to coach Sitake and the job that he's done in such a short amount of time."
There is no question what the biggest storyline entering fall camp for the Cougars: who will start at quarterback after a battle of elites featuring incumbent sophomore Tanner Mangum and fifth-year senior Taysom Hill. Both are talented, both highlight various preseason award watch lists, and both give BYU something special.
Unlike quarterback competitions of the past — including previous seasons at BYU — Hill and Mangum are close friends, and players and coaches are certain there won't be any distractions or locker room splits in this friendly competition.
"You say that everyone is talking about the competition," Hill said. "It's the media. You would not go into our locker room and hear one conversation about this."
Added Mangum: "It's not Team Tanner or Team Taysom; we're on the same team. We both play for BYU here and we want this team to win. You can still be friends even if you're competitors."
Of course, the bigger change on the field is the new defense installed by Sitake and Tuiaki. Gone is former coach Bronco Mendenhall's 3-4 base defense and zone coverage in the secondary; the new defensive coordinator wants to play multiple defenses, but admits there's been a strong emphasis on a 4-3 front with cornerbacks who play man-press.
"I like it a lot more," senior linebacker Harvey Langi said. "It takes a lot of stress off the middle linebacker. I have another huge body taking on blows in front of me."
The new front gives BYU's defensive standouts more freedom to roam, and the coaches hope that translates into more freedom to make big plays — not just hold a lead.
"Nobody is winning in professional or college football right now sitting in zone defenses," assistant head coach Ed Lamb said. "You've got to be able to match up and put some pressure on the quarterback, and I think we have the guys to do that."
Click the videos above for the full season preview, including the first pump-up video of 2016.
×
Related stories
Most recent Sports stories