Estimated read time: 4-5 minutes
This archived news story is available only for your personal, non-commercial use. Information in the story may be outdated or superseded by additional information. Reading or replaying the story in its archived form does not constitute a republication of the story.
PROVO — It's been a tough offseason for BYU quarterback Taysom Hill, and not just for football reasons.
First, the senior starter suffered a season-ending Lisfranc injury in the first game of what was supposed to be his final year at BYU.
But that didn't compare to the next loss for the now fifth-year student, who has battled through pain, surgery and rehabilitation in his foot.
Hill lost his older brother Dexter in March, a day before BYU's spring game — a loss difficult to explain.
The emotions are still raw. Hill's elder brother, as well as former Arizona State linebacker Jordan Hill, helped develop a love of the game and incessant push to work harder that drives Taysom Hill to this day.
"He was everything," Hill said of his oldest brother. "He was my closest brother in age, six years older than me, and I think a lot of what defines me as a player comes from him and my other brother.
"They instilled in me this ability to compete, to never give up, and that's what we do. I learned that from those guys," he said,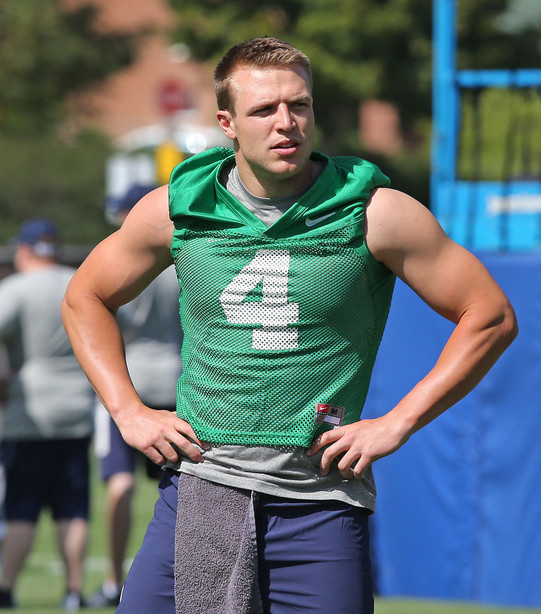 Indeed, every time Taysom Hill takes a snap during his senior season, he'll remember Dexter — the new No. 7 on his jersey will serve as a reminder, too. The eldest quarterback who died too soon at 31 was quite the quarterback in his day, with college careers at Scottsdale Community College, Northern Iowa and Dixie State.
Before Taysom Hill suited up for a memorable campaign at Pocatello's Highland High, it was big brother who set the example. All three of Dexter's siblings went on to collegiate careers, including little sister Celeste at Western Wyoming Community College.
Taysom and Dexter Hill shared a special bond as the only two quarterbacks in the family, though.
"We spent so many summer nights under the street lights in front of our house, and we would throw patterns and have competitions," Taysom said. "We'd run an out route, a post, and keep track of how many balls were right on the money.
"That was my childhood: he taught me how to throw. He did it all."
Dexter Hill's life ended far too soon, in part because of his addiction to opiates — painkillers first prescribed to him after several football-related injuries. It's an all-too-common story in football at every level: The violent nature of football has taken its toll on a number of athletic, healthy bodies in the history of America.
Taysom's future may lie in pro football. It may also lie in a lucrative financial career; he earned his bachelor's degree from BYU's Marriott School of Management last April after several internships. He could've ended his college football days after his third injury suffered at Nebraska, entering the NFL Draft, the financial market or any other lucrative career field.
But he didn't; he's competitive, and he wants to help his team — another quality he learned from Dex.
Related Story
"I'm a BYU guy," Hill said. "I love the program, and I think as the coaches left, it could've been a decisive thing for the team. But we're all here because of something a lot bigger than us.
"It was an easy decision. At the end of the day, I wanted to be here. I had a lot of conversations with Kalani (Sitake) and Ty (Detmer), and I wasn't going to come here if there wasn't a need and they didn't want me here."
New head coach Kalani Sitake and offensive coordinator Ty Detmer expressed frequent desires to bring Hill back to campus. He was wanted, and he still has something to prove — and learn from a Heisman Trophy-winning quarterback.
"It's been very evident to me that he's been around football for so long," Hill said. "He comes having played in the NFL for so many years, and that experience is invaluable. As someone who has goals and aspires to play at the next level, I couldn't think of anyone better to be mentored by."
Hill's rough-and-tumble approach to the game — he's set BYU records for rushing yards as a quarterback — shouldn't be seen as a hindrance in Detmer's pro-style offense, either.
"I'm a football player," Hill said with a laugh. "You guys act like I haven't done this stuff before, which is crazy.
"I was under center in high school, and I played under center my freshman year. If there are question marks, you can pull up the tape. Every quarterback has played under center, though I'd say that I'm more comfortable in the shotgun. I like the ability to stand back there, but I see the value of going under center. I like the idea of being under center. I think we're going to be able to mix the two."
×
Photos
Related Stories