Estimated read time: 4-5 minutes
This archived news story is available only for your personal, non-commercial use. Information in the story may be outdated or superseded by additional information. Reading or replaying the story in its archived form does not constitute a republication of the story.
PROVO — Fred Warner arrived at BYU with plenty of expectations.
A four-star linebacker rated by Scout, Rivals and ESPN.com, Warner signed with the Cougars before the 2014 season over interest from Arizona, Utah, Boise State and Nebraska, among others.
He made an instant impact, seeing time in 10 games as a freshman and playing every game at strong-side linebacker as a sophomore, registering 67 tackles, 11½ tackles for loss, four sacks and two interceptions while taking the reins of the defense.
Yet he still maintains the best is yet to come.
"I feel like the sky's the limit for me," said Warner, who will be a junior this fall and is coming off his first full offseason regimen that didn't include wrist and back surgeries. "I have a lot to prove to people, because they haven't seen what I can do as far as my whole potential. I'm excited."
Warner also transitions into the new role of upperclassman, meaning the 19-year-old from San Marcos, California, is one of the older guys on the team — just not by age on a team that includes many returned LDS missionaries.
Still, the leadership requirements have already been felt and filled by Warner.
"As you get older and more experienced in the program, you are expected to translate your experience and the things you've been taught to the younger generation so that they can go on and be successful," he said. "My leadership role has been increasing in the offseason and through spring ball. I'm excited to be that leader."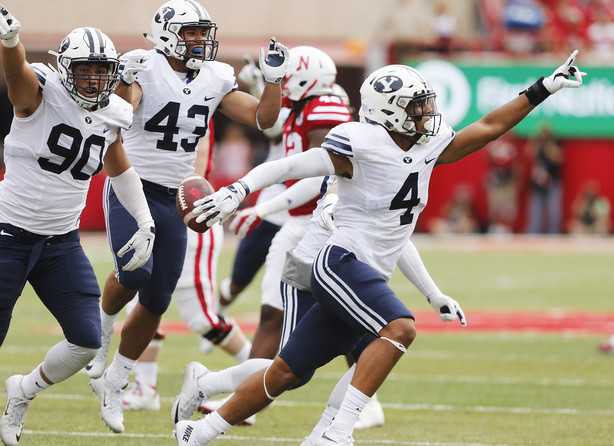 One of the younger players Warner will mentor has plenty of experience with the junior linebacker: his younger brother Troy. The younger Warner graduated early from Mission Hills High School and joined his sibling in Provo, where the duo spent time on defense through spring practices.
Troy Warner was also a highly touted recruit in high school before signing with the Cougars. But there's no jealousy from his elder brother — even when the sometimes seemingly identical siblings are mistaken for the other at the mall.
"Troy is a very good player, and there are times when he's gotten more attention than I have," Fred Warner said. "But it's been fun; I don't look back and wish he wasn't here. I'm so grateful that he's here (in Provo), because not many people get this opportunity."
The Warners have already taken to their new nickname, The Warner Brothers, on social media — and Fred Warner admitted there may be plans to unveil T-shirts in the upcoming season.
Off the field, the big brother is a lot more calm. When he's not on campus or in the school's practice facilities, Warner is usually hanging out in his apartment, playing his Xbox and trying to uphold his title of best Madden and NBA 2K player on the team (he won't claim titles for FIFA 2016 — that's where Koy Detmer Jr. and Tejan Koroma come in). He'll also watch his fair share of superhero shows on television, like "The Flash" or "Daredevil," (though he says Spiderman is his favorite hero).
"I've always liked Spiderman," he said with a laugh. "I liked how young he was in the new Avengers (movie). It's funny."
BYU's defensive players also have a full deck this summer as they try to install the 4-3 defense of new defensive coordinator Ilaisa Tuiaki. The changes aren't grand or sweeping, despite the addition of a down lineman, senior linebacker Harvey Langi said.
---
I feel like the sky's the limit for me. I have a lot to prove to people, because they haven't seen what I can do as far as my whole potential. I'm excited.
–BYU linebacker Fred Warner
---
But there is one major change.
"Scheme-wise, I'm just going to make more plays," the Bingham High product said. "I have another body in front of me now. That means another big boy to do the dirty work while I get to run around and make more plays."
Langi is also feeling the added responsibility of leadership ahead of his final year of eligibility.
"I'm one of the old guys on the team now. It's weird," he said. "I remember graduating early at Bingham and going to Utah about to turn 19; there were guys on the team that were my age (in 2016). I thought they were old.
"But now that I'm a senior, I'm here, it's my last go-round, and I want to work hard and leave with a boom."
Warner won't be leaving after this season, but he's treating his junior year as if it were his last.
"Being a leader hasn't been a huge change for me," he said. "As a freshman, I tried to be a leader as much as I could. I tried to be a leader by example, and to be more vocal now."
×
Photos