Estimated read time: 3-4 minutes
This archived news story is available only for your personal, non-commercial use. Information in the story may be outdated or superseded by additional information. Reading or replaying the story in its archived form does not constitute a republication of the story.
PROVO — Jamaal Williams is growing up.
The BYU running back returned for his surprise senior year alongside fellow surprise fifth-year senior Taysom Hill, and he set the internet aflame with his dance moves during spring camp.
But this isn't the same Jamaal Williams who joined BYU at 17 years old before running for 775 yards as a freshman.
This Jamaal Williams is all business.
"Right now, I'm just a silent dude," Williams said during BYU Media Day last week. "I go home, play video games, go to practice, do some ab work. You don't see me on the weekends; I'll skate, then go back to my house and get ready for the season."
Jamaal Williams, silent and constrained? That doesn't sound like the former Doak Walker Award nominee who vaulted into sixth place on BYU's all-time rushing list during his junior season in 2014.
But maybe it's for the better — Williams needs just 930 yards to break the Cougars' all-time rushing record, a mark he can certainly attain if he comes anywhere near what he did in 2013, his best season in BYU blue when he ran for 1,233 yards on 217 rushes as a sophomore.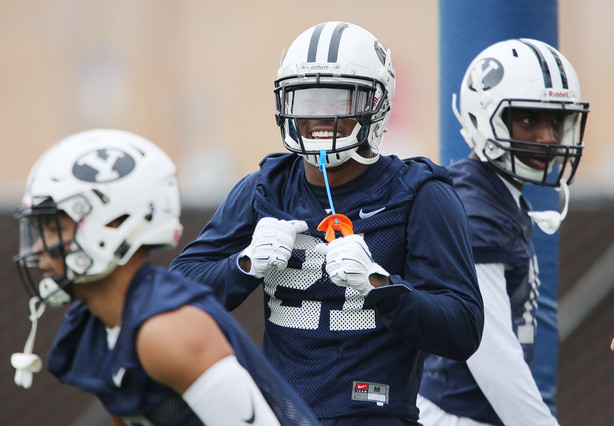 Mostly, though, the veteran senior from Rialto, California, just wants to make his team better. After a redshirt season when he withdrew from school last August, Williams feels he owes at least that much to his teammates.
"I came back mostly for my team," said Williams, who could have elected to enter the NFL draft instead of return for his final season of eligibility. "I wanted to show my teammates that I am down for them, that I'm loyal to them and that I know they will always have my back. I know they never judge me, take me for who I am, and love me for who I am."
Williams has 2,526 rushing yards for BYU, behind former Cougar standout Harvey Unga's 3,455 career total. He's led BYU in rushing two out of three seasons, falling just short in 2013 when Hill ran for an eye-popping 1,344 yards and 5.5 yards per carry.
This year could be even better, though.
Beyond the new coaching staff, offensive coordinator Ty Detmer's pro-style offense seems perfectly suited to Williams' style, teammate Algie Brown said.
"It's new for some of us, coming from a spread offense. But it highlights the strengths of a lot of our guys," said Brown, who led BYU a year ago with 731 yards on 127 rushes. "It lets our big linemen get out with a big push up front, and then guys like Jamaal can be downhill runs."
Williams owes much of his upcoming season to his mother Nicole, a former UCLA star sprinter who helped the Southern California native re-focus
"I'm grateful for her," Williams said. "You know which ones are your real ones when you go through low periods, and I had one of my lowest periods in my life already. I know I'm going to have more, but to have her there was great, knowing she's my mom and she loves me.
"Now it's time to make her proud and show her all that hard work isn't going to waste."
×
Photos
Related Stories