This archived news story is available only for your personal, non-commercial use. Information in the story may be outdated or superseded by additional information. Reading or replaying the story in its archived form does not constitute a republication of the story.
SALT LAKE CITY — After starting with 64 of Utah's most popular attractions, a clear winner emerged from our KSL.com poll.
Zion National Park handedly beat Bryce Canyon National Park in the championship round, snagging the grand title of Utah's "best" attraction after weeks of voting.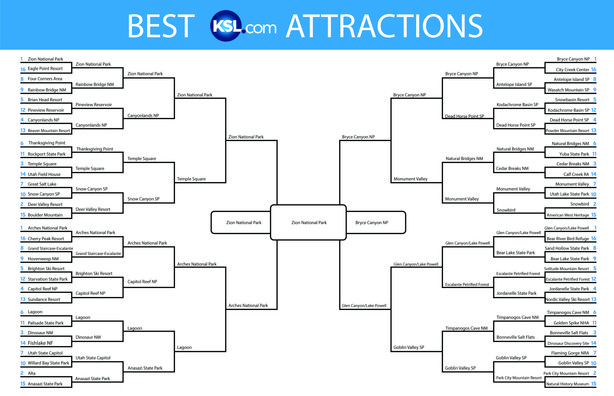 The final numbers:
Zion National Park (5,138) vs. Bryce Canyon National Park (2,362)
It's easy to see how Zion came out on top. The large park is home to stunning hikes like Angels Landing and The Subway, offering gorgeous views throughout the area. Park officials said they expect to see a record numbers of visitors this Memorial Day weekend, topping last year's total of 71,000 people.

While there is only one "winner," each of the 64 attractions nominated for the best attraction challenge are well worth a visit. Look at the list for new favorites and visit the KSL.com outdoors section for weekly hikes and features of each state park.
Related Story
×
Related Links