Estimated read time: 3-4 minutes
This archived news story is available only for your personal, non-commercial use. Information in the story may be outdated or superseded by additional information. Reading or replaying the story in its archived form does not constitute a republication of the story.
PROVO — Almost within a baby's first breath his parents have planned his entire life, excited for milestones like walking, the first day of school and learning to ride a bike. However, for parents of children with special needs, these dreams are different.
Allison and Todd Mitton are the parents of triplets McKay, Alex and Abby, born three months early. The boys were born with cerebral palsy, and Alex passed away in 2014. Instead of focusing on limitations, the Mittons have focused their family life on what is possible for their children, and as a result, 18-year-old McKay loves spending time outside, according to a press release from Brigham Young University.
"We've always had the philosophy that since our boys couldn't do so many things, we would do everything they could. We've done everything we can for them to have normal experiences," Allison Mitton, McKay's mother, said in a statement.
Due to his condition, McKay needs specialized equipment like a seated bi-ski or a jogging stroller, because the coordination and balance required to ski or bike is impossible for him to learn with his condition.
"For children with special needs, bike riding does not come easy. Trying to coordinate balance, pedaling and steering is an extremely difficult task. For children with cerebral palsy, spina bifida or other similar conditions, riding a two-wheeler may never be a practical option," according to friendshipcircle.org, a site dedicated to helping families with special needs children.
McKay recently outgrew his bike trailer, setting his parents at a loss since the only adult-sized trailer available costs $4,000, BYU reported.
"Ever since he grew out of his bike trailer we haven't had anything, because there just hasn't been anything available," Allison Mitton said in a statement. "We've looked and looked for something that fits this need and haven't found it."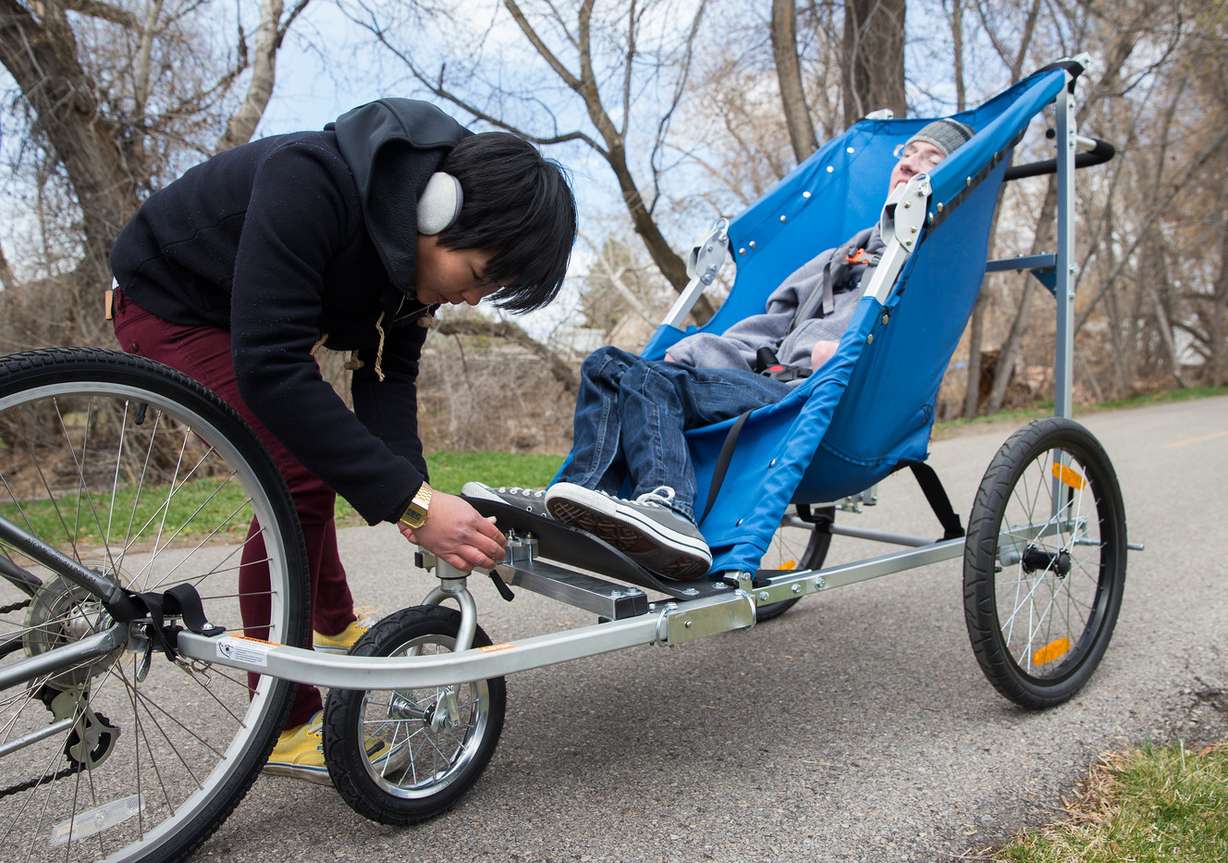 Six students at BYU, where Todd is a finance professor, decided to dedicate a project to McKay and built an adult-sized, two-in-one bike trailer/jogging stroller costing less than $650.
"It is just remarkable — we are beside ourselves with joy," Allison Mitton said. "A bike trailer like this represents a certain amount of freedom for our family. It's something so exciting for our family it's hard to explain."
The combo trailer can hold someone up to 200 pounds and the materials alone only weigh 35 pounds. For someone like McKay, who weighs 75 pounds, this not only suits him, but it also saves his parents from pushing and pulling unnecessary weight.
The team plans to take their project one step further by making the construction instructions available online.
"Anyone that's handy should be able to make it in their garage," team member Cheryl Woo, a mechanical engineering major said in a statement. "We built this trailer for McKay but we want it to be for others with quadriplegic conditions, too. The plans allow it to be adapted for each individual."
In addition to making the trailer lightweight and the plans individually adaptable, the team designed it to be easily stored as well. The wheels completely detach, leaving the frame and fabric seat to fold down flat.
"The Mittons just want McKay to experience things that everyone else can experience," team member Matthew Curtis said in a statement. "We had McKay in mind every step of the way, and when he sits in it and gets that big smile on his face, it makes it all worth it."
---
Ainsley Layland is a freelance writer with a passion for interesting stories. She has been writing about everything under the sun since she graduated in 2013. Apart from writing, she loves new adventures, spending time outside and making dessert.
×
Photos
Most recent Utah stories