This archived news story is available only for your personal, non-commercial use. Information in the story may be outdated or superseded by additional information. Reading or replaying the story in its archived form does not constitute a republication of the story.
Editor's note: KSL.com does a weekly feature on artists in the community. If you have a painter, sculptor, musician or creative genius in mind, feel free to email your submission to fjolley@ksl.com. Please include a contact email for the artist, if available.SALT LAKE CITY — When you first see Karen Horne's paintings, her use of color and shadows seem to make the figures dance with life.
Born into a family heritage deeply tied to the arts in Utah, Horne began sculpting and painting at an early age, before attending Yale University to study art and later earning an MFA in painting at Indiana University, in addition to her studies in Florence and Rome. After college, Horne worked at the prestigious Frick Collection, and she painted and exhibited her work in and around Manhattan.
"It was wonderful to grow up surrounded by original paintings in our family's home, some of which were from my great-grandmother Alice Merrill Horne's collection," she said. "My mother, Phyllis Horne, was actively painting and had her studio right in the house. My father, a physician, also loved art, and had books on Leonardo, Michelangelo, Rembrandt, etc. It just made me feel that it was very natural — and necessary — to look at, live with and make art. It was integrated into our lives and experience."
Her great-grandmother and Utah legislator, Alice Merrill Horne, authored legislation to create the Utah Art Institute in 1899, establishing the first state-sponsored arts agency in the nation. The institute later became part of the Utah Division of Arts and Museums, which now contains more than 1,200 pieces and is valued in the millions, according to the division. Her reach extended into getting art into the public schools and even rescuing the now-iconic Eagle Gate from demolition.
Karen Horne, a Skyline High School graduate, is inseparable from this history of her home state and family. Her colorful paintings largely focus on Salt Lake City and its culture. In 1996, she and her husband who worked in galleries across the U.S., Michael Rowley, returned to Utah.
"I love responding to the parade of life all around us. After living for 11 years in Manhattan, I found what interested me most as an artist was street life, even after moving back to Utah," she said. "Salt Lake is a surprisingly happening city, and I love capturing the liveliness of its gathering places, such as the Capitol Theatre, Tower Theatre, Library Square, (especially during the Utah Arts Festival), and in restaurants around town."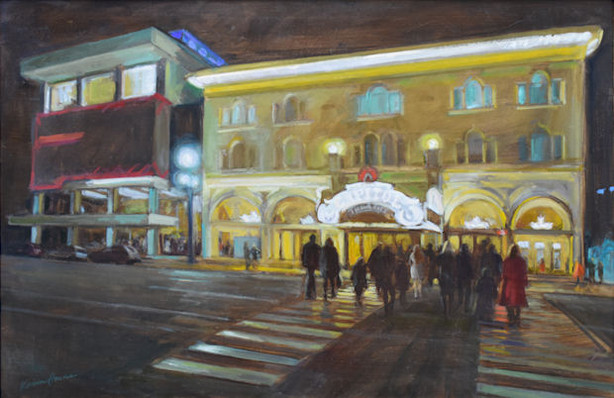 Her zoomed-in paintings capture moments that feel quintessentially Salt Lake City. Using mostly oils and pastels, she captures the movement of this city often overlooked by travelers and written off by newcomers, turning the assumption that Salt Lake is a quiet town on its head. Her vibrant color choices and play with reflection and light presents familiar landmarks in a way that feels at once new and nostalgic.
Now, Horne is making her mark on the city with both her lively paintings and HORNE Fine Art — the gallery she and her husband opened in 2003. In addition to this contribution to the Utah art community, she received a Mayor's Artist Award in 2013; has had reproductions of her art on various program covers; and her work is included in the permanent collections of the State of Utah, Salt Lake County, the Springville Museum of Art, the Fairview Museum, and numerous corporate private collections. She also received the Visual Artists Fellowship that is awarded by the Utah Arts Council and one of her cafe scenes received a top prize at the National Academy of Design's annual exhibition in NYC.
But Horne loves connecting with people who view her art most. "I love seeing people respond to the artwork when they visit my studio. It completes the circle," she said.
How to see Horne's art
Visit: HORNE Fine Art, 142 E. 800 South, SLC 801-533-4200
Online:www.hornefineart.com
Exhibiting: Here, There, Everywhere at the Springville Museum of Art through May 15
Upcoming Reception: "A Burst of Color" Friday, February 19, 6–9 p.m. — Show evolves through April 30
---
About the Author: Celeste Tholen
Celeste is the former Deputy Managing Editor at KSL.com and now works in marketing. She spends most of her spare time balancing conflicting interests in the outdoors and movies/television.
×
Photos
Related Links