This archived news story is available only for your personal, non-commercial use. Information in the story may be outdated or superseded by additional information. Reading or replaying the story in its archived form does not constitute a republication of the story.
SALT LAKE CITY — Time is precious for those nearing death, especially if they're living on the streets. The INN Between had to clear a number of obstacles this summer before the homeless hospice was ready to serve the desperately ill.
Olivia Sherill and her husband are busy scrambling up some eggs in the well-stocked kitchen at The INN Between. It's been awhile since the couple made breakfast together.
"Since I've moved in here, mine and David's stress levels have dramatically dropped," says Olivia.
Olivia and David are off the streets, but there's still plenty to worry about. The 31-year-old woman is battling stage 4 breast cancer and hasn't been given long to live. Olivia says, "My doctors have said that this has a very high likelihood of ending my life."
"Olivia was my beacon of hope saying that we've got to get this project off the ground in order to move her in and give her a safe and comfortable place to live at the end of life," says Kim Correa, director of The INN Between.
Correa needed a lot of hope and patience this summer when a temporary land-use ordinance was passed by the Salt Lake City Council, delaying the opening of the hospice for the homeless.
Related:
"We suddenly had to shift gears," says Correa, and move everything out of the empty school building they planned to use "and focus on the side of the building which is the former convent."
In the convent, Correa and her staff will be limited to 16 patients or fewer, and those who become bedridden will have to be moved to a skilled nursing facility.
Kyle LaMalfa, city councilman for Salt Lake's District 2, says the temporary land-use ordinance was necessary to guarantee the safety of patients and the surrounding neighborhood. Now, he believes, "we're in a good place. The INN Between has reduced their size and also has committed to a level of safety that they can handle."
Earning the community's support and a certificate of occupancy was demanding.
"It was such a rush," says Correa. "We had to tear out the ceilings to install the fire sprinkler system."
And it was challenging. "There always will be adjustments and difficulties and challenges," Correa says.
"I'm just glad that it's open and that I have a place to go to that I actually feel safe in," says Olivia. She is thankful the community has accepted her and other homeless patients who will soon be her housemates. "I understood from the beginning why it was so important because inviting the homeless into your community can be hard."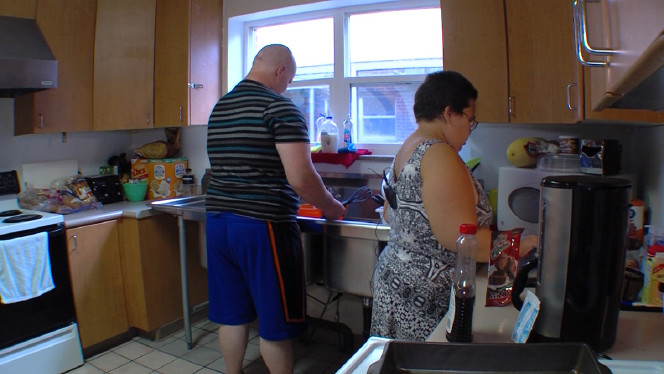 KSL-TV
LaMalfa firmly believes that The INN Between is "definitely here to stay."
Maria Bambrough, the volunteer coordinator at The INN Between, certainly hopes so.
"This is just a wonderful place for people to have care, and love and compassion and for the community to get involved as a whole," she says.
Bambrough is assembling a team of volunteers to care for patients as they arrive. "I think it is an amazing idea. Everybody deserves to have dignity in their lives."
Correa is hoping to fill the beds available at The INN Between before winter weather sets in. "That would be a true humanitarian effort."
LaMalfa says it would take that kind of community effort to solve a tough problem. "Let's all take a hand. Let's all step together to make sure we can solve homelessness together."
Olivia doesn't believe she would still be alive without the love and support she has gotten from Correa and from her doctors at the Huntsman Cancer Institute. "I don't think I would be here without those people, I really don't."
Now that she has such a wonderful place to call home, Olivia says she's not ready to leave it yet. "I really in my heart of hearts, I don't think that this will end my life, at least not yet."
In December, the Salt Lake City Council will decide whether to make permanent the ordinance that delayed The INN Between's opening. The council decision will impact the homeless hospice's future. KSL.com will keep you posted.
×
Photos
Related Stories