Estimated read time: 3-4 minutes
This archived news story is available only for your personal, non-commercial use. Information in the story may be outdated or superseded by additional information. Reading or replaying the story in its archived form does not constitute a republication of the story.
SANDY — Inside Neuroworx's new $9 million rehabilitation center in Sandy, 24-year-old Isaiah Rodriguez walked with the help of an innovative device called Vector.
"A year ago," he said, "they told me I couldn't do all these things, but now I'm doing it."
While Neuroworx therapist Matt Carter had remote control of Vector, which hung from a rail on the ceiling, Isaiah felt safe on his own and more comfortable letting this new high-tech system monitor his movement.
"I feel very lucky to be alive," he said.
Lucky, and perhaps a lot more, because on three occasions Isaiah's heart flatlined and he had to be revived following a tragic auto accident last year. With brain trauma and severe paralysis, no one expected this kind of recovery this fast.
And as if walking was not enough, Isaiah was running with Vector on the day of our visit.
"This is the first time running since the accident and it feels amazing," he Isaiah said
Running, walking, stepping up and down and over obstacles; Isaiah is one among many inside Neuroworx pushing the envelope and upstaging those who say, "No way."
Sixteen-year-old Cameron Campbell and his family moved from Michigan to Salt Lake because he was told the C-5 spinal cord injury he sustained in February of this year wouldn't allow him to do much of anything.
According to Cameron, "the doctors in the hospital, right after the injury, said I would need 24/7 care. I just didn't like that idea at all, so I came here."
---
The doctors in the hospital, right after the injury, said I would need 24/7 care. I just didn't like that idea at all, so I came here.
–Cameron Campbell, Neuroworx patient
---
At this early stage, therapists and Vector allow Cameron to progress within his own comfort zone.
His dream, he said, is "to reach a point as close to normal as possible. I want to wake up in the morning, independent, living on my own. I would like to go to a job or to school, living on my own and being able to do that with as little help as possible."
Take a step here, a step there, and you'll see more images within these walls. We watched as Vector caught stroke patient Bob Paul as he fell. Before he ever hit the ground, the device quickly restored his balance and he continued his stride around the room.
Walk into pool therapy, and again paralysis patients push the envelope, doing things they thought they never could.
For wheelchair athletes, Neuroworx now has its own gymnasium. Instead of borrowing courts somewhere else, wheelchair basketball teams and rugby teams can practice within steps of where they do their therapy.
Eleven years ago, Neuroworx founders Jan Black and Dr. Dale Hull were using a 1,000-square-foot room inside a strip mall. This new center now offers more than 24,000 square feet.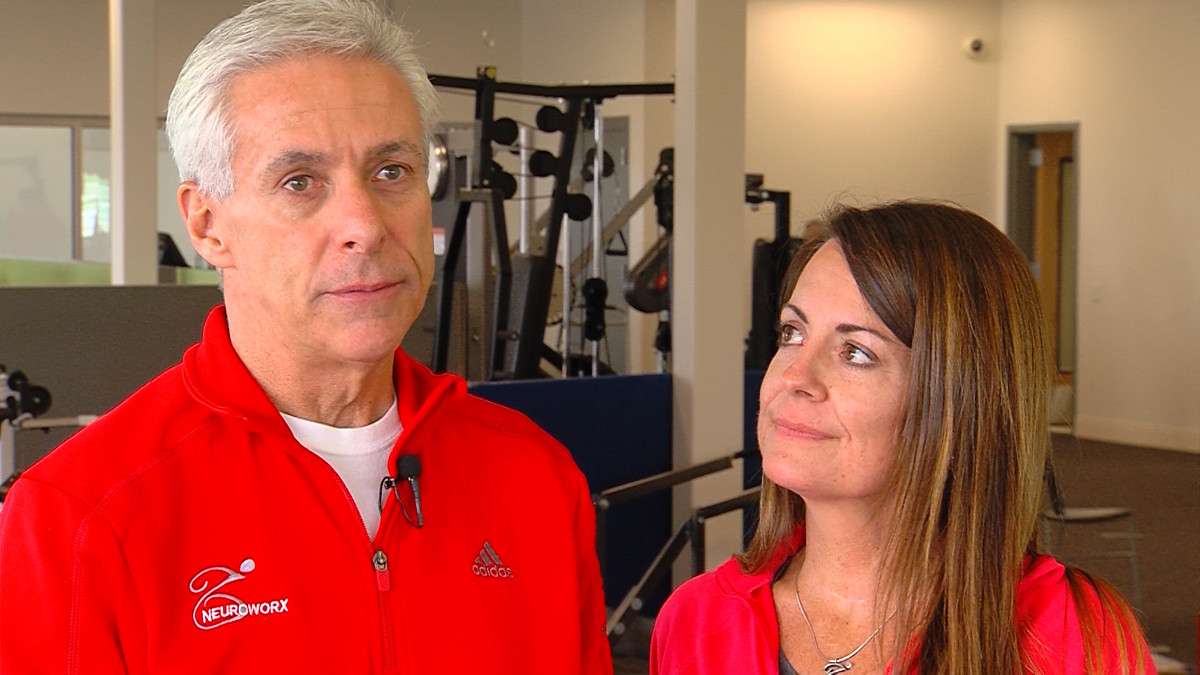 It's bigger and better, but the concept remains the same. For more than a decade, the two founders have traveled the country, recording in a notebook what they liked or didn't like about what was being offered to people with spinal cord injuries.
"Now, to take out that notebook and see it come to fruition is pretty amazing," Hull said.
From the beginning, Neuroworx has practiced progressive therapy with boundaries drawn only by the patients themselves.
"We can stand and look at this place and everything going on and say, 'Oh my gosh! This is really happening,'" Black said.
For Hull, the reward is special. "I can tell you I've gotten much more out of this than I've ever put into it, and it's all because the people we meet are extraordinary people," he said.
Those folks abound everywhere you turn in this new building.
Neuroworx has worked with about a thousand paralysis patients over the past 11 years. Under the Christopher and Dana Reeve Foundation, it's designated as one of only six Community Fitness and Wellness Centers for Spinal Cord injuries in the country.
×
Photos
Related links
Related stories
Most recent Utah stories