Estimated read time: 5-6 minutes
This archived news story is available only for your personal, non-commercial use. Information in the story may be outdated or superseded by additional information. Reading or replaying the story in its archived form does not constitute a republication of the story.
SOUTH JORDAN — Almost 16 years after a former doctor survived an accident that made him a quadriplegic, Dale Hull is now seeing a rippling effect play out in his life: others' lives have changed for the better because of the way he dealt with his spinal cord injury.
"I realized quickly the world of a spinal cord injury was very scary and it didn't seem like we, (the medical community) were doing enough," said Hull. "People were just not getting the same opportunity that I was getting."
After realizing the ample resources for paralysis patients were the exception and not the norm, Hull teamed up with his former physical therapist, Jan Black, to bring that dream to life.
"We've just tried to create a different model for people to reach their highest level of recovery," Hull said.
Black says her entire paradigm changed in working with people like Hull who have dealt with spinal cord injuries in a more optimistic approach.
"Dale has said that many of us have strived for success. I think I've constantly strived for success (as a physical therapist,)" said Black. "But, especially as he's gotten older, (Hull has) talked a lot more about significance than success in life."
Hull's tenacious choice to work through his paralysis instead of giving up paved the way for others to do the same through physical and emotional support.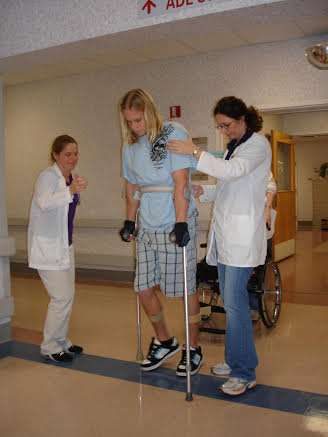 "What's amazing to me is how extraordinary these people are," said Hull. "How blessed I am to meet them. I've gotten more out of this than I ever put into it."
After investing 10 years into Neuroworx, Hull and Black are now looking forward to expanding their company.
That expansion brings more opportunities for people with physical disabilities to heal.
"My metaphor (for a paralysis accident) is from the movie 'The Wizard of Oz,' " said Hull. "Dorothy has this catastrophic event and wakes up in a world that is totally foreign. That's exactly what happens in a spinal chord injury. All the people who are there before are there again but are in different roles. Your parents, your spouse and your children are there but they have to take on different roles because things have drastically changed. So you say, I want to go back. How do I find home? People give you these generic 'follow the yellow brick road' answers. And you say 'what?'
"But eventually you say 'science has the answer.' So you go to Emerald City trying to find the answer in signs and you find it's just a man behind the curtain trying to do the best he can. At the end of the story you're the one wearing the ruby slippers. You're the one who determines how you're going to get home. It has to come from within."
AJ Hunt is now experiencing his own version of The Wizard of Oz.
In the summer of 2014, AJ was on his way home after months of selling security systems.
"My buddy lost control of the car," said Hunt. "The car flipped and my vertebrae popped out of life and messed up my spinal cord and my neck."
Regardless of his accident, Hunt stays positive, just like Hull, the owner of Neuroworx.
New Neuroworx Location Info
Grand Opening July 2015
9750 S. State in South Jordan
Neuroworx.org
"I believe that there is more to this life. I realize that, even if for the rest of my life I couldn't move, there would still be some time in the future that I will. I try to focus on the faith that I have. [Even though] it was scary, I honestly felt peace when it happened."
One of Hunt's physical therapists can also relate to what he went through.
One day, Matt Carter woke up as a paraplegic. Still to this day, Carter does not have the answer why.
After years of physical therapy, Carter slowly learned to walk again. He even went back to school and changed his career path in order to help others work towards hope and recovery.
"I started asking doctors if I could help people as a physical therapist," said Carter. "They were iffy for a while. Two years into my injury I went to physical therapy school because I wanted to give back to people with spinal cord injuries."
The desire to give back to the community is contagious at Neuroworx, proving its effects come full circle for the rest of the community.
"Our aspiration is to be a place that not only people are happy to come to but the rest of the community looks at as a valuable asset," said Hull. "(Neuroworx is) something that Utah can be very proud of."
Neuroworx specializes in several types of therapy: land, locomat, aquatic, and locomotor gait training. The non-for-profit company has a mission to help patients achieve the highest level of rehabilitation.
The physical therapist team at Neuroworx has seen so much success, they are expanding. The new Neuroworx facility will be located at 9750 S. State in South Jordan. The grand opening will be in July of 2015.
Hull strongly encourages paralysis patients and/or family members of paralysis patients to attend an upcoming seminar by New York Times best-selling author Norman Doidge, M.D.
Doidge will talk about neuroplasty and the brain's way of healing itself on March 31 in Salt Lake City. If you'd like to attend, visit avalonhillsfoundation.org or call 435-938-6030. E: jjacobson@ksl.com W: Jen-Jacobson.com
×
Photos
Related stories
Most recent Utah stories