PROVO — After several painful accidents with clip-in bicycle pedals, a Provo man decided to create magnetic pedals that he feels will be safer and easier for mountain bikers.
David Williams said he started mountain biking in high school, but for a long time, he wouldn't clip into his pedals because he was afraid of tipping over and wrecking if he was unable to unclip. However, as a result, his feet would often fly off the pedals when he went off jumps and he would land painfully hard on his seat and the crossbar of his bike.
In 2009, Williams began clipping into his bike pedals, but had several unfortunate accidents.
"The first time I tried it out, I was biking on a simple trail," he said. "I came to a stop on an asphalt path that was there in the park and couldn't unclip so I just tipped over in front of this huge group of people. It was definitely embarrassing. … Apparently there is a learning curve with those things."
At another time, Williams was biking up a hill, but was stopped by a rock. He couldn't unclip from his pedals so he tipped over on his bike and slid down the hill into a cactus patch.
"So, that's when I realized, there's got to be a better way," he said.
Williams studied engineering at Brigham Young University and began creating a prototype for mountain bike pedals that utilized magnets instead of clips. After graduating from BYU in 2011, he launched a Kickstarter campaign in November 2014 for one of his initial prototypes, but said it was unsuccessful because the original pedals were "big and blocky," Williams said.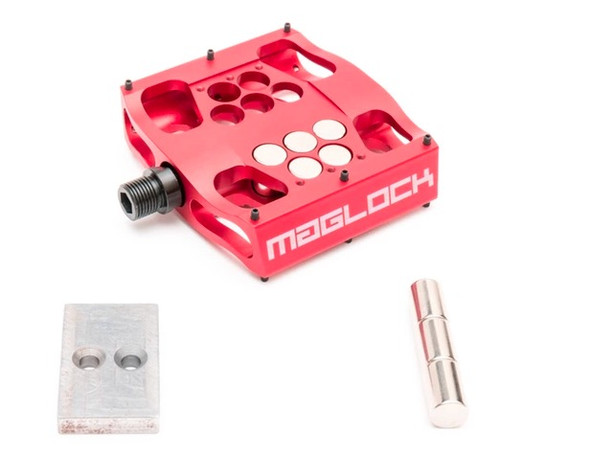 Courtesy of David Williams
After several renovations and more prototypes, Williams launched another Kickstarter campaign on July 13. The redesigned Maglock Pedals use strong, rare-earth magnets that attach the rider's shoe to the pedal, but are easily released. A metal plate comes with the pedals that screws into regular biking shoes, allowing them to connect to the magnetic pedals.
The pedals are also flatter than regular mountain biking clipless pedals, making them compatible with street shoes as well, Williams said. A set of Maglock Pedals weigh a little over 2 pounds and have a 9/16-20 inch thread, the most common crank thread size for bikes.
Williams said he is involved in local charity, 2 Ft Prosthetics, and helps create prosthetics for amputees in developing countries. He believes the Maglock Pedal will benefit the amputee community since they can't use traditional clipless pedals.
After the Kickstarter campaign ends, Williams plans to sell the pedals online for $140 a pair.
×
Photos
Related Links