This archived news story is available only for your personal, non-commercial use. Information in the story may be outdated or superseded by additional information. Reading or replaying the story in its archived form does not constitute a republication of the story.
Editor's Note: This article is part of the Utah Inventions series, which features a different inventor or invention with Utah ties each Wednesday.SALT LAKE CITY — As the saints continued their trek across the plains, William Clayton was busy at work one morning in the spring of 1847.
He had been assigned to record the number of miles the company traveled each day. After three long weeks, Clayton was growing increasingly weary of this task, which consisted of tying a red flag to one of the wagon wheels and counting each revolution. He began to think of easier ways to measure the distance traveled.
Later that day, Clayton noted in his journal an idea that came to mind.
"I walked some this afternoon in company with Orson Pratt and suggested to him the idea of fixing a set of wooden cog wheels to the hub of a wagon wheel, in such order as to tell the exact number of miles we travel each day," he wrote. "He seemed to agree with me that it could be easily done at a trifling expense."
Pratt, a mathematician, worked with Clayton to design the apparatus. Company carpenter Appleton Harmon was tasked with building the device, which was first used on May 12, 1847, nearly a month after Clayton initially proposed the idea.
"About noon today Brother Appleton Harmon completed the machinery on the wagon called a 'roadometer' by adding a wheel to revolve once in ten miles, showing each mile and also each quarter mile we travel, and then casing the whole over so as to secure it from the weather," Clayton recorded in his journal.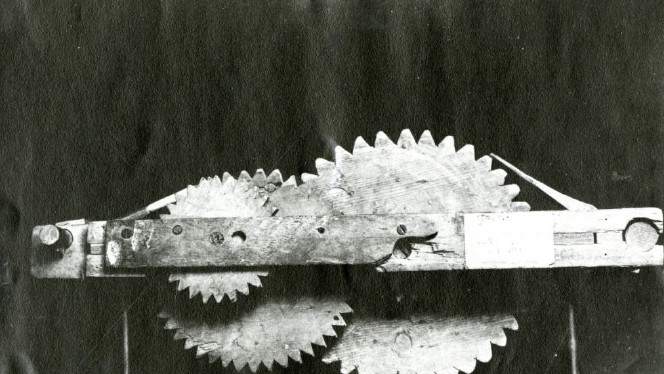 Photo credit: Utah State Historical Society
The Roadometer, a version of the odometer, was successfully used to measure the distance traveled during the remainder of the trip. Later that year, Clayton made a return trek to Winter's Quarters to measure the distance again. For this trip, a new and improved odometer was built which would count up to 1,000 miles. The device was contracted by William A. King.
At the end of the journey, Clayton wrote: "I have succeeded in measuring the whole distance from the City of the Great Salt Lake to this place, except a few miles between Horse Creek and the A La Bonte River which was taken from the measurement going up. I find the whole distance to be 1032 miles and am now prepared to make a complete travelers guide from here to the Great Salt Lake."
The traveler's guide proved to be quite useful for future pioneer companies.
Clayton, who is perhaps best known for penning the LDS hymn "Come, Come, Ye Saints," served as a clerk and scribe to the Prophet Joseph Smith. He died in Salt Lake City in 1879.
---
Ryan Curtis is a proud seventh-generation Utahn and also writes for Utah Political Capitol. In his spare time, he enjoys doing family history research and listening to '70s and '80s music. You can contact him at ryancurtis4218@gmail.com.
×
Photos
Related Links
Related Stories