This archived news story is available only for your personal, non-commercial use. Information in the story may be outdated or superseded by additional information. Reading or replaying the story in its archived form does not constitute a republication of the story.
Editor's Note: This article is the first installment of the Utah Inventions series, which will feature a different inventor or invention with Utah ties each Wednesday.EUREKA, Juab County — As Charlie Brown said, "there are three things in life that people like to stare at: a flowing stream, a crackling fire, and a Zamboni clearing the ice."
Without the Zamboni machine, ice skating would be anything but smooth. Ice skating was born in Scandinavia around 1000 BCE, but the man who made it smoother was born in 1901 in Eureka, Utah. His name is Frank J. Zamboni.
The journey to creating the Zamboni machine began when Frank was just a year old. At this time, his family relocated to an Idaho farm, according to the Zamboni company website. As he helped his father, Frank stopped attending school in the ninth grade, but he did learn vital mechanical skills that would help create his great invention.
Zoom ahead to sometime after 1920, when following years of work and life experience Frank and his brother Lawrence started a business that made both refrigeration for dairies and ice blocks for national food transportation. Eventually fridges killed the need for ice-block refrigeration. But the Zambonis didn't despair.
They used their ice for the next big thing: a skating rink.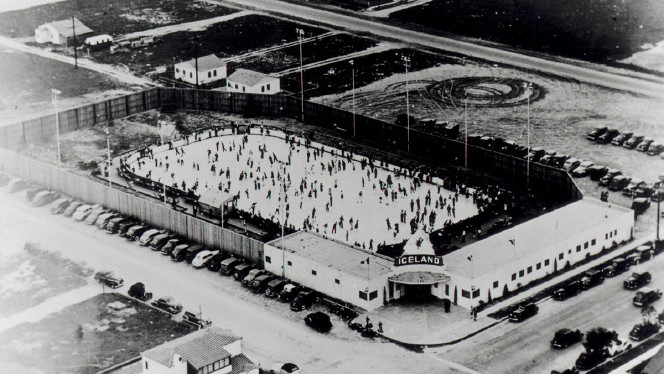 Photo credit: ©Zamboni Company Archives
Their Iceland Skating Rink opened its doors in 1940; little did Frank Zamboni know that nine years later, his machine would be born.
To keep the skaters coming, every night five workers had to spend an hour and a half following a tractor-pulled scraper, scooping up the trail of shavings, spraying water on the ice, squeegeeing the area, and then spraying more water.
Zamboni felt that something must be done.
In 1949, after nine years of painstaking work, failure, and more work, a functioning machine was born. Loaded with a wooden bin and lots of pulleys, the first Zamboni ice resurfacer not only used Dodge parts, but war surplus parts such as a hydraulic chamber and a jeep engine. As it circled the ice, it gathered shavings, washed the ice, and sprayed hot water, spreading it with a towel—all in just fifteen minutes.
"One of the reasons he stuck with it was that everyone told him he was crazy," Frank's son Richard told the L.A. Times. "When he finally finished he was so sick of it that he didn't even bother painting it."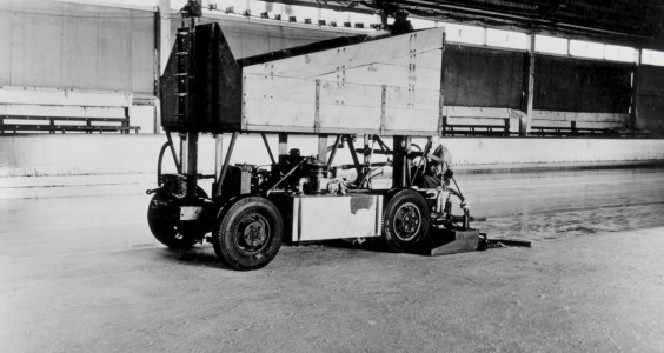 Photo credit: ©Zamboni Company Archives
The machine may not have looked great, but figure skater Sonja Henie saw its potential. She asked Zamboni to build her one. Then the Chicago Stadium asked for one so the ice could be smooth for the Black Hawks hockey team.
And as they say, the rest is history.
Eventually, the name Zamboni could be seen everywhere. It was the name of a fan club at Michigan Tech University as well as a race horse. License plate frames said, "My Other Car is a Zamboni."
Of course there are the aforementioned references in "Peanuts." Since he owned his own ice rink and Zamboni machines, Schulz probably just couldn't resist.
So, next time you go ice skating, don't get mad when the Zamboni ice resurfacer kicks you off the ice. Instead, watch in wonder and thank Zamboni for his machine. It will make your ride smoother.
To try out a Zamboni machine, check out Google's doodle from January 16, 2013.
---
Katrina Lynn Hawkins is a graduate of Brigham Young University, a Utah native, and a freelance writer. You can contact her at katrina.hawkins21@gmail.com.
×
Photos
Related Links